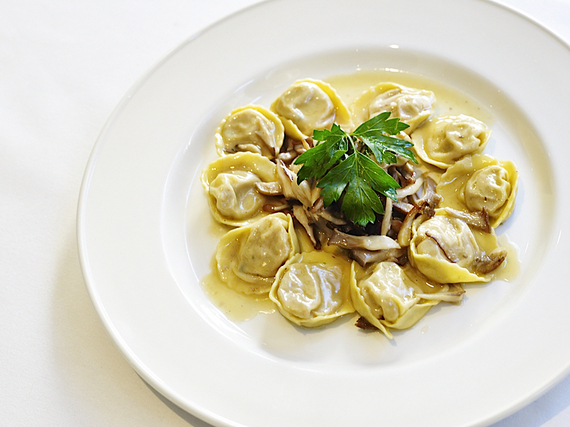 The two-month old Masseria dei Vini is a restaurant whose neighbors keep telling owners Giuseppe "Peppe" Iuele, Enzo Ruggiero and chef-partner Giuseppe Coladonato how glad they are finally to have a fine Italian restaurant because there's nothing else like it in its neck of the woods, near Carnegie Hall. It's true. The neighborhood has been devoid of an Italian restaurant of Masseria dei Vini's caliber--only Patsy's and Circo to the east and Lincoln Ristorante to the north are true competitors, just as the owners' first restaurant, La Masseria, has only Barbetta and Orso as competition in the Theater District of the West 40s.
What Iuele, Ruggiero and Coladonato did at La Masseria upon opening eleven years ago was to build a ristorante with staying power, based on excellent Italian cuisine with a Southern accent and on a commitment to highly cordial service, even when dealing with the fretting pre-theater crowd. The moment you step through the door at their new place, you'll find that same warmth of conviviality from the welcome and seating to the attention paid to your table throughout the evening.
Masseria dei Vini is a very smart looking place, by interior designer Libby Langdon, far more than I expected from what was originally intended to be a casual wine bar (the name means "farmhouse of wines"). But, as Iuele explained to me, "Once we got near opening, we said why don't we also do some pizzas, more pastas and main courses, and before we knew it, we had a full-fledged ristorante." The menu listings at both restaurants are quite similar, though the older La Masseria does not do crudi (raw fish) or pizzas, and its prices are somewhat higher pretty much across the board.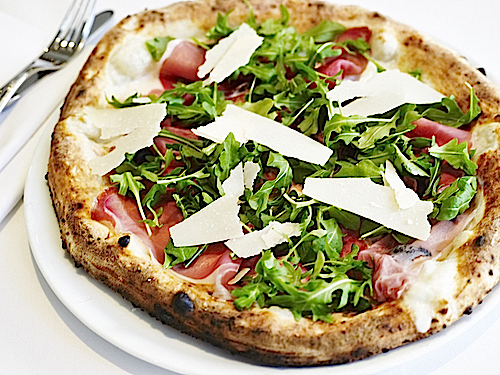 The trick in Italian cookery is to intensify flavors that, without just the right amount of seasoning, might be bland or taste just like everyone else's version. Thus, at Masseria dei Vini, Chef Colodonato, who is from Bari, takes the idea of polpettine and instead of using meat he makes eggplant balls to be dipped into a vibrant tomato and basil sauce ($14.50). But he also does do meatballs the same way ($17.50), so you have a delectable choice to make, or order both. Another turn on tradition are the panzerotti ("little fat bellies") pumped up like a zeppole, with a golden-brown crust and a filling of oozing cheese and tomato ($14.50).
The pizzas are expertly made in the Neapolitan style, with a slightly puffy, nicely scorched and bubbly crust. I loved the Calabrese-style version topped with mozzarella fior di latte with sausage, spicy-hot 'nduja condiment, and tomato sauce ($19), which will feed four as an appetizer.

Ravioli di Angelina ($19.50 for a full portion) is made not with ricotta but with caciotta cheese in a light Caprese tomato sauce, while orecchiette alla Barese with broccoli di rabe and sausage ($18.50) was perfectly cooked so that the ear-shaped pasta had the right texture to stand with the chewy vegetable and the crumbly sausage. This careful attention to texture also distinguishes housemade squid ink spaghetti with baby clams in a white wine sauce ($21.50), and a triangular ravioli stuffed with shrimp and avocado in a shrimp-tomato sauce ($21.50).
Bocconcini di pollo ($21.50) is a large platter of boneless chicken with mushrooms and shallots in a red wine reduction, while a pork chop comes with slices of black truffles at a very reasonable $29.50--a terrific dish. For those who rave about the big $50 veal parm at Carbone in Greenwich Village, I invite you to try to finish the marvelous, crisp, full-flavored pounded veal chop with arugula and tomato salad at Masseria dei Vini at just $38.50. And if you go for seafood, the oven-roasted orata ($28.50) absorbs just the right amount of flavor and piquancy from cherry tomato sauce, olives and capers.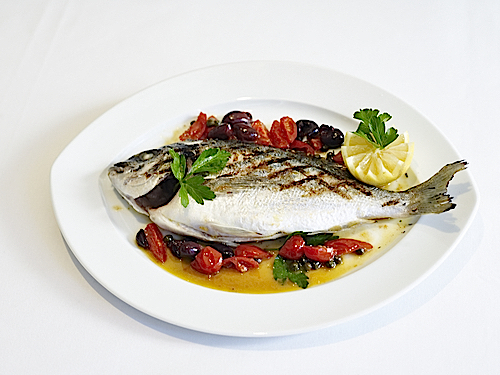 Desserts are traditional and well rendered, from a light Italian cheesecake to a torta Masseria scented with limoncello.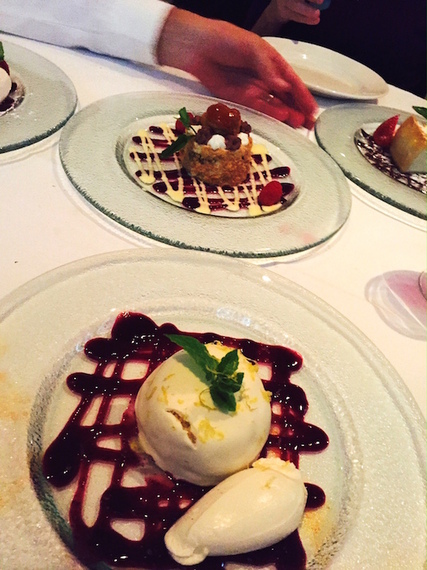 Since Vini figures in the restaurant's name, you can be assured of a stellar group of wines, many displayed on a lighted wall in the dining room.
So the Carnegie Hall neighborhood has what it's long lacked--a first-rate, welcoming Italian restaurant that is likely to flourish for decades to come.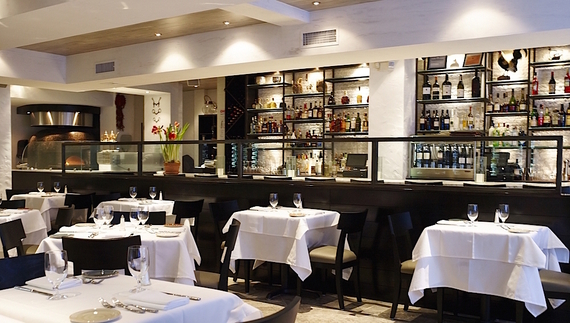 Masseria dei Vini is open for lunch and dinner daily.
MASSERIA DEI VINI
887 Ninth Avenue
212-315-2888 (near 57th Street)