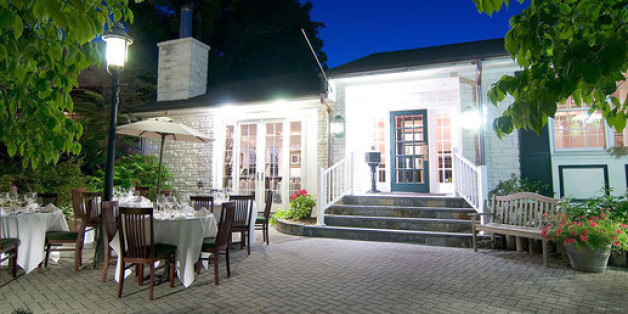 One of the least heralded of NYC's most successful restaurateurs probably likes it that way. While David Ghatanfard is intensely involved in each of his four restaurants--two in Manhattan, one in Greenwich, CT, one in Scarsdale, NY--he stays behind the scenes, overseeing and making sure all goes as he wishes and as his guests desire. Rare is the request that his staff won't grant.
All his restaurants are quite similar in menu, a combination of steakhouse, Italian and French cooking, all based on the best ingredients he can find in whatever market they exist. I know where he buys his meats and fish, and how the owners put aside the best cuts of meat and the most pristine seafood for him, so that it is unlikely you'll find colossal lump crabmeat anywhere the size of those at Ghatanfard's restaurants.
His Manhattan dining rooms--Valbella in the Meatpacking District and Valbella Midtown--are always packed, and his Valbella in Greenwich is famous for its parking lot full of Mercedes, Porsches, Ferraris, and Maseratis. The Greenwich unit (above) is the oldest--20 years now--set off an exit of the New England Thruway (about 50 minutes from Manhattan), with the look of a leafy, posh country club with its white brick façade. Its spacious, well-set dining rooms, napery and wineglasses are appropriate to the food, wine and clientele.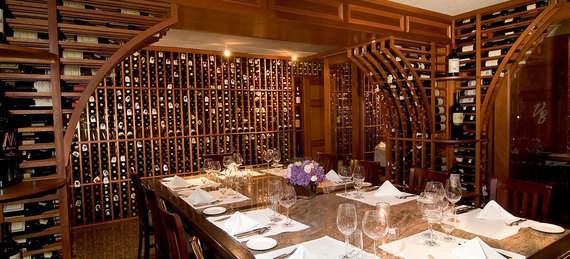 Downstairs resides one of America's truly grand wine cellars (above), with some of the world's most expensive wines, including many in magnum and larger bottlings, slumbering in mahogany racks until ready to be drunk--and Valbella has the audience for them.
The standard menu is appended with several specials each night geared to whatever is best at the moment--the white truffles have come in. Because of the quality of the various ingredients, it is best to go simplest here. This means beginning with foie gras with figs in a Port reduction, or a platter of steaming baked Littleneck clams. Almond-crusted langoustines in a white wine butter sauce is a rarity in restaurants, unless you are willing to pay for the best of them; here they are delicious. Best of all is the shellfish tower, which can be as large as your table wishes, piled with the meatiest lobster, clams, mussels, oysters and scallops available.
Pastas are largely made in house, and the seafood varieties are the most highly regarded, like the risotto with scampi, langoustine and sea bass in a rich lobster bisque sauce. But I've always loved their lusty pappardelle alla Emiliana, with peas, porcini, and burrata in a veal Bolognese.
As I said, stay simple, especially with main courses: complex sauces are not the kitchen's forte, and there are a lot of ingredients on the side, a generous gesture but one that takes too much prep time to plate. I go with the grilled veal chop or the baby rack of lamb, while the Black Angus shell steak is always first-rate and expertly cooked.
Desserts are good, if predictable, but go with the cheesecake.

TuttaBella (below), for a dozen years now atop a little hill in Scarsdale across from Lord & Taylor, has evolved from a steakhouse to a moderately priced Italian restaurant with great steaks, and it's all to the good. It's a handsome restaurant with expanses of windows on all sides, arched hallways, and nicely separated tables. The staff here has also evolved into one of the most cordial and fleet-footed in the area. Manager-partner Sergio and manager Rosie never miss a beat any day or night of the week.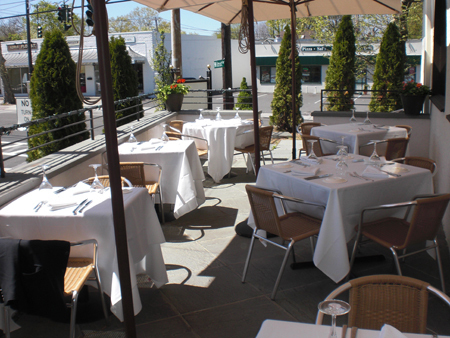 Indeed, my high school alumni group has been holding its annual dinner here for many years, and the service staff now seems to know everyone's drink preference and how they like their porterhouse cooked. And it's a really fine porterhouse ($39/$78, for one or two) at that--perfectly trimmed, very juicy, lots of good aging on it, and well charred on the outside.
TuttaBella's menu is heavier with pasta than Valbella's, and the addition of a new pasta chef has improved dishes like penne alla vodka ($16) with some real bite, cavatelli with garlicky broccoli di rabe and sausage ($16), and bucatini all'amatriciana with bacon, sweetly caramelized onion and tomatoes ($16). Of the antipasti, the shellfish platter is a marvel of lavish goodness.

Here, too, the simplest entrees are the best--all the grilled meat items, and the crisply fried veal with arugula and tomatoes ($23). And now that it's become the Italian retro-dish of the moment, try Valbella's terrific veal alla parmigiana ($23), rich with mozzarella and a fine tomato sauce. If you ask for the pollo scarpariello ($18) on the bone with plenty of garlic, you'll be very happy with the dish.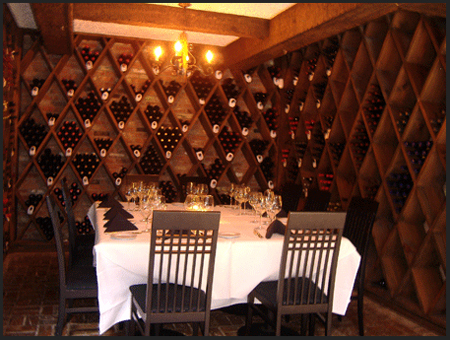 Like Valbella's, TuttaBella's dessert are straightforward, so, as ever, go with the cheesecake.
TuttaBella's wine list is not in any way as extensive as Valbella's, but it has some good bottlings at reasonable prices, and it is set in a cozy downstairs room (above) that seats 20 people. . Indeed, you can see across the board that moderate prices distinguish the food of this quality, and the regular customers know it.
TuttaBella is open for lunch and dinner daily.