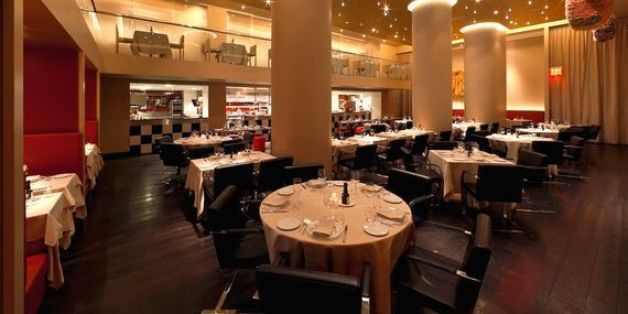 Technically, SD26 is five years old, but its story goes back a lot farther than that. The "SD" stands for San Domenico, a totemic ristorante in Imola, Italy, where in 1970 Gianluigi Morini and Chef Valentino Marcattilii set into motion a modern form of fine dining Italian-style that had worldwide influence, not least on New York restaurateur Tony May, who 26 years ago opened San Domenico NY on Central Park South in homage to the Imola original.
At that time, the only other Italian restaurant in NYC presenting such a refined cuisine in such elegant surroundings was Il Palio, which May also opened and later sold. San Domenico paid homage to Morini and Marcattilii by reproducing signature dishes like the uovo in raviolo with white truffles (below), and many of May's chefs had worked in the Imola kitchen, including Paul Bartolotta, Odette Fada and Theo Schoenegger--all of whom went on to distinguished careers on their own.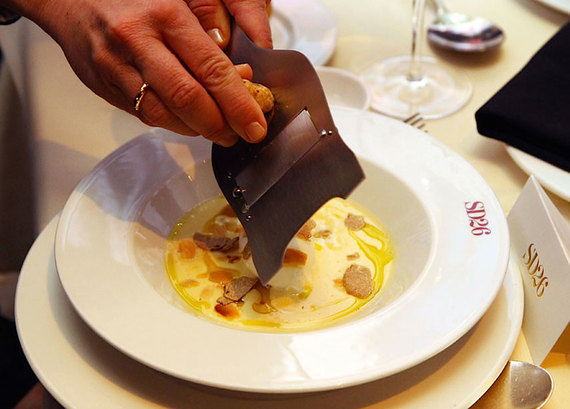 May's own commitment to raising the image of cucina italiana dates back decades, including running a series of restaurants and helping create the program for Italian culinary studies at the Culinary Institute of America (for which he compiled the textbook). So San Domenico was the highest expression of the way he saw Italian cuisine evolving.
So no one was happy, then, when May closed San Domenico seven years ago over a lease dispute, but, with his daughter Marisa (below) he opened a new version of San Domenico called SD26, on 26th Street and Madison Park. Its contemporary design and size were expansive, the atmosphere more casual, with a long, well-lighted bar up front--manned by master bartender Renato--and a long, bright open kitchen and salumeria/formaggeria to the rear, from which you may order the finest Italian charcuterie--San Daniele prosciutto, culatello, bresaola, smoky Speck, mortadella--and an array of Italian cheeses that begins with imported mozzarella di bufala. A platter of four selections for two people runs $26.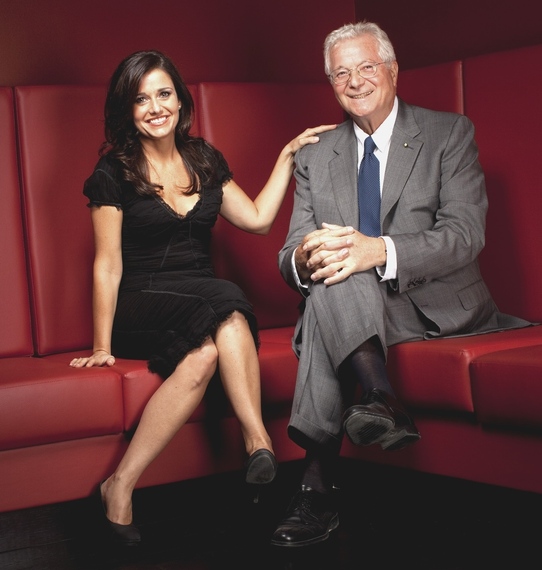 I had not dined at SD26 in about 18 months, so I was delighted to find, on its fifth anniversary, the food is better than ever, for the past three years under Chef Matteo Bergamini.

One of the unexpected pleasures of SD26 is that so much of the menu is offered in appetizer or entree portions, and at the bar-lounge you can order an array of dishes from fried calamari to sliced steak on bruschetta, with nothing above $21. There's also a five-course tasting menu in the dining room at a remarkable $70.
The menus change with the seasons, but certain dishes have become classics here, from the famous uovo in raviolo to the grilled baby octopus over fava bean puree, with sun-dried tomatoes and a rosemary gremolata ($16/$24). For the truest taste of the Mediterranean, order the poached shrimp and calamari salad with zucchini, tomato confit and pink peppercorns ($26), and if you love baccalà, you'll find the rendition here among your favorites, with a radicchio salad, caper dressing and potato crisps.
On my latest visit I enjoyed the Piemontese specialty ravioli del plin stuffed with goat's cheese, with a fennel puree and the lush addition of foie gras to gild the lily ($20/$34). The fettuccine with lamb ragù ($14/$26) has long been a staple that the kitchen dares not take off the menu, flavored with summer's mint, favas and ricotta informata. But the dish that took my breath away was a new one--Canaroli risotto cooked in tomato water (below) with crudo shrimp ($28)--a masterful amalgamation of very subtle ingredients (I thought the tomato juice was lemon) that bring out the best in each other.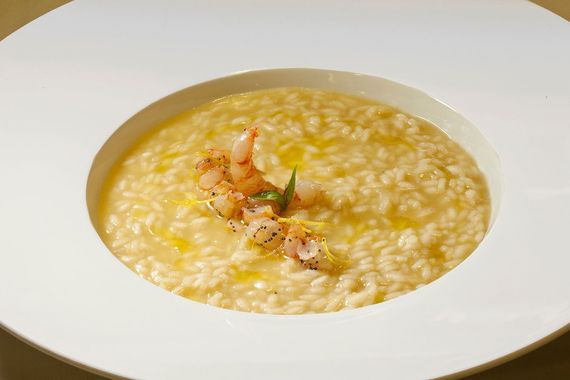 Our main courses were boneless roasted rabbit with favas, sheep's ricotta gnocchi and Castel Vetrano olives ($22/$36), and something I almost always order: the slow roasted baby goat on the bone with rosemary potatoes and braised artichokes ($28/$42).
I sometimes skip desserts in Italian restaurants (especially in Italy) but never here. The gelati and sorbetti ($10) alone are too delicious, and the panna cotta with a balsamic reduction and perfect strawberries ($14) is irresistible too. And SD26's tiramisù ($14) is the best in town. You can also count on a perfectly made espresso here.
The wine list is finely attuned to the cooking and there are plenty of smaller estates among the better known labels.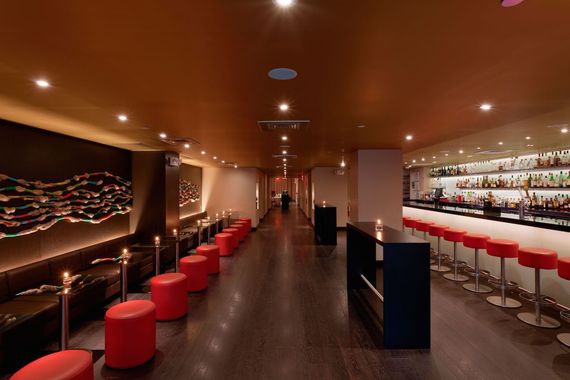 So, five years or twenty years later, the San Domenico spirit is alive and well in NYC, and the May has never wavered in his dedication to showing visitors from everywhere how extraordinary a balance of the old and the new can truly be.