Il Cantinori is that rare thing in New York: it's going into its fourth decade, looks pretty much the same as it did in 1983, has a menu that does not stray far from its Tuscan roots, and has a fiercely faithful clientele that comes time after time either to eat their favorite dishes or to see what seasonal items Antonio Ciardi -- here from Day One -- will tempt them with.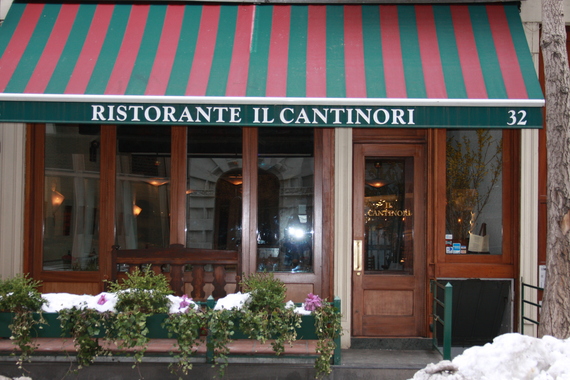 Il Cantinori's design is handsome rather than dazzling, yet from the start it has always attracted the downtown artists, musicians and fashionistas (the street is lined with galleries), who bank on seeing one of the city's grandest, most effusive floral displays in the dining room's center table.
In the beginning, when nearby Da Silvano was the hot restaurant for the Greenwich Village celebrity crowd, Il Cantinori offered a fresh alternative. Owners Steve Tzolis, Nicola Kotsoni (of Periyali and Bar Six), and Frank Minieri, teamed with former Da Silvano g-m Pino Luongo (now owner of Moreso on the Upper East Side), who was very much a proud Tuscan, and soon Il Cantinori was catering to Vogue fashion editors, Andy Warhol, Robert Mapplethorpe, and Keith Haring, who one night drove a Vespa right into the restaurant dining room. The Hollywood crowd followed and all the attendant glamor.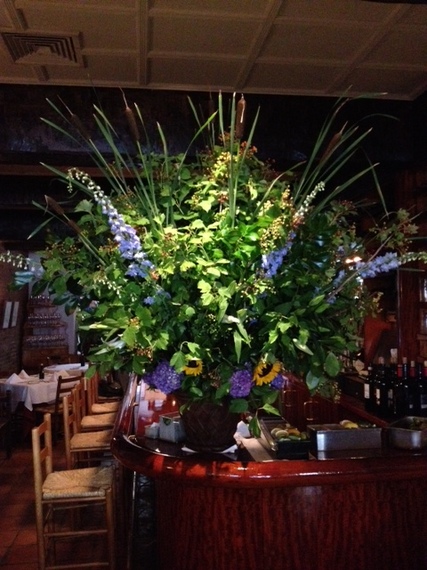 Today, you might not always spot the higher echelons of the arts and movie crowd on an every night basis, but Il Cantinori's regulars lend the place an atmosphere that wholly fills the bill as a New York-style trattoria. Frank Minieri is always there to greet them by name.
The menu breaks no new ground for Italian cuisine, but the Tuscan theme is still largely intact, so you might well begin with crostini slathered with goose liver, garlic and a chestnut puree ($20) or a cauliflower stew with bread scented with thyme and doused with grated Parmigiano ($14). On the night I visited the mozzarella di bufala and prosciutto ($19) came out cold, the tomatoes pink, so the whole dish lacked flavor.
Of course, pastas are always the standouts in Italian restaurants and Chef Ciardi has focused in on simple flavors with the right texture and condiments. So, fettuccine with rabbit ($21), scallions, white wine and thyme ragù is as fine a rendering as you'd find in a trattoria in Siena, as are the potato gnocchi, light but substantial, with wild mushrooms and a rich cream sauce ($19). I urge you to go for the evening's risotto, for Ciardi cooks the rice to the perfect texture and suffuses it with the chosen ingredients of the night and the aroma of slowly cooked vegetable.
There is also a grilled fish of the evening, and when I visited, there could have been no improvement in the moist Mediterranean sea bass ($34) as an example of impeccable timing. Roasted squab ($31), cooked pink was earthy, accompanied by lush garlicky spinach and a light mustard sauce, while a broiled marinated rack of lamb for $38 is a remarkable price for such a generous dish.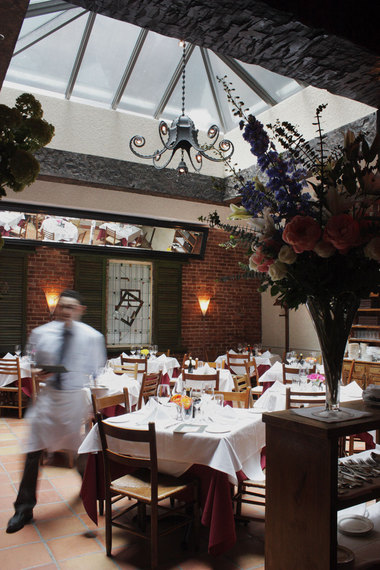 Having been around for more than thirty years, Il Cantinori's wine list has grown and been renewed with an eye towards quality at a reasonable price. There are some older bottlings but it is the small estates that you find the most interesting labels.
The desserts, as is so often the case in casual Italian restaurants, are not Il Cantinori's strong point, though I think you'll enjoy the house cheesecake.
Il Cantinori carries on not only because of its glam image -- which was heightened when the character Carrie in the TV show Sex in the City had her forlorn 30th birthday party in the restaurant -- but because its patrons have adopted it as their neighborhood go-to place, even if their neighborhood is far uptown or across the ocean. You might call it Pan-trattoria.
True, it was Restaurant Week when I visited, so the place was jammed, but it's pretty much that way every night. After 31 years, that is testament to a kitchen and staff that really cares.
L CANTINORI
32 East 10th Street
New York, NY
212-673-6044
http://www.ilcantinori.com/
Il Cantinori is open for lunch Mon.-Fri. and for dinner nightly.