Is it reasonable to ask of a hotel in Italy set within a majestic historical building to compete with a brand new hotel built in Dubai to be state-of-the-art in everything from bathrooms to WiFi?
Not long ago, the answer was no, for in the past so many deluxe hotels in Rome, Florence, Venice and Naples would never meet the five-star criteria taken for granted in cities like London, Paris and New York.
For one thing, historic buildings -- especially in Italy -- are so protected by bureaucracies, preservationists and art societies as to cause a developer endless delays, permit problems and the expenditure of millions of Euros that a brand new structure would not require. In the past, Italian hoteliers seemed to believe that their antique charms more than made up for claustrophobic shower stalls, mis-matched furniture, and 40-watt light bulbs.
What changed all that was the opening of the Four Seasons Milan in 1993 in what had been a 15th century convent. Its modernity, efficiency and hospitality were at a level no other hotels in Italy offered at the time, and others had to quickly catch up, so that today hotels that was once egregiously outdated are now on a par with what the Four Seasons Milan set in motion.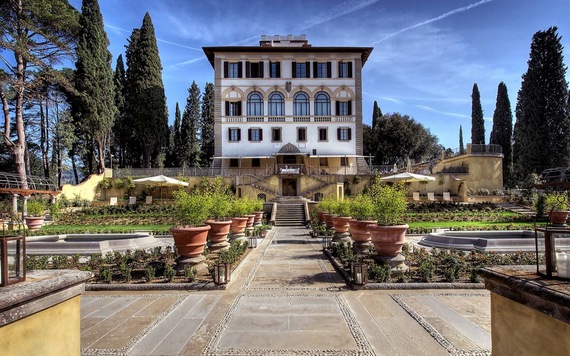 Nowhere is this more evident than in Florence, where a slew of superb hotels, including a new Four Seasons there, set in a Renaissance palazzo, the Hotel Lungarno, and Villa San Michele are now among the finest hotels in Europe. Now add to that list the new Il Salviatino in the hills above Florence in the quiet town of Fiesole. Back in the 15th century the estate was a banker's palace, a century later taken over by wealthy wool merchants named the Salviatis, and expanded and improved upon by successive owners who added a crenellated tower, gardens and a conservatory. From 1973 the building housed Stanford University's overseas branch, with student dormitories. Lucky students.
In 2007 hotelier Marcello Pignozzo, a 40-year veteran who once ran InterContinental's Asia Pacific Division, bought the villa in a state of dereliction, poured 15 million Euros into restoration under award-winning architect Luciano Columbo and brought 11 1/2 acres of greenery back to verdant life.
Il Salviatino now encompasses 45 rooms, many with 19th century frescoes and older mosaics, along with exquisite paintings and harmonized antique and modern furniture. And, yes, the bathrooms are as large as any in a California hotel suite.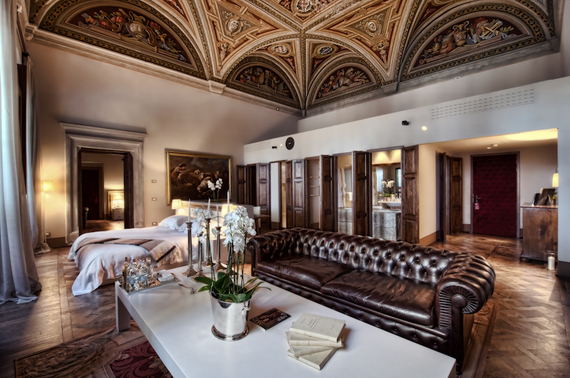 You pull up to the port-cochere at Il Salviatino and are ushered up steps into a grand lobby, which itself leads to a magnificent staircase fit for a Medici prince. Long red-carpeted hallways with chiaroscuro lighting lead to widely separated rooms with high beamed ceilings and windows looking out over the Fiesolan hills and down onto the glorious Duomo and bell tower of Florence. Unlike French of English gardens, Il Salviatino's have a romantic, carefully crafted wildness to them, and when you open the draperies in the morning, you will be struck by the same brilliant light and sky that you see painted by the Florentine Renaissance artists like Botticelli and Piero della Francesca.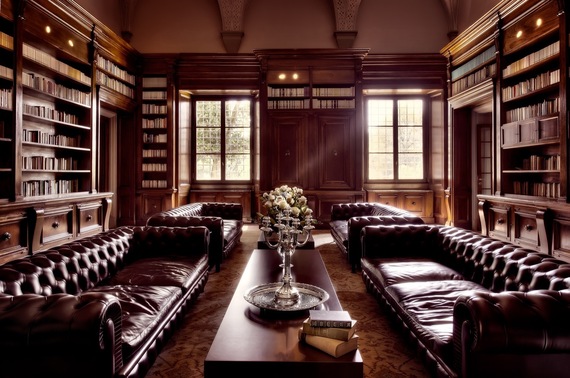 There is luxury in ever corner of Il Salviatino, as well as WiFi that works (Grazie, Dio!), and one of the most splendid and quiet rooms is the grand library here (above). The staff is comprised of "Service Ambassadors" who act like personal concierges. There is, of course, a pool and a completely modern spa on premises, overseen by the Dr. Vranjes Laboratory that offers something called "emotional polysensorial voyages," which sounds positively daunting. And if you want to go to town, the hotel has a shuttle throughout the day leaving from the port-cochere and letting you off just behind the Duomo.
There was never any question that the restaurant at Il Salviatino would be anything less than deluxe, but neither it is overly formal, so families feel at ease dining here. During the summer meals are served on the terrace (below), while in winter the dining room Le Serre is the principal venue. Cooking classes can be arranged, too.
When I dined there recently I was surprised to find Chef Carmine Calo's menu prices somewhat less than I expected for this degree of luxury. There is an extensive tasting of eight antipasti, including polenta with porcini mushrooms, a savory pumpkin pie, and Tuscan bean soup for 30 euros, while pastas like risotto with chestnuts and crepes gratin run 20 euros each, and main courses like beef stew with potatoes, Swiss chard and chestnuts 30 euros. A tasting menu runs 70 euros. Not cheap, but in similar hotel ristoranti in Italy, like Il Palagio at The Four Seasons in Florence and La Pergola at the Rome Hilton, the tabs would be much higher by at least 10 euros per dish.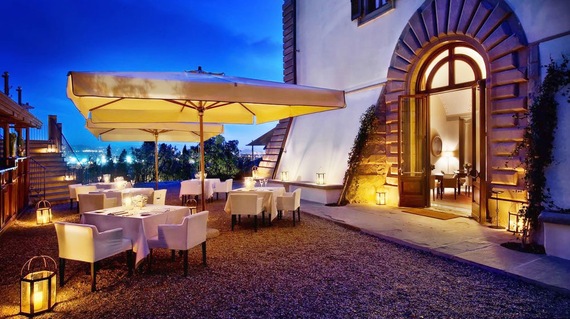 So, too, depending on the time of year, one can get a beautiful room for two persons, including breakfast, at the hotel for about 340 euros, which is remarkable for this level of posh and considerably below competitors'.
Fiesole has long been a retreat for travelers, including quite famous ones like Robert and Elizabeth Browning, Gertrude Stein, and Frank Lloyd Wright, and, despite Florence's inexhaustible artistic treasures, Fiesole -- birthplace of the master artist Fra Angelico -- is well worth wandering for its Etruscan and Roman ruins, 11th century Badia cathedral, the monastery of St. Francis, and various villas like Il Salviatino.
If Downton Abbey had been set in Italy, it might well have been filmed at Il Salviatino, for in its grand spaces and amidst its extravagant gardens, there is the lingering spirit of aristocracy, now happily receptive to anyone who wants to bask in such luxury with all the modern amenities.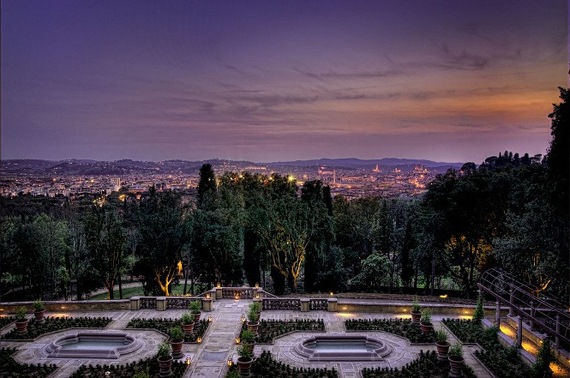 Il Salviatino will close as of February 1st and re-open in the middle of March. Call 39 055 9041111 or (888) 482-8642 (US & Canada Toll Free).