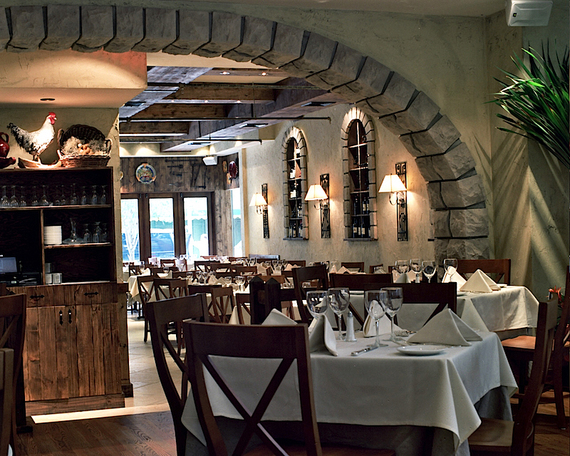 One peek into the dining room of La Masseria--or now, in good weather, just a glance at the outdoor tables on West 48th Street--shows that after eleven years it is still one of the most popular and eminent restaurants of any stripe in the Theater District. And, after my recent dinner there, I find its culinary excellence has risen right along with its success, driven by owners Giuseppe "Peppe" Iuele and Enzo Ruggiero with chef-partner Giuseppe Coladonato.
The interior is as charming as ever--rustic arched ceilings, farm utensils, photos and artwork, aged wood, and the modernity of iron sconces, stonework, and wine bins, all designed by Libby Langdon. Tables are well set with linens and delicate stemware--everything evoking the southern Italian culture whence the owners derive.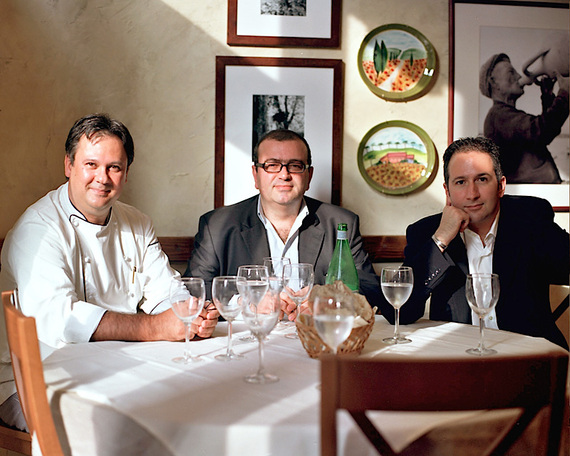 The service staff is as well-tuned to the fast pace of the rushed pre-theater crowd as to those who like to dine after 8 p.m. The wine list has never been better, crammed with small Italian producers who are thrilled to be on La Masseria's list.
The best way to begin here is to share a plate of antipasti--oozing, tangy buffalo mozzarella, slices of salumi, and sliced cheeses ($21.50), all served at the right temperature--and the best fried strips of zucchini ($9.50) in town, a big mound of greaseless, thin slivers you pop in your mouth.
There are a good number of pastas here (available as full or half portions) you won't find anywhere else, not least the granotto ($31.50)--a Pugliese grain cooked till tender like risotto and sharing the plate with a lush seafood sauce, mussels, and white beans--a triumph of home-style Italian cooking! Bucatini noodles are mixed with a "vecchia Roma" (old Rome) sauce of sweet onions, pecorino, and bacon ($19.50), while fresh orrechiette alla barese ($22.50) comes with wonderfully bitter-salty broccoli di rabe and Italian sausage, and just-the-right size potato gnocchi may come dressed with a rich sauce of taleggio cheese, radicchio and sprinklings of black truffles.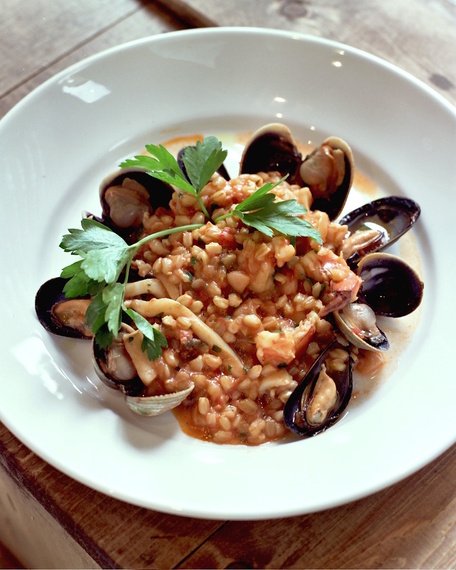 For main courses you may go simply--as I always recommend in Italian restaurants, especially in America--like the impeccably grilled Mediterranean branzino, its skin crisped and glossed with olive oil and lemon. Roast rabbit alla caprese ($32.50) with herbs and wine sauce is out of the ordinary, too. Lavish in its size is a serving of silky calf's liver ($28.50), the ideal balance of caramelized onions and blueberry vinegar making this often-overcooked meat as luscious as foie gras. La Masseria also does one of the city's very best renderings of veal alla milanese ($43.50)--the pounded veal chop lightly seasoned and perfectly sautéed to a crisp exterior and succulent interior; as elsewhere it is topped with an arugula and tomato salad. A massive veal T-bone ($44.50) I also recommended, cooked just the point where the meat exudes all its flavor.
La Masseria's desserts are not as unusual but the tiramisù ($8) is highly recommended, especially to those who have grown tired of this much abused Italian standard. Also delicious is the torta di Mamma Paola ($8), a dense but moist flourless chocolate-almond cake with vanilla ice cream, one of the specialties of Capri. The ricotta cheesecake ($9) has a good dose of vanilla to distinguish it from so many insipid renditions elsewhere, and the warm apple tart ($8) with raspberry sauce and vanilla ice cream is worth a brief wait.
The owners have branches of La Masseria outside of Providence, RI, and, as reported here a few week ago, a new version called Masseria dei Vini, near Carnegie Hall, that is every bit as good. Keeping them all humming and packed is testament to Signori Iuele, Enzo Ruggiero and Coladonato's commitment to their vision of what Southern Italian food should be and to their guests who are assured of a great meal every time and those who for the first time will discover this eminent New York ristorante.
La Masseria is located at 235 West 48th Street; 212-582-2111. Open daily for lunch and dinner.