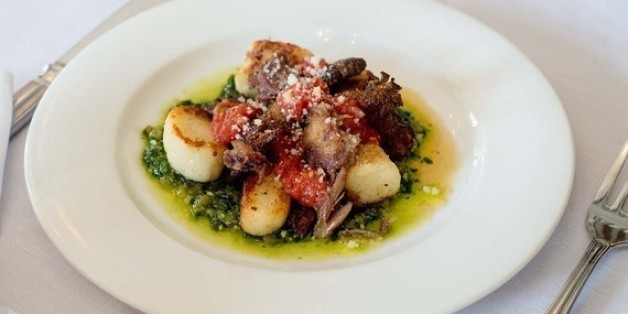 Restaurants that have long lives never follow trends, for their owners and chefs know that it is in the consistency of their original ideas, whether a Southern Italian trattoria or a New York steakhouse, that their strength lies. Indeed, restaurants that started out trying to catch a cresting wave, like New Nordic or Neo-Peruvian, rarely succeed in becoming that all important thing -- a favorite. For every person dying to be among the first to get a table at a buzzing new restaurant in Dumbo (down under the Manhattan Bridge) or Losaida (Lower East Side), there are thousands more hungry people more excited to return again and again to their favorite places. And in New York City, anyone's favorites can number in the dozens.
The Harrison (near the new World Trade Center) and The Liberty Room (attached to Aureole on West 42nd Street) are anything but dated, though their menus and chefs de cuisine change with the seasons over the years. There is a well-focused consistency in the style of cuisine, with new
flourishes all the time, that keeps them always in the forefront of people's minds if not on the lists of the hottest restaurants of the week.
Restaurateur Jimmy Bradley opened The Harrison at the worst of times, just weeks after the events of 9/11, but it proved to be a beacon of hope and resilience in that devastated neighborhood, as much by simply keeping the lights on as by serving modern American comfort food people craved. Now, more than a decade later, the modestly-sized corner restaurant teems with regulars day and night.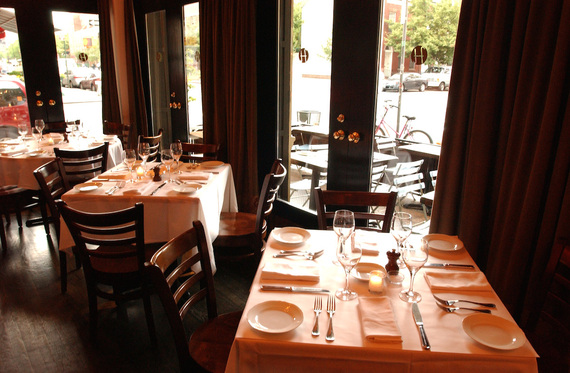 The dining room (above) has an unassuming charm, with cream-colored walls, dark wood and slender pillars, with a convivial but not overly loud walnut bar, and superbly flattering lighting. The reception is always just as warm and inviting. It's a look and form of hospitality that would be welcomed anywhere, from Boulder to Birmingham, and fits into downtown New York like the setting for an O. Henry story.
Since January, Executive Chef Ari Bokovza has been both maintaining and fine-tuning the menu with his own ideas. I seem to recall that the crispy gnocchi (below) has long been a staple at The Harrison, and it was as good as ever, with a rich duck confit, hen of the woods mushrooms and walnut pesto. Grilled octopus, which is everywhere these days, here gets a novel accompaniment of sweet potato falafel and a bracing shot of hot harissa condiment.
Seafood and meats vie for equal attention on the menu, for it's hard to choose between Chatham cod in a bath of fish chowder with fresh spring peas and sweet onions, and one of my favorites, sautéed calf's liver, sliced to the right thickness, with bacon and onion tart, dashed with a Sherry vinegar sauce that brightens the richness of the meat and bacon.
There is a new pastry chef coming aboard soon, so I hesitate to recommend desserts I enjoyed, but, given the way The Harrison has always been, the style of delicious, homey desserts of the past should be intact.
If I lived in the area, The Harrison would be my go-to place; the fact that I don't means I can always go back and be reminded of what I've always loved about it.
The Harrison is at 355 Greenwich Street, New York; 212-274-9310;
www.theharrison.com.
Appetizers $12-$17, entrees $24-$41. Lunch Mon.-Fri.,
dinner nightly; brunch Sat. & Sun.
The Liberty Room is the new name for the barroom at restaurateur Charlie Palmer's classically elegant Aureole, near Bryant Park. Its origins go back 25 years to another location, and today it is rightly considered one of the classic dining rooms of a genteel New York, especially noted for its nonpareil wine list.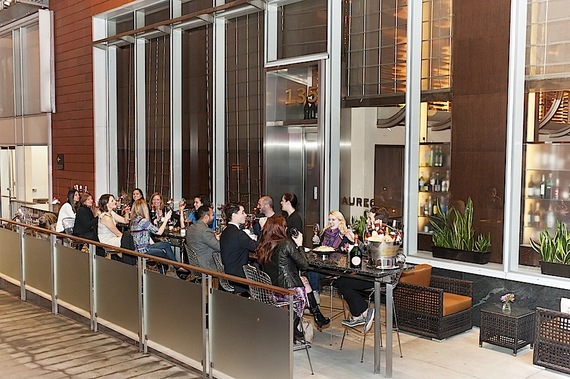 The Liberty Room now opens onto a 600-square-foot al fresco patio (above) that right now is perfect for a late spring pre-theater dinner, cocktails or bite after work, and its location on West 42nd Street reminds you of the old song, "Little nifties from the Fifties innocent and sweet,/ Sexy ladies from the Eighties, who are indiscreet./ They're side by side, they're glorified,/Where the underworld can meet the elite, Forty-Second Street./ Naughty, bawdy, gaudy, sporty , Forty Forty-Second Street!" This is People Watching Central.
Inside are shiny walnut-topped tables and a bar back-lit and with etched glass.
A highlight of the contemporary menu -- and by no means a light item -- is Chef Marcus Gleadow-Ware's signature Liberty Duck Casserole (below) , exclusively offered to Liberty Room diners, and, with Swiss chard, fava beans, marble potatoes, and orange, it is as wondrous and delicious a dish as you'll find in New York right now, easily feeding two, perhaps even three people.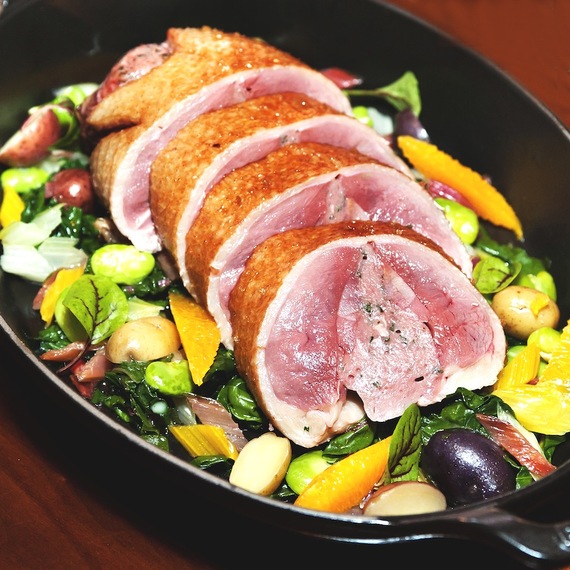 I also loved his foie gras mousse, his smoky pulled pork sliders, and finely chopped tuna tartare with fennel, espelette pepper, and taro root chips. Crispy shrimp with cauliflower and basil aioli was all right, though the shrimp themselves lacked flavor.
Don't miss any dessert here that involves chocolate, like the cremeux with salted caramel, "Aureo" cookie and chocolate sorbet, but for something moresummery, go for the Meyer lemon parfait with a touch of basil, hibiscus gelee and grapefruit sorbet.
Palmer is a chef-restaurateur who makes the kind of food people will always love without needing to puzzle out what it is, and that, in the long run, is what makes a great place to eat every time.
The Liberty Room at Aureole is at One Bryant Park
135 West 42nd Street, New York; 212-319-1660;
charliepalmer.com ;
Open for lunch Mon.-Fri., dinner nightly; Patio bites $6-$18; large plates;
Liberty Room dinner appetizers $14-$24, main courses $29-$72 (for duck for
two).