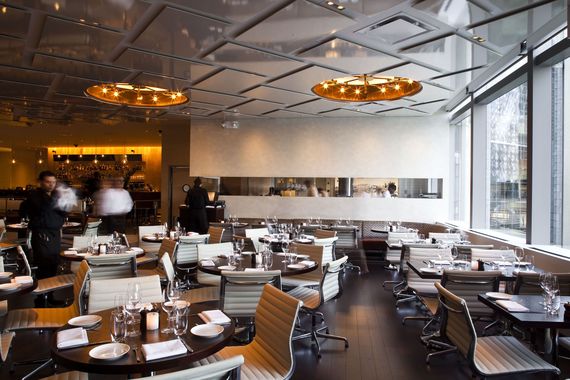 When it opened in 2003, no one knew for sure if putting a bunch of restaurants on the third and fourth floors of the Time-Warner Center at Columbus Circle was going to be a good idea. A lot of experienced restaurateurs wondered if people--especially New Yorkers--would be caught dead taking an escalator up to a dining room.
But aside from a couple of ill-advised, short-lived restaurants, the Center has proven an enormous success for places like Per Se, Porter House, Masa, and, A Voce, which was opened in 2009 by London-based Marlon Abela Restaurant Corporation. (There is also a downtown A Voce.)
Its location has never been a problem with a) those people who work in the building, b) those who stay next door at the Mandarin-Oriental or in the hotels that line Central Park South, c) those who love the panorama over Columbus Circle and the Park, d) pre-theater and Lincoln Center goers, and d) those who love stylish Italian cuisine. Good mix indeed.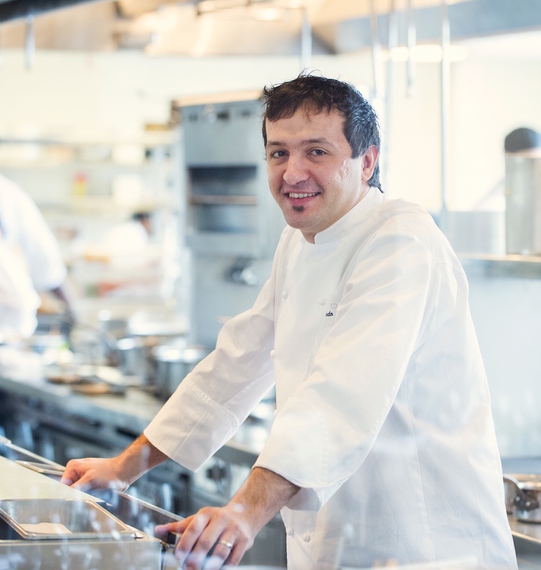 So the bar is always packed by six p.m., the tables full by eight, and all those people make a lot of noise in an interior that is very handsome in a sort of Milanese modern way but devoid of any textures to soak up the sound. The Rockwell Group has made the space both sexy and romantic enough for those in thrall to the city's lights, but businessmen and women feel comfortable coming here just for a plate of pasta and glass of wine after work. There is also private dining available. The colors of ivory and brown and glass walls lined with 7,500 bottles from a 2,800-label list (overseen by Olivier Flosse) provide a contrast of cool and glistening surfaces.
There has been some turn-over in chefs in the last couple of years, now under Chef Riccardo Bilotta (above), born in Trieste, with training and experience in diverse kitchens that include
Il Pellicano in Porto Ercole, Italy, El Cellar de Can Roca in Girona, Spain, and most recently, Harvest on Hudson in New York, where he served as Executive Chef. Whereas in the past A Voce had a reputation for modern but lusty flavors, Bilotta has added just enough refinement to recipes that incorporate first-rate American ingredients, so as to make the evolution of the kitchen both clear and very much his own. Thus, I just abandoned the menu and let him feed me and my guests on a recent evening.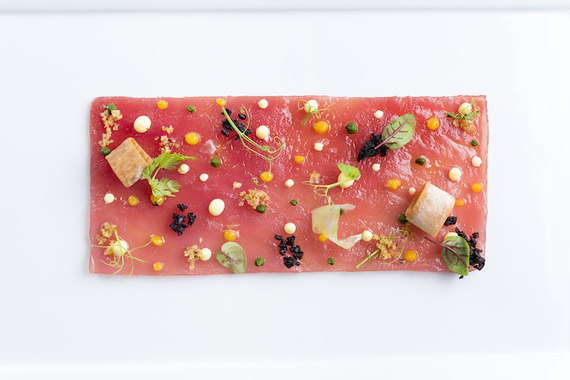 With a lovely bottle of Gaja Rossj-Bass 2012 (a blend of Chardonnay and Sauvignon Blanc) chosen by Mr Flosse, we began with a silky, tangy octopus terrine, with shaved marinated asparagus, capers, and a light sabayon. One of the most beautiful plates of Ahi tuna carpaccio, with orange, Taggiasca olives and chervil (above), I've ever seen tasted every bit as good as it looked, and the precise amount of seasoning brought a tartare of Piedmontese beef with pickled cucumber to vibrant life.
There were three pastas served: a perfectly tender, nicely chewy risotto with generous morsels of Maine lobster, aromatic saffron, a touch of brandy and tarragon; parsley-imbued linguine with very delicate flavors of Alaskan king crab, scallions, Meyer lemon, and just the right amount of Santa Barbara sea urchin so as not to overpower the other ingredients; amatriciana di ricci also had sea urchin--very subtly--and the sauce a classic sugo, with which we drank a Pieropan 2013.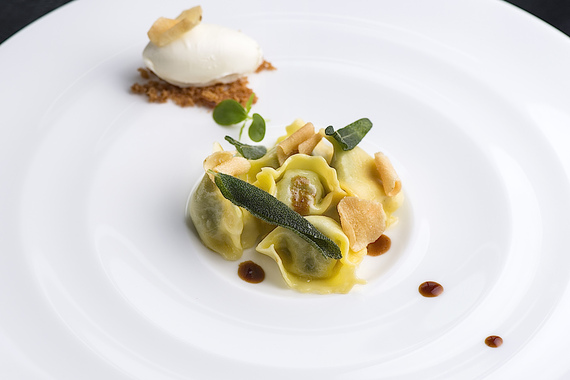 Quite clearly Mr. Bilotta adores seafood, as he should for a chef from Trieste, and I think he's going one on one with Marea across the street. Our next course was fresh cod with impeccably rendered artichoke purée, pearl onions, black breadcrumbs, and watermelon radish; halibut swam in a heady seafood casserole with meaty borlotti beans and cauliflower.
The single meat dish was an herb-crusted rack of lamb with buttery potato terrine, lamb cotechino sausage, and an enchanting pink lady apple mostarda. With this we enjoyed a Schioppettino, Ronchi di Chialla 2009, which we sipped for a while before having desserts.
Chocolate and Sicilian pistachio mousse was blended with olive oil and set with pistachio gelato, while a coconut semifreddo came with caramelized pineapple and passion fruit sorbet. Even sated we could not resist a bite of bombolini with a chocolate hazelnut fonduta and sprinkling of Maldon salt.
This is clearly sophisticated Italian food, and although there were a few people at other tables ordering just a plate of pasta, most guests that night were in full swing, with good bottles of wine on every table. In any other city A Voce would be very much a special occasion place, but in NYC it's a restaurant people will go to simply for the love of it whenever they get the chance.
A Voce is open for lunch Mon.-Sat. and for dinner nightly; brunch on Sun.
A VOCE
10 Columbus Circle (3rd Floor)
212-823-2523
Photos by Evan Sung