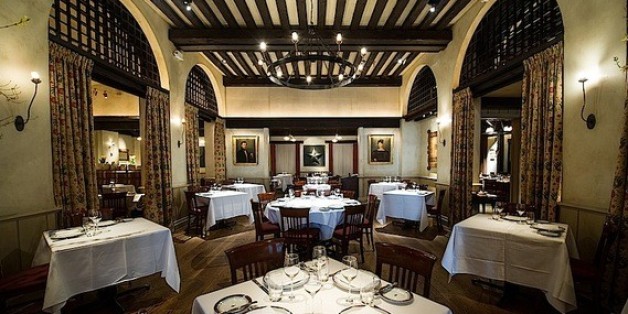 After the huge success of Union Square Café as both a beacon of good taste in that New York neighborhood and as a standard for a new form of American genial hospitality when it opened in 1985, owner Danny Meyer bided his time before opening another restaurant. Nine years went by and Meyer took the plunge with a nearby space whose name, Gramercy Tavern, aptly described a large restaurant with an upfront bar serving engaging small plates and a multi-room dining area where then Chef Tom Colicchio expanded people's idea of modern American cuisine. Added to this were a superb wine list and the same warm hospitality that Meyer had been continually refining. The accolades came fast: It was one of my Best New Restaurants that year in Esquire.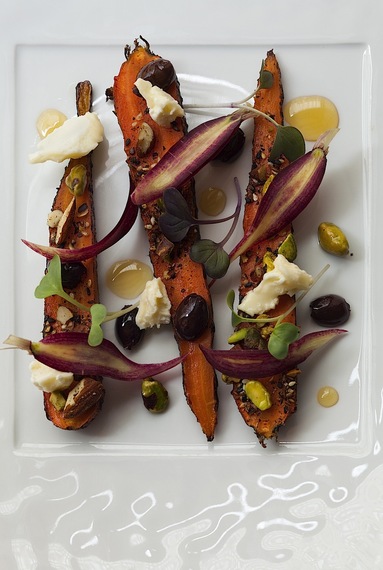 In the years since, Gramercy Tavern has rarely had an empty seat, and if you want to dine there without booking weeks in advance, make a rez after nine o'clock and you should be good to go. There are a lot of tables here and it can get loud, depending on the people seated near you, but the overall ambiance of the place, which is kind of tavern-like, is without a scintilla of pretense.
Colicchio departed long ago to become a food TV celebrity, but his replacement, since 2006, Michael Anthony (below), has proven himself more than an impressive successor. Indeed, Anthony's cooking has a refinement that has only gotten stronger over the years, and, given the numbers of guests he has to cook for each night, it is a marvel that the food arrives with such consistency.
On my last visit there were some uncharacteristic lapses in service (we received no bread until an hour after we sat down) but I count that as a momentary anomaly.
The wine list, overseen by beverage director Juliet Pope, is stronger than ever, with global holdings at every price range.
I was at a table for four, so I had a chance to taste a great array of dishes, and almost every dish was carefully conceived and had remarkable flavor. The start-off amuse of savory granola with yogurt and arugula was a bit odd, more like a breakfast item than a dinner dish, but this was followed by a fine beef tartare with pine nuts, capers and pickled mushrooms, and a lustrous smoked trout (below) with cipollini purée and pickled onions, two dishes whose sour tang snapped the palate to attention.
Lobster pappardelle pasta with chorizo, scallions and small, sweet mussels was sumptuous, while a mushroom custard, sunchokes, trout roe and more pickling, this time burdock, was delicious but not a very generous portion for a starter; it would have made a terrific amuse.
To show how easily a vegetarian can dine here with pleasure, choose a dish like Anthony's kabocha squash, mushrooms, ricotta and hazelnuts in a luscious mélange, or the glistening grilled carrots, sweetened with honey, a crunch of pistachios and Cremont cheese that lifted the humble carrot to a rich, satisfying level. (There is a six-course $102 vegetarian menu available.)
Flounder was simply done, with wild rice, shiitake mushrooms and an enriching lobster sauce, again showing an intelligent marriage of vegetables and protein in perfect balance. Black bass, too, was in tandem with bok choy, sweet potatoes and a creamy peanut curry sauce. Some very fine, well-fatted pork loin and deckle -- a mottled cut that you rarely see -- was wonderfully matched with bitter collards, starchy black lentils and light kohlrabi.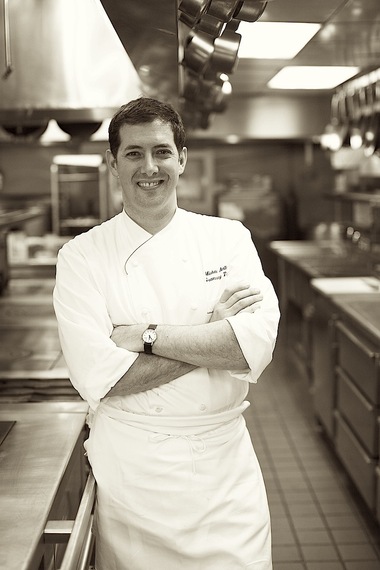 The first of the desserts was a sweet and tangy grapefruit granité with lime and avocado, which nearly worked; much better was lemon sherbet with poppy seeds, ricotta, hazelnuts and thyme, and then came the big gun sweets -- coconut pudding with mango, passion fruit, pistachio and just a hint of sweet basil; and an amusing chocolate banana slice dressed with caramel, sesame and black cardamom and a shot of dark rum. The send-off was a happy little coconut and marshmallow fluff cake, almost like a reward for finishing all the veggies.
The meal had such a cogent, focused, almost thematic consistency based on the season's vegetables -- the Union Square Green Market is nearby the restaurant -- but it also showed the individual spirit of Michael Anthony, who has few peers for this kind of elegant but approachable food without modernist interference.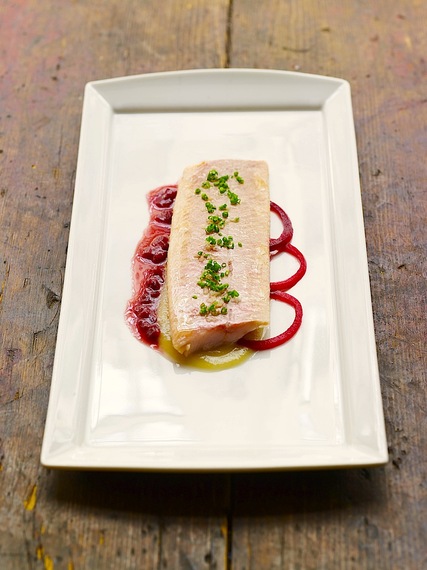 So, now two decades old, Gramercy Tavern sails on the calm waters of consistent good taste and attention to the natural order of things in the garden, farm and sea. It's a way of cooking whose style is sorely missed in so many of the new flashes in the pan.
Gramercy Tavern is at 42 East 20th Street, NY, NY; 212-477-0777; http://www.gramercytavern.com. Open for lunch Mon.-Fri, and for dinner nightly. At dinner the vegetable tasting course is $102, the seasonal menu $120; a 3-course menu is $92 fixed price.