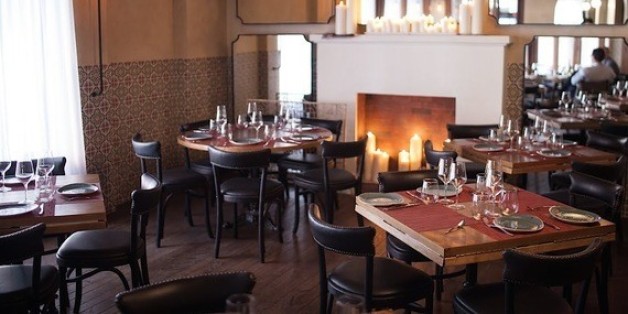 For three decades Petaluma in the Yorkville section of Manhattan's Upper East Side was a dependable, consistent and very popular neighborhood Mediterranean restaurant with a name derived from a city in California. Back then California cuisine was all the rage, and the restaurant had the open kitchen requisite at the time.
After being closed for a couple of years, the space was bought and redecorated this past summer by the Line Group, which also operates Sons of Essex and The Raven. They kept the name, and people responded favorably from the day it re-opened.
The room still has the lineaments of the original, spruced up now, with a front café and bar with high-top tables and a main dining area done with leather banquettes, patterned tile work, bare tables, a wall of mirrors, and a fireplace set with tall glowing candles; the kitchen has been completely recast with marble countertops.
The owners have brought in Executive Chef C.J. Bivona (below), who formerly worked at Miami's acclaimed Yard Bird Southern Table & Grill, and his preference for gutsy, hearty, full-flavored Italian food is evidenced in every corner of the menu.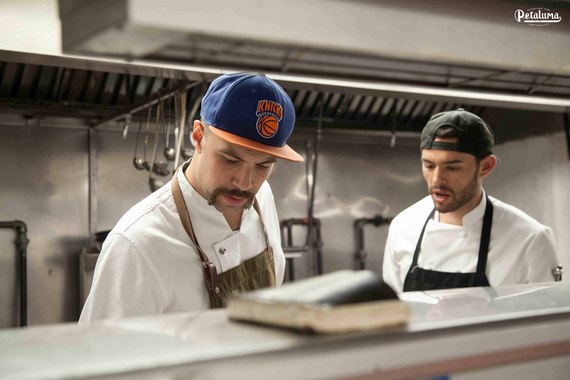 There are a lot of standard dishes everyone expects in this neck of the woods, and with the wood-fired pizzas and a roaring rotisserie, the kitchen is put to the test at peak hours, though the wait staff tries mightily to keep up.
I ordered a pizza with fried eggplant, mozzarella and basil ($19), and its crust was both pliant and crisp, the sweet eggplant melding well with the fresh cheese.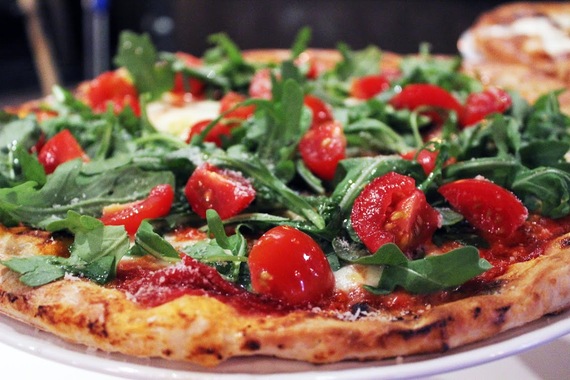 All the pastas are housemade, which makes them easy to under- or overcook. Sadly, some seem to sit a little long in the kitchen and may be tepid upon arrival at the table. The best, however, was a terrific take on classic spaghetti carbonara ($19), here made with chubby Asian udon noodles, beaten egg and black pepper well married in a luscious novel way (below). Also excellent was a beautifully cooked, tender risotto--there's a different one each day at market price. Nonna's Fried Pasta, made from pan-seared angel's hair pasta with meatballs, was a pleasing, homey recipe that in fact was based on that of Bivona's own grandmother.
Gnocchi "Bolognese" ($23) was compromised by being both lukewarm, and, though the menu indicated it was cooked with "manzo croccante" (crispy beef), the potato dough dumplings themselves were chewy and tough.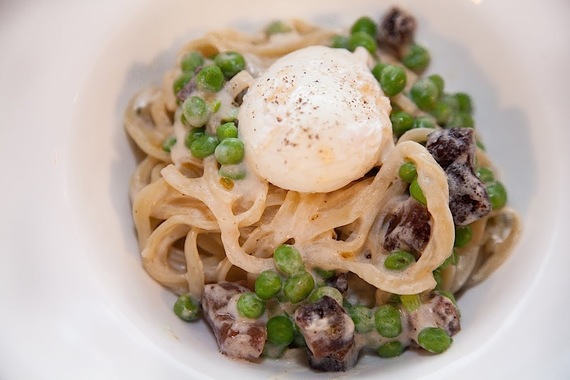 I was impressed with every one of the main courses I tried, beginning with an impeccably cooked branzino, roasted whole on the bone, served with bitter greens and charred lemon (market price), each element ideal for bringing out the flavors of the meaty fish. One could hardly improve on the roasted chicken with a roasted tomato chimichurri ($26) and rich garlic jus, and a churrasco skirt steak with more chimichurri ($26) had the right chewiness and an eyebrow-raising heat. Porchetta, now somewhat trendy in New York, is often dry and made too far in advance, but at Petaluma, the kitchen handles this rolled pig, with succotash, charred scallions and a fine romesco sauce ($29), with great aplomb, the skin crackling, the thickness of inner fat intact, and the meat truly juicy.
By all means share a dessert--perhaps the very good warm chocolate cake or the affogato of gelato with unsweetened espresso poured over it. The sorbetti here are really intense and served at just the right texture. There's also a Nutella chocolate pizza offered ($12).
The wine list has a judicious 75 labels, just right for this size restaurant, with 20 available by the glass. Most are Italian but some are Italian varietals made in California.
Which brings Petaluma full circle, drawing on a creditable history of how Italian food in this country was in fact improved back in the '80s by California culinary techniques. It's a winning the doors had never closed.
Petaluma is located at 1356 1st Avenue (near 73rd Street); 212-772-8800; petalumarestaurant.com. A four-course meal is offered at $64.