When Elaine Kaufmann, owner of the upper east side Manhattan restaurant that bore her name, died three years ago, obituaries paid homage to a woman whose reputation as the maternal cosseter of two generations of writers made her place legendary. No one, however, ever said anything good about the food.
Once, authors like Norman Mailer, George Plimpton, Gay Talese, Tom Wolfe and Woody Allen--who shot the opening of his 1979 film Manhattan at Elaine's--were regulars. A young writer named Winston Groom ran up a bill of several thousand dollars before finally settling it after he hit big with the novel Forrest Gump. Mikhail Baryshnikov once danced a pas de trois with colleague Rudolf Nureyev in the dining room.
So when Elaine died, her partner Diane Becker told the press, "The truth is, there is no Elaine's without Elaine. The business is just not there without Elaine."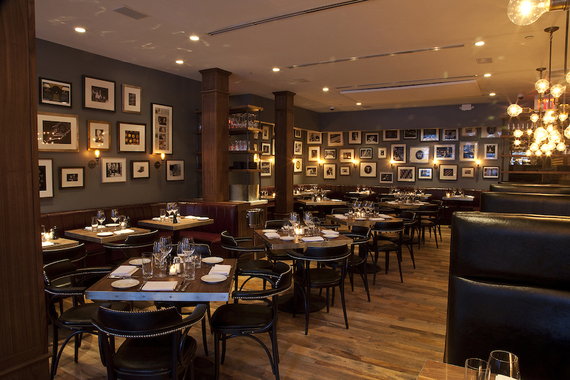 And she was right. Which is why it took a leap of faith in themselves for Michael and Susy Glick (below), who own the Parlor Steakhouse around the corner, to re-open the premises and try to dispel the lingering ghosts of a legend. And from the look of the packed house I saw the night I visited, the ghosts are gone. Many people may still come out of curiosity, but you can tell that this is already a huge neighborhood success with a fairly young crowd who probably never set foot in Elaine's.
It all looks deliberately different, the funereal décor of the past replaced with an open kitchen done with NYC subway tiles, a clubbish (loud) front dining room (above)with reclaimed oak floors, walnut tables and leather banquettes with textured red brick walls. An evocation of Elaine's literary importance can be seen in the 150 framed photos of famous authors and vintage typewriters. The rear room (below) is called "The Study," where black and white tile floors, a large fireplace, and bookshelves holding more than a thousand books has more intimacy and warmth, and it is considerably quieter than up front.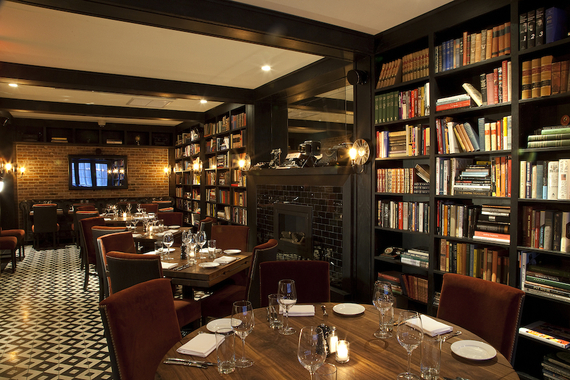 One of the Glicks will be there to greet you, along with an extremely affable young service staff. Exec Chef Lucas Billheimer, formerly at Parlor Steakhouse, and Pastry Chef Andrea Bucheli, who's worked at Country, Town, Le Cirque and Parlor Steakhouse, provide a proudly American menu that starts off with irresistible salt-topped, yeasty Parker House rolls I only wish more restaurants would serve instead of the usual breads. The flaky biscuits here are just as good.
The menu is an ideal size, appended with specials, and I hope they can manage to keep the superb summery corn soup with baby shrimp, fava beans, basil and corn fritters ($14) on for a long while. So, too, the best heirloom tomatoes are now coming in to accompany the sliced mozzarella with a green tomato jam ($16), and the hummus is mixed from fava beans and served with housemade grilled bread ($13).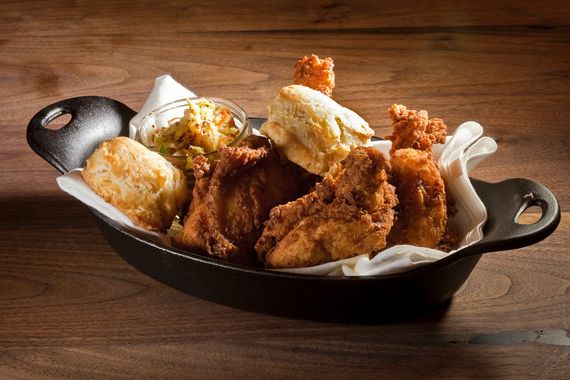 There's nothing wrong with the barbecued baby back ribs with apple butter ($15), though they're unlikely to win "Best in the City" soon. I enjoyed them; I didn't love them. But in a town that does not need another pasta alla bolognese, The Writing Room's version ($18) deserves a place at the top, with a fine mélange of ground meat and vegetables whipped with ricotta and scented with mint.
As for main courses, every one I sampled deserves applause, from a perfectly cooked medium-rare yellowfin tuna with good asparagus, arugula, and a zesty lemon-ginger vinaigrette ($32) to a generous bowl of steamed lobster and clams with red Bliss potatoes and plenty of drawn butter ($33). As you'd expect from the owners of the Parlor Steakhouse, the 14-ounce bone-in ribeye ($42) here is first rate, served with grilled broccoli (a very good idea), roasted shallots and garlic-herb butter.
And if the kitchen held back on the amount of salt used in the fried chicken ($24), this would be one of the best in the city, with a good crunchy crust, delicious seasonings, and juicy interior, served with fresh cole slaw and those marvelous biscuits (right). To go with these mains, the smoked corn grits ($6) are excellent, as are the roasted carrots ($6) and French fries ($6), but the unattractive crispy sweet potato ($7) doesn't belong on the same menu.

Bucheli's desserts are every bit as cheery as they are good--caramelized rhubarb rice pudding with crème fraîche ice cream, a cast-iron skillet-baked apple pie, and delightfully childlike Creamsicle Pops dipped in chocolate and served with a warm hazelnut brownie (left)--exactly the kind of American desserts that curry favor with everyone.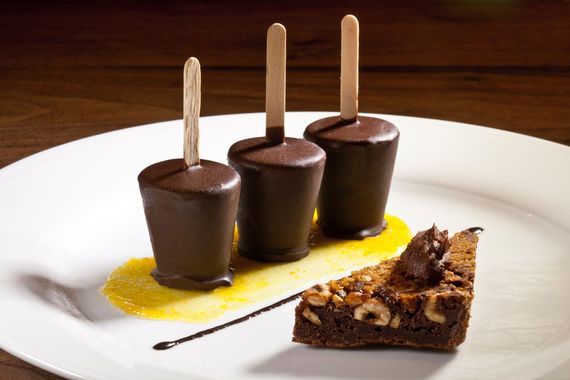 The wine list at The Writing Room includes about 150 well-chosen labels.
I really applaud the Glicks for pulling off this hat trick of managing to make The Writing Room wholly theirs while showing gracious homage to its predecessor. And by not including a veal chop on the menu--said to be the only thing edible at Elaine's--they are signaling that their food is now the star in the dining room.
Open nightly for dinner, Mon.-Fri. for lunch, Sat & Sun. for brunch. There is a $38 fixed price menu at dinner.
THE WRITING ROOM
1703 Second Avenue (near 88th Street)
212--335-0075
thewriting roomsmyc.com