In just a single decade South America's wine industry has revamped, even revolutionized the way they make their product, not least by starting nearly from scratch. As much as lack of capital, bad, often dictatorial governments have made it difficult to invest and improve an agricultural industry without the means to modernize or market.
But with more political stability has come breathtaking progress, first in Chile, then in Argentina and Brazil, and now in Uruguay, a country most wine lovers probably never gave any thought to at all until this past year. Now, there is a trickle of good wines coming into the American market and they are priced to compete with other Latin American wines.
As recently as 2005, Uruguayan production was only about 17 million gallons, but just in the last year that number has tripled, according to the association Wines of Uruguay. Wines are grown on more than 20,000 acres. There is even a tourism site, Uruguay Wine Roads, allowing visits to more than a dozen modern wineries.

While vintners have been planting a wide variety of European grapes, including chardonnay, cabernet sauvignon, malbec and merlot, the workhorse is tannat, introduced to Uruguay in 1870 by Basque immigrants; the varietal that now represents one-third of all wines produced in the country.
Tannat is a big-bodied, tannic red, an earthy wine that in the past, made in bulk, has lacked much refinement or complexity. But modern vinicultural techniques have made tannat into an impressive contender as a wine that doesn't taste like the homogenized varietals in the global market.
I've been tasting and drinking a range of Uruguayan tannats and have come away with the belief that, while there are still some dank, unyieldingly tannic bottlings, there are others that go very well with contemporary cooking styles, especially red meats with plenty of spices. Most are will priced, though some are pushing the edge for wines not yet well established in the stores.

I was delighted with a Bodegas Carrau 2011 Tannat de Reserva ($12), which had the fruit and tannin balance right, reminding me of the wines of Madiran in southwest France, one of the few regions where tannat flourishes, though usually blended with other grapes. The Carrau family was making wine in Spain in the 18th century and moved to Uruguay in the past century. Its Reserva spends 18 months in new French oak, and another year in bottle.

I found the reservas shook themselves free of harsh tannins, as in the Bodegas Castillo Viejo Catamayor Reserva 2008, which, at only 12.5 percent alcohol, had amazing body and brightness of fruit. Catamayor also makes a superb cabernet franc and tannat blend, 2008, a very smooth, velvety wine with a faint fruited sweetness at the finish. The winery dates back several generations now to 1927.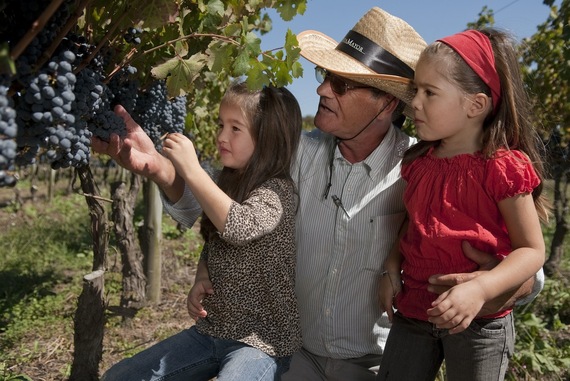 I also enjoyed a Bouza Tannat "A8" Parcela Unica 2010 ($39), its grapes picked from choice vineyards, and with 14 percent alcohol, is an ideal big red with beef grilled over charcoal.
When the alcohol rises to 15 percent, as it does in the Artesana Tannat 2011 ($20), made in the Canelones region of Uruguay, the spiciness manifests itself, with fruit up front but a heavy ballast of tannins underneath. It could easily go head-to-head with even some of the famous labels of California cabernets of much higher price.
As I noted, not all the Uruguayan wines I've tasted in recent weeks were winners, but most are cleanly made, and some show their terroir with flavors you won't find in other South American varietals.