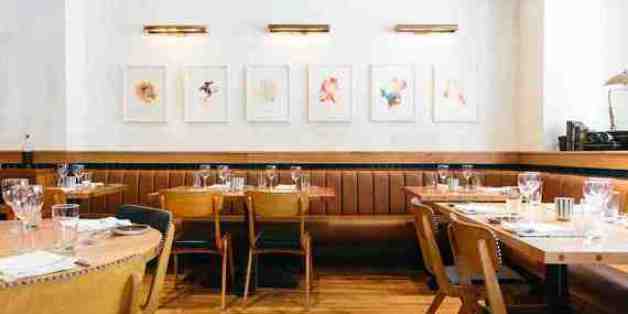 Hard to believe Chef David Pasternack opened the West Side seafood restaurant Esca fourteen years ago and that it is still going strong for its deceptively simple preparations with an Italian component. Now, with the opening of Barchetta ("little boat") with partner John Meadow of LDV Hospitality, he moves the marker closer to the Italian Mediterranean.
The two rooms' décor is more rustic than Esca's and a mix of white oak tablecloths from a 19th century barn, 1950s Danish modern school chairs, and Chelsea artists' work, along with low lighting and a decent sound level make this an easy place to go with friends.
By all means start with the raw crudi, of a kind Pasternack was among the first to bring to New York. They are pristine examples of the day's market offerings, best appreciated in a tasting of six, in two flights ($28), which may include vermillion snapper, mahi mahi, red albacore, bluefish, and oysters.
The antipasti range from crisply fried bianchette ($16), little silver fish you eat like French fries, to raw baccalà ($18), made from Spanish salt cod--and the salt was overpowering--with delicious wild mushrooms and watercress.
Primi are pasta dishes, which were surprisingly not winners: ravioli puttanesca's spicy tomato and saffron ($22) wiped out the flavor of the tuna belly, and tasty bavette noodles ($23) had very little of the jumbo lump crab meat promised, with wild onion flowers and toasted breadcrumbs.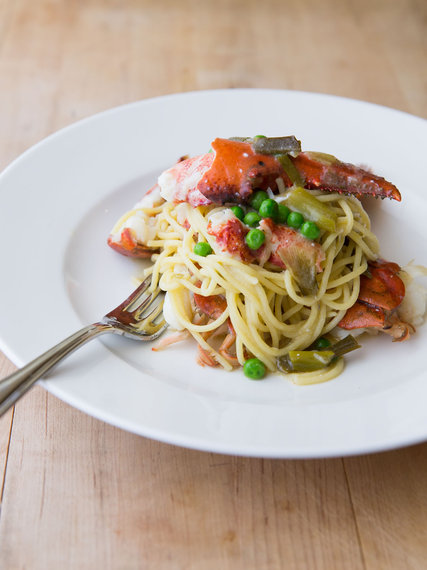 The main seafood courses were all as expected from the man who wrote the fine cookbook Young Man and the Sea (2007): true Scottish salmon, velvety and light in flavor came with wild arugula and pine nut pesto ($26), while a blackened kingfish steak with succotash ($27) had really gusto to it. Orata (sea bream) comes whole, with capers and rosemary ($28), exactly as you'd have it at a trattoria on Capri, and spigola nero ($28) black bass was just as simply--and admirably--done, with crispy potatoes.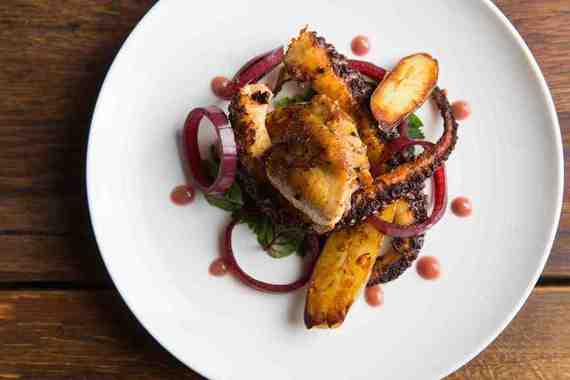 There are also three non-seafood dishes on the menu.
For dessert I loved the almond tart with yellow peaches; a budino chocolate cake with pink peppercorns and tequila-laced cream, a fruit crostata with vanilla gelato; and a butter cream caramel gelato with sesame brittle (all $12).
I find the prices at Barchetta remarkably modest considering the quality of seafood served, and it is to Pasternack's credit that his long familiarity with the mongers rewards him and his guests with first quality ingredients.
Barchetta
461 W 23rd Street New York, NY 10011
(212) 255-7400
www.barchettanyc.com
Dinner is served nightly.