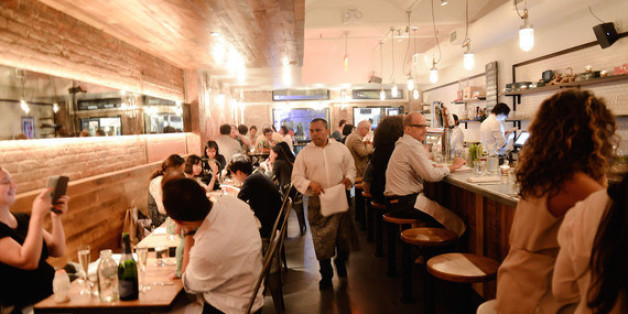 The diversity of restaurant styles in New York never ceases to amaze me. Once upon a time the city's ethnic restaurants fit into pretty standard categories--haute cuisine classic French, Italian-American, Sichuan and Hunan, teppanyaki, and so on. But variations on all culinary genres keep NYC first among American cities when it comes to dining, as this week review shows.
The maze of eateries in Chelsea Market is like one of those "Laughter in the Dark" rides at amusement parks where you turn a corner and are surprised by what pops into view: Amy's Bread, Bar Suzette, Buddakan, Doughnuttery, The Green Table, L'Arte del Gelato, Morimoto, One Lucky Duck, and The Lobster Place. At this last, some of the city's finest seafood is sold, and attached to the market is Cull & Pistol Oyster Bar, a slip of a seafood restaurant where executive chef David Seigal is going way beyond the typical seafood menu.
A cull is a lobster that has lost one of its claws, a pistol is one that's lost both, and in addition to a wide variety of oysters, there are some delightful lobster dishes, like lobster pho with vermicelli noodles, mussels, hake, chili, coriander, mint, lime, and bean sprouts ($19), as well as a fine rendering of a Maine-style lobster roll made with chilled lobster salad with mayonnaise and scallions, or Connecticut-style, warmed in lobster butter and lemon with mayonnaise, both on toasted top-split buns accompanied by excellent French fries (market price).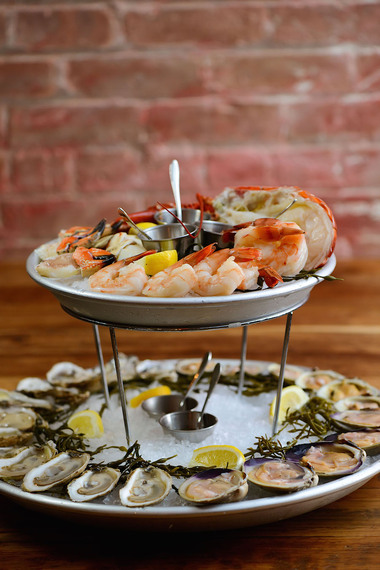 Seigal grew up on the shores of Long Island, worked on a fishing boat during college and became an accomplished sports fisherman. His culinary cred comes from stints at Jean-Georges, Bouley, and top-tier restaurants abroad before returning to NYC to become chef at Mercat and now at Cull & Pistol, where his menu changes daily, wholly dependent on what's fresh in the Lobster Palace next door--which must be every chef's dream. With this cornucopia of raw product he creates dishes like baby octopus braised in tomatoes with blue corn grits, oregano and olives ($16) and one of the best pasta dishes in NYC--bucatini carbonara with sea urchins, whitefish and bacon lardons ($15 to $21). Everything just clicks into place.
There is a nightly salt-baked whole fish done simply with lemon, thyme and garlic marinade ($27) and his miso-glazed hamachi collar with a mushroom dashi, scallions, honshimeji mushrooms, and yuzukoshō oil ($24) shows his global reach. You can also have a Clambake Dinner for Two ($79), teeming with a 1.5 lb lobster, mussels, shrimp, chorizo, corn on the cob and fingerling potatoes, served family-style in a rich shellfish broth.
The premises are dominated by a long, very popular metal-topped counter in front of a spanking white tile wall. Here people slurp up their Wellfleets, Apalachicolas, belons, and other nightly species. Opposite is a brick wall lined with tables and hanging light bulbs. The waitstaff is extremely knowledgeable about the night's offerings, and the wine and beer list is crafted to go with Seigal's seasonings and components, and most wines are under $50. By comparison, the desserts, like pear galette and a chocolate-peanut butter semifreddo ($9), are alright if nothing unique.
Cull & Pistol is always a happy place, loud as you might expect, and by being as small as it is, the guarantee of freshness and creativity is evident in every dish.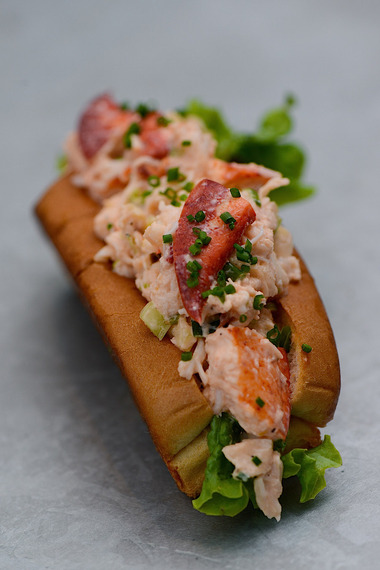 Cull & Pistol is in Chelsea Market at 75 Ninth Avenue; 646-568-1223; http://lobsterplace.com/pages/restaurant-reservations. Open every day for lunch and dinner.