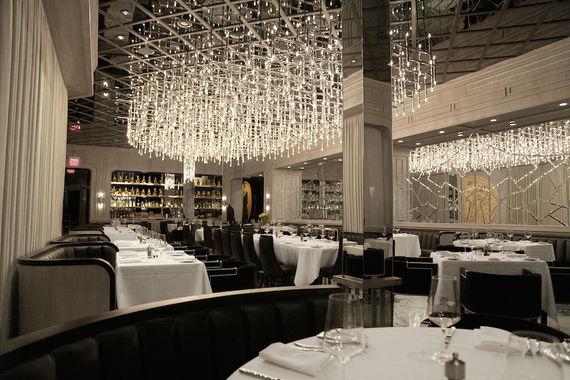 The hoary axiom about the three most important things for success in business--location, location, location--does not seem to apply to NYC steakhouses, for from the number of packed dining rooms it's clear you can stick one anywhere--uptown, downtown, Lower East Side, West Village, Tribeca--and it just doesn't matter. A new steakhouse in NYC is like the Statue of Liberty, exhorting fans to "Give me your tired . . . huddled masses yearning to breathe free!"
For every night at 6 p.m., steakhouses everywhere in the city open their doors and a torrent of tired, huddled masses yearning to be free of their office cubicles blasts through, desperate for stress release, a dirty martini or two, and an infusion of red meat.
But, if every location seems low-risk for a steakhouse, midtown Manhattan is Steakhouse Central, with the old timers like Palm and Spark's competing with an unending barrage of newcomers like Davio's, Charlie Palmer's, NYY Steak, and the brand new Hunt and Fish Club on West 44th Street. (Strip House is up the block, Van's and Robert's one block north, Shula's one block south.)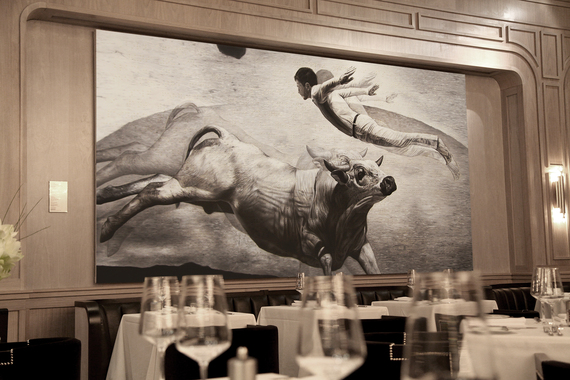 Like many of the newcomers, Hunt and Fish Club, which sounds like it should be set within a logwood lodge hung with moose heads and fish nets, has gone for a snazzier look than the traditional yellow walls and dark wainscoting. HFC, shall we call it, is a steakhouse that aims to attract as many women as the men who want to buy them a round of drinks.
HFC sprawls over 9,200 square feet on two levels, decked out with 55,000 pounds of marble, 180 seats and artwork by Roy Nachum and Studio Iyor. The rumored tab was $5 million, which seems low when you look around the place. "Our goal is to bring back the character and depth of old school New York in a contemporary setting," says co-founder Eytan Sugarman, "a space that Sinatra would have been spotted at." Ironically, the flashiness of HFC's décor was never Old Blue Eyes' style, for he preferred quiet, intimate Old World Italian haunts like Patsy's on West 54th Street.
The entrance at HFC is called "Black Room," its backlighted whiskies in crystal decanters; the main dining area is the "White Room" with an 40'-by-20' reflective chrome light installation; the oasis-themed "Green Room" has an arched skylight, a self-watering "living green wall," and sculptures inspired by--I kid you not--"the scriptural golden calf," which, you may recall, Moses smashed to pieces. Then there's the downstairs Blue Room with a glass-enclosed infinity wine cellar done up with Roman Reliefs beneath a mirrored ceiling.
That's a lot of décor, more fit for Vegas than Gotham, but it's working well, with a raucous bar crowd split between two-day-bearded guys in those skinny suits and their female prey; by six o'clock the dining room is packed with loud, guffawing men just out the door of investment banks and bond agencies, their neckties stuffed into the pockets of jackets draped over the backs of very comfortable chairs. Not surprisingly, after nine o'clock a gaggle of recently coiffed, very high-heeled, long-nailed women begin to occupy the most visible "A" dining room tables, where they sip a flute of mid-range Champagne and try to guess which men are most likely senior VPs. As investment entrepreneur Anthony "The Mooch" Scaramucci (Mr. Sugarman's partner) told the NY Post, "This is not for the people who are taking their kids for a $10 hamburger. It's not where the Griswolds would stop."
Sugarman and Scaramucci might easily have hired a brigade of robotic grill cooks to do justice to the basic steaks and chops menu, but instead they hired away Executive Chef Jeff Kreisel from the illustrious Porter House in Time-Warner Center, as well as one of the city's finest pastry chefs, Richard Leach, formerly of Park Avenue Café. The result is that not only are the steaks and chops and lobsters impeccably cooked but many other novel dishes show off the kitchen's strength, most saliently one of the best soups I've tasted in NYC--French onion with morsels of oxtail and bone marrow ($17) that I could make a meal of (below).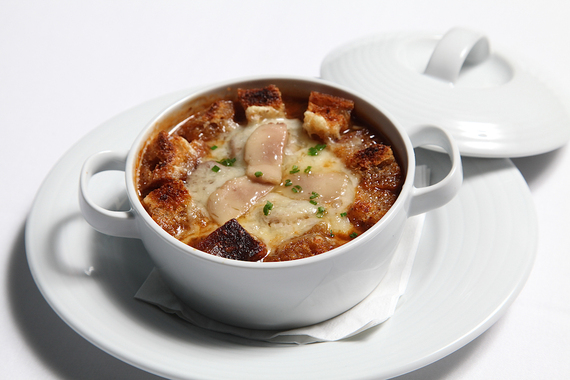 But first come hot popovers the size of a softball, laced with Gruyère cheese and accompanied by good butter at the right temperature. The tuna tartare ($19) gains interest from caramelized pineapple, avocado mousse and crisp potato. A jumbo crabmeat cake ($22) lives up to its billing, and the oysters ($4 each), only two species listed, are excellent.
There are 2 ½ pound whole lobsters ($50), steamed or broiled, and they are meaty and overflow the plate. If you don't go with steak, the grilled Berkshire pork chop ($29) is a great choice, truly massive in size at 14 ounces to feed two. There's no wagyu on the menu--kind of a relief these days, when everyone claims to have it--but you'll be very happy with the dry-aged porterhouse for two ($55 per person), which I asked for well charred on the outside and medium-rare, and it came out perfect.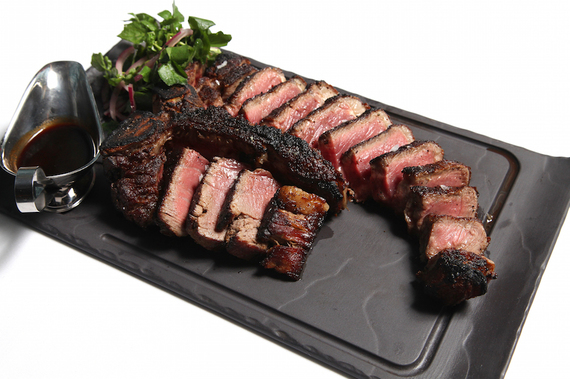 Of the sides I enjoyed, the creamy mashed potatoes ($10) took the prize, and the Brussels sprouts ($12) gained flavor from a bacon vinaigrette; macaroni and cheese ($11) had more richness than deep flavor. Skip the too-cute truffle tater tots ($12), which aren't much of an improvement on what you had in elementary school.
If HFC is neck and neck with its steakhouse competition, it soars ahead in the dessert department, which, with Mr. Leach back there, is to be expected. Right now he's doing a decadent chocolate torte of devil's food cake, chocolate ganache and frozen espresso mousse; a lovely winter spice cake with apple puree and cinnamon mascarpone; a first-rate crème brûlée with pecan praline biscotti; and the "everyday sundae," which can be had mountain-size at $22; all the other desserts are $14.
HFC's wine list is solidly knit, with a lot of high-end bottles among a discrete selection under $50. The wineglasses are not the most elegant you'll find in NYC.
Clearly the owners of HFC were seeking a glam crowd and one with lavish expense accounts, and, after only two months in operation, they seem to have found the clientele they wanted, both male and female. So, if you can't feel Sinatra's ghost, you may spot some New York sports figures and minor celebs like Mario Lopez pressing the flesh.
HFC is open for breakfast and lunch on weekdays and nightly for dinner. Dinner is a la carte or there is a Three Course Prix Fixe dinner at $75, Three Course Steak Prix Fixe at $85, and Four Course Steak Prix Fixe at $95.
HUNT AND FISH CLUB
125 West 44th Street (near Avenue of the Americas)
212-575-4949
http://www.hfcnyc.com