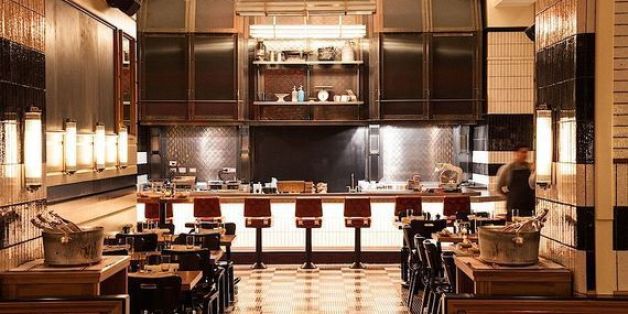 Thirty years ago when the term "New American Cuisine" was coined in imitation of France's la nouvelle cuisine, it was soon extrapolated into New Southern Cuisine, New Southwestern Cuisine, New Pacific Northwest Cuisine, and so forth across the map. (California spitefully split into Southern and Northern camps.) The distinctions among them pretty much petered out in the '90s when global influences, the Mediterranean Diet, and other fads blurred any reasonable definition of what New American Cuisine had become.
The contemporary, wholly fatuous definition often given these days is that American Cuisine is "whatever Americans eat," which, if true, would be mostly frozen, boxed and canned food like Spam, Stouffer's Macaroni and Cheese, and Frito-Lay corn chips.
My idea of what American food has become is pretty close to what's being served at the year-old Kingside, whose chef-partner Marc Murphy and Scott Gerber of the Gerber Group has been focusing in on the kind of dishes that Americans who dine out are always happy to see, from a Kingside burger ($21) with giardiniera relish, soppressata and white cheddar ($21) to pan-roasted scallops with butternut squash, bacon caponata and brown butter ($34), ending off with caramel pudding with bourbon whipped cream and slivered almonds ($10). (I'm stifling the urge to use the word "yum.")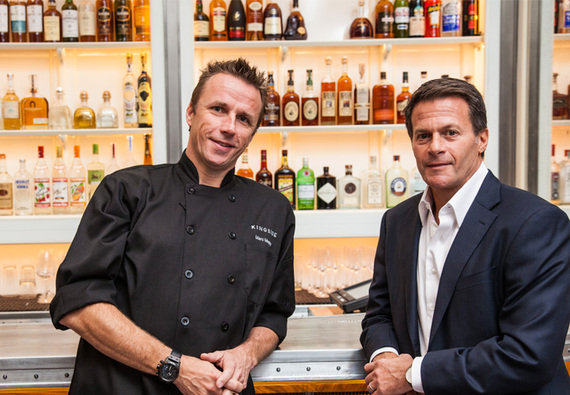 Murphy, whose own background took inspiration from his mother and grandmother's kitchen, from French master chef Jean-Louis Palladin, and from extensive worldwide travel, opened Landmarc in TriBeCa ten years ago, then another in the Time Warner Center, and surf shack called Ditch Plains. He still takes global ideas and ingredients and adapts them all to an American sensibility that bespeaks generosity, regional culinary tradition, a love of good salads, and a Yankee sweet tooth. There is no fuss about his food, but it takes the kind of experience Murphy has to bring it all off with such grace.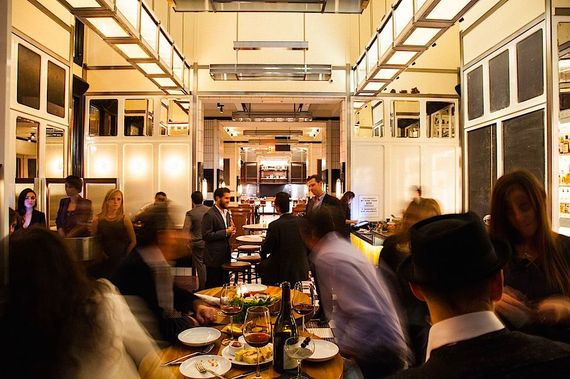 Kingside is located in the Viceroy Hotel (near Carnegie Hall and the Theater District), with 115 seats, 38 at a very lively bar whose high noise level fortunately does not intrude too much into the good-looking dining room, with its tile work walls and a convivial chef's counter backed by quilted stainless steel. Nicely lighted, with wooden tables and booths, the room manages to balance the feel of a swank midtown New York restaurant with that of a fast-paced, streamlined middle-American diner. Service is amiable, knowledgeable, and attentive. The wine list of about 70 bottlings offers several by the quartino and half-bottle, with the majority of the list under $50 for whites and $60 for reds. (Now I'm stifling a "Yay!")
You could easily enjoy a good nosh at Kingside before heading for a concert or play: there are three raw items ($19-$21) of tuna, scallop and fluke, and charcuterie and cheeses ($10-$12).
Then there are a dozen small plates, with plenty of vegetable options. Hay-aged, assertive pecorino graces baguette toast made sweet and milder with truffle honey and ricotta ($16), while lobster is diced with mustard seed, tarragon and fennel on toast to very delectable effect ($20). Perfectly roasted foie gras takes a sweet balm from grapes and a splash of rich Sauternes. A mushroom-flecked burrata arancini ball was enhanced with truffle fondue ($15) , though the fried arancini were a bit bland.
You don't see snails on menus that often anymore, but anyone who likes them and wants to cook them should taste the way Mr. Murphy renders them, with bone marrow and garlic butter ($17). Few snails ever had a better bed to curl into.
The special that evening was house-made pasta lavished with white truffles--at $45 something of a modest price these days in New York. My favorite entrée was the thick braised pork shank ($32), coming off the bone and oozing all the flavors it had absorbed, with roasted shallots, escarole and a pork jus. Also applauded at our table was a brick-roasted baby chicken with fall vegetables, panzanella salad, and black garlic ($30). The scallops I mentioned were as good as most in New York if not outstanding, and the same might be said for the burger (I recall the outrage when `21' Club charged $21 for its burger. Times have changed.)
Salt-and-pepper fried potatoes were gilded with a sweet onion aïoli ($10), and buttery pommes fondant ($10) had enchanting, velvety texture and flavor, while seasonal vegetables ($10) were packed with enlivening spices.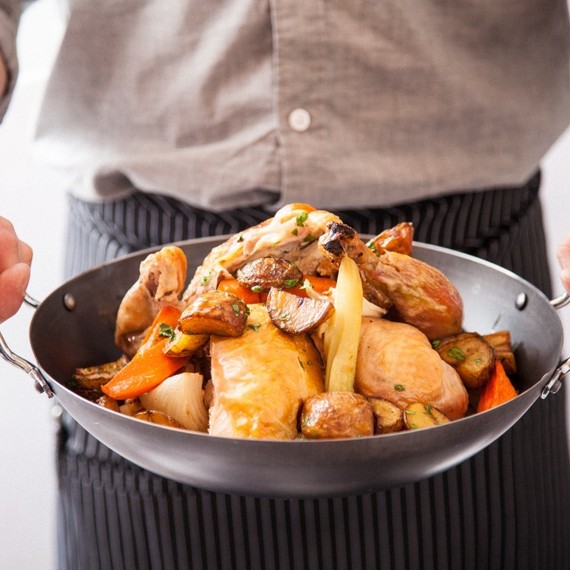 When I see caramel pudding on a menu--rare, indeed--I order it and allow myself to slip into a nostalgia reverie for this childhood dessert. Mr. Murphy brought it all back to me, with the addition of grown-up whipped cream and pretzel crumble ($10).
So, although there are some French and Italian preparations on the menu at Kingside, they become very much part of the fabric of this very American menu. Mr. Murphy has never tried to be trendy, only to be very, very good.

Kingside is located at 124 West 57th Street (between 6th + 7th Avenues); 212-707-8000; www.kingside-restaurant.com.
It is open for breakfast, lunch and dinner daily, with brunch of Sunday.