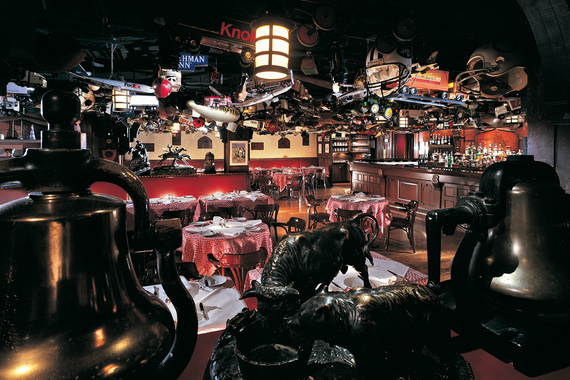 Of all the historic restaurants in NYC like Delmonico's, which was the very first restaurant to open in American, back in 1831, Barbetta, still in the same Italian family since 1906, and The Four Seasons, a design masterpiece from 1959, none has had the storied past of '21' Club, more familiarly known to regulars as `21' and referred to by old-timers as just "the Numbers."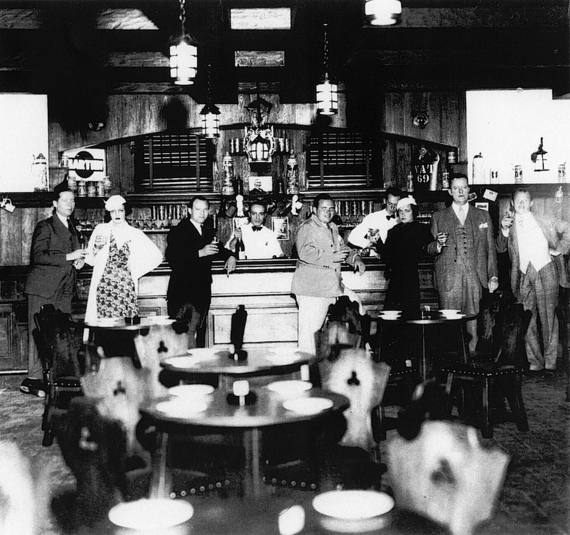 As everyone knows, it started out as a speakeasy (above), with a secret subterranean wine vault and trap doors in the bar room that sent bottles of booze crashing down a shaft, never to be discovered by the feds or NYC police. After Prohibition ended, its owners Peter and Jack Kriendler, with Charles Berns, turned it into a lavish, legit, very expensive restaurant that catered to a much larger crowd of swells than before, and it remained a clubbish, if not private, place for decades to follow. A celebrated clientele strutted its power within its stucco walls, including most every president of the U.S. along with stars like Marilyn Monroe, Humphrey Bogart, Orson Welles, Lauren Bacall, Ernest Hemingway, Frank Sinatra and Ava Gardner. Several of them still have bronze plaques on the wall above "their" tables. Still, though favoritism ran rampant, '21' never showed guests the kind of snobbish deference once found at French restaurants around town. It was always more like a raffish party that never seemed to end.
Its legendary status has long made it the obvious choice for movies in which power is a driving theme, including Sweet Smell of Success and Wall Street. It was also one of James 007 Bond's favorite NYC restaurants.
True, by the 1970s, '21' was wheezing but kept up its exclusive image--a doorman was quoted in New York Magazine about newcomers as saying, "Why should I be nice to them? I don't know these people." The premises needed total renovation and the food seemed as if no one had thought to upgrade the menu in 40 years.
Then in 1986 the place was purchased for $21 million by a carpet manufacturer who poured a lot more money into it and hired a succession of chefs, including Alain Sailhac, Anne Rosenzweig, and Michael Lomonaco who tried to balance cherished items on the menu with new ideas. Ten years after that, Orient-Express Hotels (now Belmond, Ltd.) bought '21', and since then it has gone through a number of major and minor tweaks, chefs and managers, all of whom have worked hard to bring in a younger crowd as the older one sadly died off.
I have been going, off and on, to '21' since the 1970s and have seen it dip and bounce back, now flourishing grandly. Where white hair--now mine--once seemed to fill the Bar Room (the bar itself has been relocated to the front), every shade of full heads of hair dot the room, and the staff seems composed of an equal of veteran waiters and younger ones. The new manager, for a year, is the affable Teddy Suric, whose credentials extend from Le Cirque to David Burke's restaurants, and he is intent on bringing an egalitarian bonhomie to every aspect of '21' while putting a skip in everyone's step. Phil Pratt is still Wine Director, now assisted by the young Christopher Smith, who chose some stellar wines for me when I recently visited. (You can take a tour of the astonishing hidden wine cellar unless there's a party booked there.)

Upon entering I found the evergreen gentleman Shaker Naini greeting everyone, as he has for 37 years. The lighting is a little darker in the foyer and they've gotten rid of the '21' mementos case there. To the right the bar is fitted out with handsome woodwork and tufted leather chairs; the walls are hung with brass sconces and a collection of American artwork any museum will kill to have (including Remington sculptures and commercial art from the 1940s and 1950s upstairs in the banquet rooms); and in the bar room, the same stucco walls, rathskeller woodwork, and corporate toys hanging from the ceiling give it a timeless appeal. (Look for a model of JFK's PT-109, Willie Mays's baseball bat from Willie Mays, Bill Clinton's Air Force One plane, tennis racquets from Chris Evert and John McEnroe, and Jack Nicklaus's golf club. Of course, the red-and-white signature tablecloths are the same.
For a year now French chef Sylvain Delpique has been massaging the menu, keeping and improving those dishes whose removal would cause cardiac arrest in many patrons, while adding his own modern ideas each night, like the octopus carpaccio ($26) with blood orange, purple cress, kalamata olives and za'atar vinaigrette. His background includes several Michelin star restaurants in France, Restaurant Jean-Louis and L'Éscale in Greenwich, Conn., and Artisanal and David Burke's restaurants in NYC. Pastry chef Ikuma Motoki is Tokyo-born but through long experience has mastered American and French desserts.
On my visit with friends, Mr. Delpique sent out that lustrous carpaccio, along with crisp, roasted quail stuffed with lentils. This was proceeded by an amuse of caviar and crème fraiche on tender little blini, accompanied by Gossett "Excellence" Champagne. Our table shared a lavish seafood tower on ice ($95) of unstintingly high quality shrimp, lobster, crab meat, and other shellfish with their own dipping sauces. A crabcake itself was entirely meat, lightly bound, with apple, celery, grapefruit butter and black mustard seed. a tangy mustard sauce ($22). Tuna tartare ($22) had a nice twist to it--creamy avocado, citrus dressing and gaufrette potatoes. Delpique's foie gras terrine ($28) with pistachio ginger-pear marmalade and toasted brioche is as fine as any in NYC. With these was paired a 2010 Paul Jaboulet Crozes-Hermitage Domaine de Thalabert of medium body.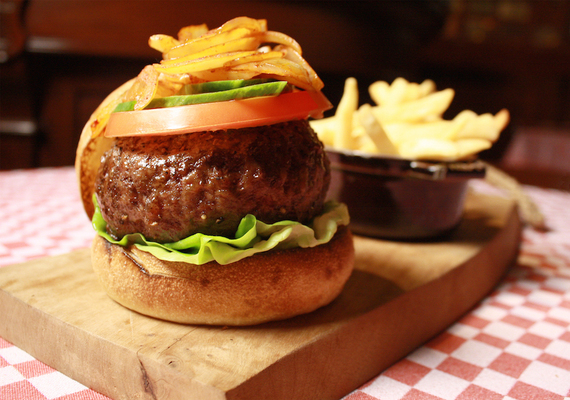 We tried to balance out the old with some new in the main courses: of the latter were excellent, creamy sea scallops ($44) with Jerusalem artichokes, asparagus, vanouvan spice, and tomato marmalade. There was also a pink snapper with leek fondue ($44), fingerling potatoes and lemon-caper butter, but it was gone from the evening's menu by the time we sat down to order. (I suspect Mr. Delpique was simply not satisfied with the market's pink snapper that morning.) Mr. Smith chose a 2008 Bitouzet- Prieur Volnay Caillerets from the Côte d'Or.

Plump Dover sole ($68) was impeccable, rich with butter, slightly sautéed, served with tender asparagus and a tangy beurre blanc. My friend, who had never had '21''s signature hamburger, claimed it right away and was rewarded with a massive ball of meat, perfectly ground, in a challah bun, with tomatoes, sautéed onions and superlative French fries. (I recall some years ago when this item cost $21 to many people's shock; now it costs $34, and no one's blinking.)
There are five items "Off the Grill," so I ordered a 28-day dry-aged ribeye steak ($68), which was cut a little thin by comparison with others around town and the taste, while very good, did not rank with the best in the top steakhouses. Creamed spinach ($10) was delicious, but damnit! I forgot to order the nonpareil pommes soufflé ($17) as I always do!
I asked Mr. Motoki to send out four desserts and we were very happy with all of them, from a New York-style cheesecake with blood orange coulis ($14) to a generous plate of profiteroles ($14) and a nougat glacé ($14) with pomegranate seeds and tropical fruit coulis.
I find it ironic that so many new steakhouses in NYC, not to mention the brand new Polo by Ralph Lauren, have the exact dishes on their menus that '21' has posted for fifty years, and I suspect that restaurateurs pondering a restaurant in the mold of '21' have done a lot of secret research at its tables.
For those who haven't been back to '21' in a while, it's high time you see how well it has evolved, even within the last year; for those who have always wanted to go but shied away, I guarantee a warm welcome from the doorman and everyone else; and for those who never dined there, thinking '21' not worth their time, I can tell you that you are missing one of the great and historic restaurant experiences in the city.
The fact that '21' has survived and prospered is testament to a lot of hard work made to look effortless. Now, more than ever, anyone who dines here becomes part of that continuing history. Walking in off the street, seeing the famous iron gates and the jockey statues on the staircase, is still as heart warming as seeing the gilded Prometheus at Rockefeller Center and the spire of the Empire State Building. If, as the song goes, you really want to "be a part of it, New York New York," then dinner at '21' is a good place to start.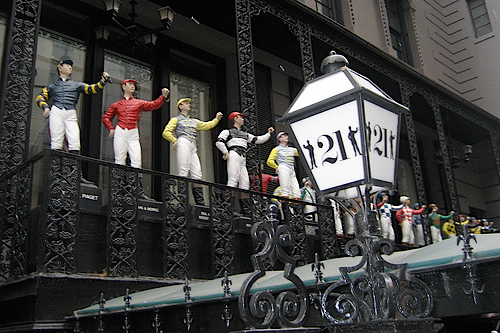 '21' CLUB
21 West 52d Street (near Fifth Avenue)
212-582-7200
http://www.21club.com
'21' Club is open for lunch Mon.-Fri., for dinner Mon.-Sat. There is a $41 fixed price lunch (and a la carte), and Pre-Theater dinner at $49. Book a dinner reservation and get six hours of parking for $10 at Central Parking Garage, located in the CBS Building on 31 West 52nd Street.