I'm afraid the once gentle term "laid back" has come to mean a restaurant where no one puts any thought into the comfort of its guests and where service means little more than sticking a plate in front of you.
For an elementary course on what "laid back" should mean at its best, a visit to the 15-year-old Red Cat in Chelsea is in order, where the first sign of civility may well be the greeting by owner Jimmy Bradley, whose sincere interest in your well-being while under his care has been amiably bred into entire his staff.


That's just one of the reasons why Red Cat always has a large percentage of regulars; the other percentage is filled in by those whom the regulars have brought here. Bradley (below) also runs the equally pleasant restaurant The Harrison in TriBeCa, and both share a desire to please.
I did once think the dining room was very loud, but compared to that in the average new restaurants opening south of Red Cat, the noise level is tolerable (and Bradley says he's thinking about buffering it further).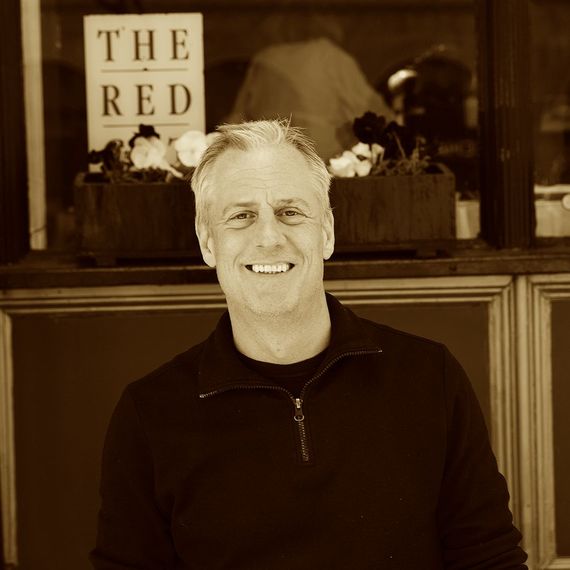 Red Cat's scarlet-colored walls and simple slatted wainscoting might put you in mind of New England rather than New York. Cozy seems too feeble a word to describe a place people find so truly lovable. It's the kind of place where you feel entirely comfortable asking the person at the next table what it is she's eating.
There's a new chef aboard, Michael Cooperman (below), formerly of The Modern, and while his menu doesn't stray from the original contemporary American style of Red Cat's past, he has brought a finesse that shows exactly just how much he's learned from master chefs like Gabriel Kreuther (formerly at The Modern). Seasonings are in balance, textures are delicate, sauces enliven rather than mask fine ingredients, and the ideas are clearly all his.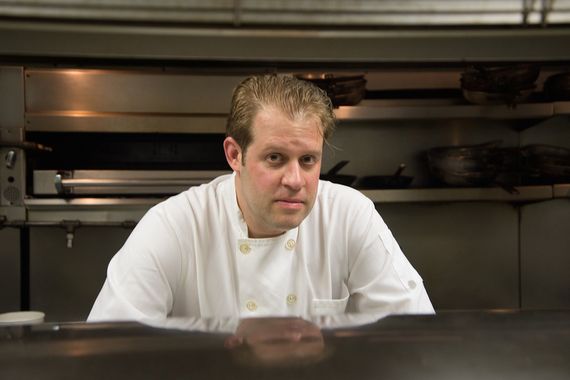 Though listed as a side dish, I enjoyed the light tempura of green beans ($10) with a sweet hot mustard dipping sauce as something to nibble on with cocktails. The same might be said for the impeccably rendered sauté of zucchini with roasted almonds and a dash of ground pecorino ($11). The cool freshness of raw fluke played well against the sour tomatillo, aromatic basil, lemon verbena and tomato ($16).
Diver's scallops ($18) had the same quality of freshness, quickly seared on the plancha griddle just to give the outside a texture, then served with sweet avocado, cherry tomato and a sprightly bacon vinaigrette. Pasta, so often over-engineered in non-Italian restaurants, was treated with proper respect at Red Cat in the form of housemade cavatelli with summer's corn, a swirl of ricotta and some spicy-hot 'nduja condiment, all graced with parsley butter ($15). Just as good and smack in season was a plate of trenette with golden zucchini flowers ($15). These are the kinds of dishes that make ever eating anything out of season seem utterly ridiculous.

Of the entrees, I most liked the skate with Swiss chard, raisins for sweetness, the crunch of walnuts and a tomato-bread sauce ($26). The best of the main courses was a well-spiced pork chop -- and a hefty chop it was -- with orzo, chorizo, roasted broccoli and green onions ($28). Tender and pink, the chop never lost its flavor under the spicings. An all-natural chicken with arugula, radish, grilled lemon and salsa verde ($27) was fine enough if not out of the ordinary, but I was disappointed with grilled calf's liver with braised Romaine lettuce, pancetta onion compote and tomato vinaigrette ($24), because the inherent flavor of the liver didn't trump the other ingredients. The herbed French fries ($9) are further testament that making excellent French fries should now be mandatory in all restaurants.
The desserts (all $10) keep in line with summer's bounty, evident in a blueberry crisp with corn ice cream, mint and streusel topping, and in a peach crostada with buttermilk sugar dough, luscious huckleberry ice cream and crème fraȋche, If you love chocolate and hazelnuts, the gianduja dessert here is going to make you deliriously happy.
I've noticed, looking back over recent reviews in this space, that new restaurants like Bacchanal, Batard and Beautique are trying hard not to try too hard, and Red Cat has been achieving that delicate balance for a long, long while. There's every reason to think that a lot of other places are just catching up.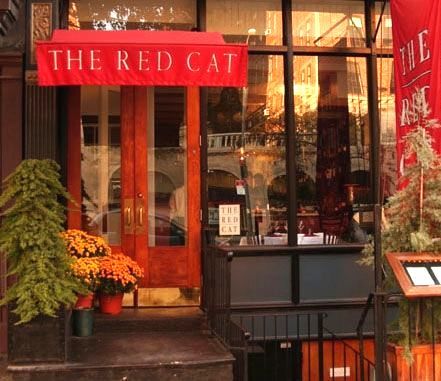 Red Cat is located at 227 10th Avenue; 212-242-1122; http://www.theredcat.com/redcat.php. Open nightly for dinner, Mon. for lunch, and Sat. & Sun, for brunch.