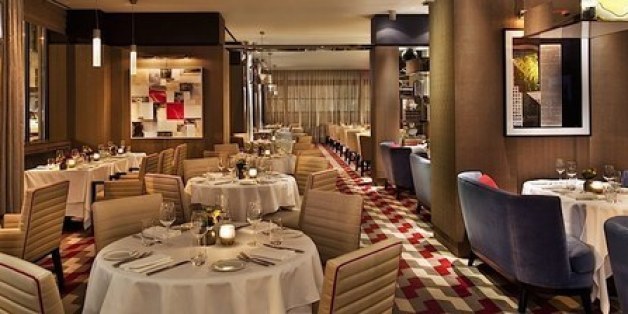 The re-opening of the Loews Regency Bar and Grill is occasion to applaud, but not because it has now filled the void it left upon closing for the Power Breakfast crowd that used to fill it every weekday morning.
Time being so valuable in an ever more hectic New York, the Business Breakfast is still a way for executives, media types and politicians to hobnob over eggs ($23 for two) and a bagel ($7) and exit quickly for the office. So, after 50 years, during the closing and refurbishing of the room, those regulars -- some daily like Rev. Al Sharpton, whose religious denomination apparently requires no vow of poverty -- had to find other venues, and the East 60's is an early morning wasteland for breakfast.
Now the Bar and Grill is open again bright and early at 7 a.m. and packed as usual, which is nice to know. What I am happiest about, however, is that at lunch and dinner, Executive Chef Dan Silverman, formerly at The Standard, has been given the go-ahead to bring culinary luster to the room, whose previous reputation made the "hotel dining room" a slur term.

The place looks better than ever, very sleek, with a vivacious bar up front and a long, two-level dining room done in soft executive dining room colors, with double tablecloths, an Op Art rug, bookshelves and abstract paintings. The banquettes, up one slender step, are tough to squeak into but difficult to leave, for they are among the most comfortable in New York. The mirrored walls above them are hung with black-and-white photos of Upper East Side totems.
I was so happy to see Wine Director André Compeyre, formerly of Alain Ducasse's Benoit Bistro, overseeing a formidable list that's been updated and better priced, even offering some excellent New York State wines usually ignored by New York City restaurants.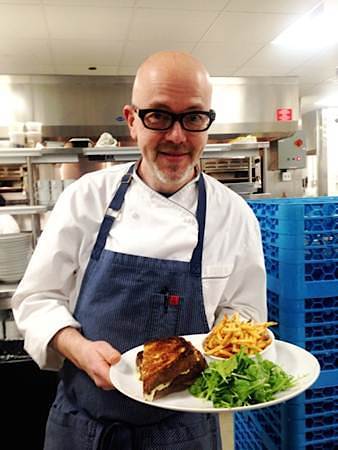 Silverman sets a menu in line with the restaurant's name, an American grill seasonally focused. So, if the soft shell crabs ($24), with a vegetable pistou, are still on the menu, by all means enjoy them. I ordered a tomato soup ($18) as a good indicator whether this child's lunch item could be transformed into an adult pleasure, and Silverman did himself proud. The soup tasted as if he'd squeezed every drop of goodness from summer's tomatoes and cooked them up to taste like their very essence, accompanying them -- nice touch -- with grilled cheese crostini.
I tried an outstanding pasta--tagliatelle with a veal ragù and large dose of Parmigiano ($28) that would rank with the best Italian restaurants' in the city.
Pan-roasted Dover sole ($65) is another telltale dish, and the Grill's version, plump and meaty, with Meyer lemon, parsley and brown butter (a very, very generous pool of it) was so rich you could share it with another guest and be completely satisfied.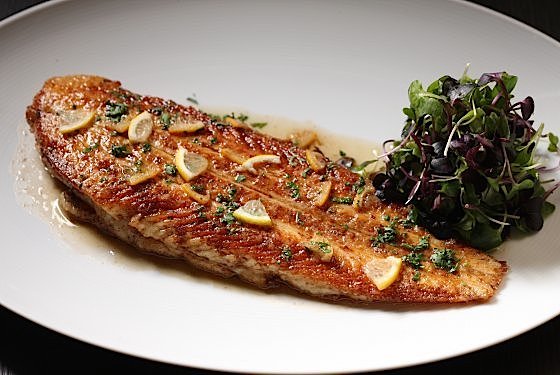 When you're talking about great ingredients like Dover sole, you are also talking about veal and lamb. Silverman gets the former from Pennsylvania and his veal chop with wild mushrooms and creamed spinach ($48) is nonpareil. So, too, are the Colorado lamb chops, served with Swiss chard and a crispy shank ($46), though the sauce with the dish was bland and a bit muddy in color and texture. I think I'd go with them simply grilled next time.
Pastry Chef Jeff Sytsma, most recently of The Elm, stays within the American crayon box with the signature Regency Chocolate Bar, composed of feuilletine crunch and dark chocolate ganache topped with cocoa nib sorbet; good old carrot cake is made new with a cream cheese mousse and walnut crumble, accompanied by rum raisin ice cream. Bring extra forks. And order the cookie plate. All desserts are $12.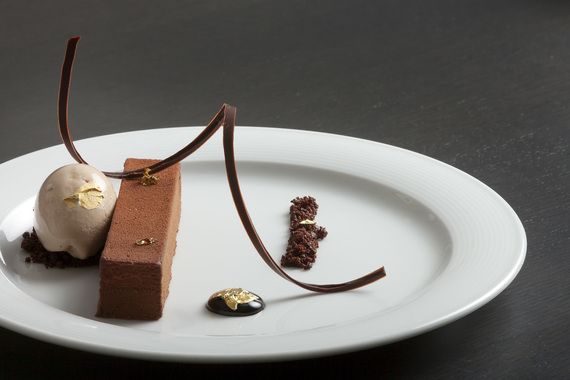 So, let the honchos claim their spot at breakfast. I'll go back for the food and wine at dinner. One caveat, the major misfire at the restaurant when I visited two weeks ago was a slack staff that seemed far more interested in re-setting tables than paying attention to guests. But then, I'm not Reverend Al.
Breakfast: 7-11:30 a.m. Lunch: 11:30 a.m. -3 :30 p.m. Afternoon tea: 3:30 - 5:30 p.m. Dinner: 5:30 - 11 p.m.