Food hipsters who insist that Brooklyn is the new mecca for hot new restaurants ignorantly neglect what's happening on Manhattan's Upper West Side. Fact is, the "UWS" has never been at a loss for terrific places to eat, and in the last five years the exciting dining options have soared, from Lincoln Ristorante at Lincoln Center to Daniel Boulez's Bar Boulud and Boulud Sud, from Picholine to The Leopard, from Porter House to Ed's Chowder House.
Two of the newest to impress me are run by young, energetic restaurateurs whose menus are crafted to please, not challenge guests and whose service has a charming UWS tilt you won't find across town or down in Soho.
Vinateria (2211 Frederick Douglass Blvd (at 119th Street
212-662-VINA [8462]; vinaterianyc.com) is one of new restaurants in Harlem that has thrown light on the street, put tables outside in warmer weather, and literally brought vitality to a once derelict West Harlem neighborhood that is now teeming with vitality, its broad avenues lined with expensive SUVs, its red brick buildings scrubbed clean and occupied by a whole range of people -- most, it seems, with children in strollers.
Open since April, Vinatería is a very sleek, very amiable trattoria run by a Barnard grad, Yvette Leeper-Bueno, whose beauty, style and effervescent spirit imbues every aspect of the place. She and her husband, Adrian, together with chef Gustavo Lopez, have fashioned a corner restaurant so enticing when seen from the street that it becomes both a magnet and beacon on the avenue. "My husband and I worked tirelessly on helping shape all facets of the restaurant," Yvette told me. "It is challenging to be husband and wife restaurateurs! The results, however, are extremely rewarding. Seeing the extent to which people are enjoying themselves at Vinatería is truly a dream come true."

(Owners Yvette Leeper-Bueno and Adrian Bueno with her mother Faye Leeper)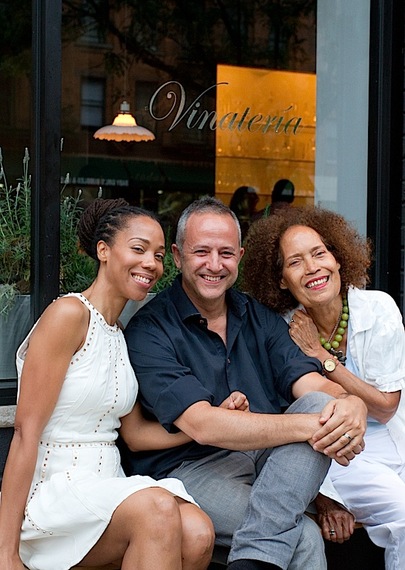 The interior, by Jonsara Ruth, director of the M.F.A. interior design program at Parsons, in various shades of gray and charcoal, includes a blackboard wine list, recycled wood and zinc-topped tables, and pretty painted red and yellow metal chairs.
It's a dreamy kind of place, with a good wine and cocktail list put together by Gabriela Davogustto, with plenty of bottles under $50. The menu is divided into "Light," "Medium" and "Full," so sharing is a good idea. There are "snacks" like olives and spiced almonds, cheese and charcuterie, which includes a fine chicken liver pâté. There's a peppery dandelion salad, rightly bitter but tangy with guanciale, parmigiano, walnuts and crunchy breadcrumbs.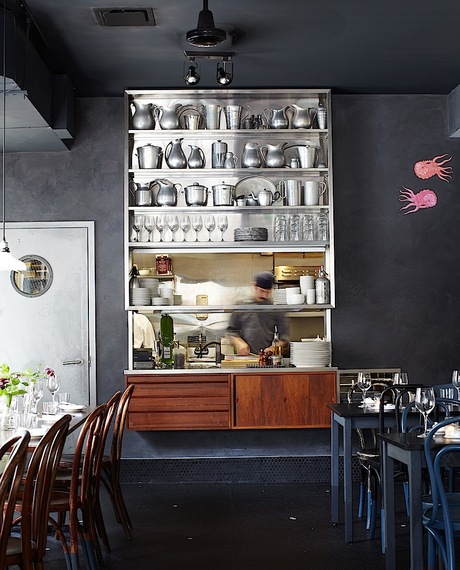 The grilled octopus with arugula is excellent, tender and flavorful, with a confit of potatoes and pimentón for fat and spark. Flatbreads change their toppings daily. The pastas are light but substantial, especially the tagliatelle with pork ragù and black cabbage, and the spaghetti with golden corn, garlic, leeks, dark green broccoli di rabe and bright red heirloom tomatoes -- a wholly engaging combination of ingredients this time of the year.
Pan-seared chicken breast with rainbow chard and rosemary potatoes was above average, and the halibut with grilled asparagus was finely cooked to the perfect juicy tenderness. For dessert there was a good vanilla panna cotta and even better chocolate budino, a rich Italian pudding.
Sitting there al fresco after twilight faded to dusk and then to evening, on a clear autumn night, I looked around and thought about how Harlem has been so marvelously transformed by a young generation that recognized the neighborhood's great bones and knew it would be a wonderful place to live, raise kids, and drop across the street for a bottle of wine and good food at places like Vinatería.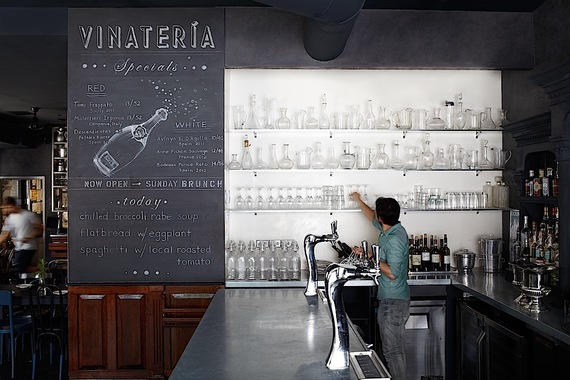 Vinateria is open for brunch Sat. & Sun., for dinner nightly. Brunch is $15, dinner small dishes run $8-12, medium and large $12-$23.
Barley & Grain (421 Amsterdam Avenue at 80th Street; 646-360-3231; http://www.barley-grain.com) could not be a better-named restaurant on the UWS, for its intense focus on barley- and grain-based spirits -- 100 of them -- (there's no rum or tequila on the bar list). The bar is certainly center stage in this tiny storefront location. Indeed, you could sit at the convivial bar and order some grub, but my guests and I preferred to sit at a cozy table on a packed Saturday night and to take our time enjoying the hearty food Chef Eric Acklowitz is turning out with considerable panache.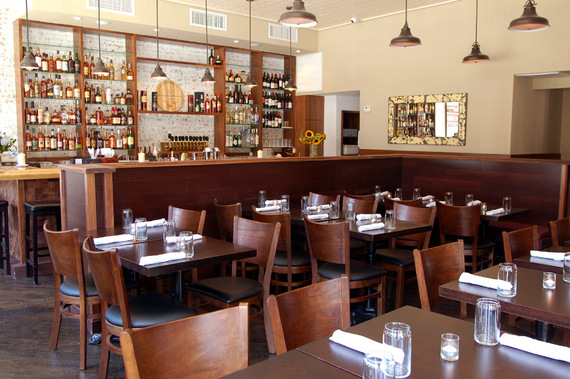 We began with some "Quick and Easy" small plates that included addictive beef short rib poppers lavished with white cheddar, bacon and garlic mayo. We battled over the hot shrimp hush puppies, made with buttermilk, and spiky flavors like jalapeño, cayenne and aïoli dipping sauce.
How do you enrich an already decadent cured pork belly? Slap it on French toast, with spicy maple butter emulsion and quail egg, which would probably cure a hangover in about ten seconds.
Smooth and velvety was roasted eggplant with tangy feta cheese, Kalamata olives, sesame tahini, red onions and pistachios, and the mac 'n' triple cheese with bacon can easily banish winter's chill. These items are smaller plates (sort of) and none runs more than $15. The larger main course plates run only $17 to $35 -- this last for a 16-ounce Delmonico steak with Cajun fries, onion rings and a bourbon demi-glaze.
I really enjoyed the unusual house-cured lamb pastrami sliders with pickled red onion, Cajun fries and rye bun, fighting off calls to share them. Our waitress forcefully suggested we had to try the roast chicken; we shrugged and did. She was right: This was a boneless half chicken, impeccably roasted to golden, crispy crust, with a cilantro dip and black and white barley. In a city of great roast chickens, this one -- at $11! -- comes in near the top.
Let me not fail to mention the wonderful turkey potpie, with a buttery crust and plenty of big chunks of turkey in a well-seasoned gravy.
If you've room for dessert, do try the Guinness Stout ice cream for fun. But for sheer animal comfort food, the chocolate pudding should make you weep a little.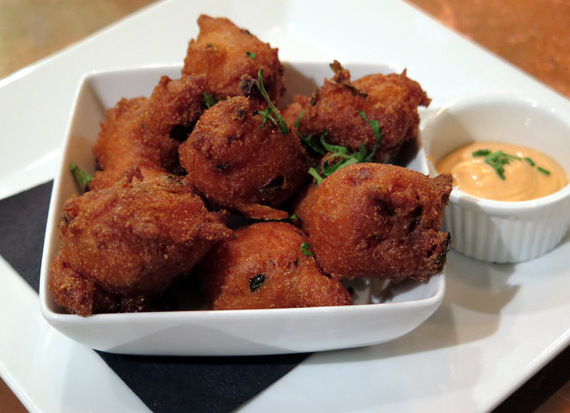 Barley & Grain is open for dinner Mon-Sat and for brunch Sun.