NYY STEAK
7 W 51st Street (near Fifth Avenue)
646-307-7910
nyysteak.com/manhattan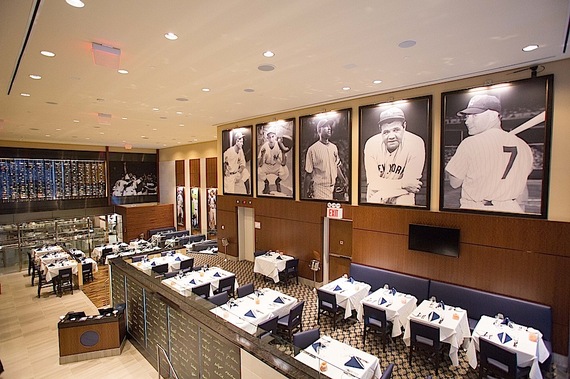 Not for the first or last time will I wonder when NYC will achieve a surfeit of upscale steakhouses. Actually, I think NYC -- as well as most U.S. cities -- already has a surfeit, yet the genre keeps expanding almost month by month. In just the past year, we've seen the opening of Delmonico's Kitchen, Morton's on Wall Street, Bobby Van's Broad Street, Del Frisco's Grill, Davio's, Costata, S Prime, Polo, Gallagher's, and Quality Italian, all more or less derivatives of the original NYC steakhouses of the post-speakeasy era, especially Palm on Second Avenue.

Some don't even try to break the ancient mold, while others have distinctly enhanced menus with more pastas and sushi-style dishes; many of the new ones have tried out extravagant new décors designed to attract as many women as male customers. Wine lists have grown exponentially since the first Smith & Wollensky on Third Avenue upped the ante back in the 1990s.

Now comes NYY Steak, actually the third in a mini-chain owned half by the New York Yankees (there's a unit in Yankee Stadium) and half by -- ready for this? -- the Seminole Indians of Florida, who have apparently done so well with their casino and steakhouse in Coconut Creek, that they bought out the hotel chain in which the casino resides -- the Hard Rock Cafe empire.
The brand new Manhattan branch is rife with Yankees' memorabilia, blown-up photos of the Bombers' great players, even dishware shaped like baseball diamonds. Steak knives are etched with players' and guests' names and displayed on the walls.

The restaurant's vast two-story structure, all 16,000 square feet of it, has plenty of space for private dining and parties, including one room built into a former bank vault, and, of course, the requisite long bar and huge TV screens.
Its location right across from Rockefeller Center makes it a draw for office workers, pre-theatergoers and tourists coming to the area. Del Frisco's and Del Frisco's Grill are a stone's throw away, so NYY Steak's management is bending over backwards to pull clientele from the area, counting on their association with the Yankees but also providing a level of service and hospitality not so easily found in the old-line East Side steakhouses where arriving unknowns are likely to be treated with a shrug. CEO Fred Thimm, formerly of the Palm chain, has been canny enough to poach a cadre of veterans like himself from other NYC steakhouses.
At NYYS, pretty hostesses greet you by your name on the rez book, and the rest of the staff, from captains and sommeliers to waiters and busboys, are ever trying to impress you with their dexterity in serving and removing dishes, crumbing tables and placing new napery on them.
The wine cache holds 200 labels, with 27 wines by the glass -- many way overpriced, like J. Lohr Seven Oaks Cabernet, which sells for $12 in the store, here $13 for a single glass! The bar specializes in signature cocktails like the Yankeetini and the Bronx Bomber. From 4 PM-6PM and 9 PM-11 PM weeknights, the restaurant offers "Pinstripe Power Hour" offering bites from the bar menu.
Exec chef Elliot Lopez is not trying to re-invent the steakhouse genre but he is being very careful to invigorate it. So you begin with a generous ahi tuna tartare with guacamole, Mandarin orange sesame dressing, and a chile aïoli. The lump crab cake is hefty and good on its own, enhanced with roasted chipotle corn salsa, and caper rémoulade, while the "colossal" shrimp cocktail lives up to its name in size and flavor, with punchy horseradish cocktail sauce.
A 16-ounce chunk of bacon (below) is not unique in steakhouses, but NYYS's is one of the best and juiciest I've had, with an equal ratio of fat to lean, made even tastier by a maple glaze and wilted spinach.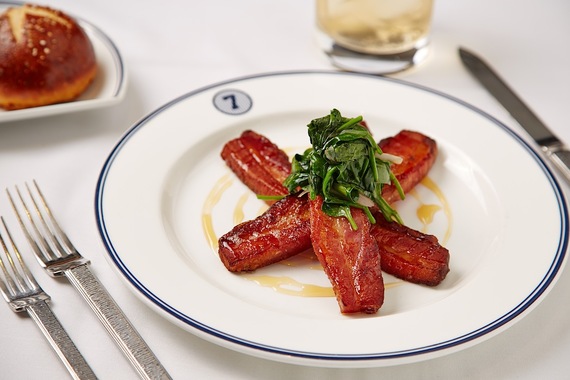 There are all the usual side dishes here -- garlic mashed potatoes, big fat steamed asparagus, steak fries, creamed spinach with plenty of cream, and onion rings the size of hockey pucks, though they had far too much breading and not enough onion inside.
And so, how was the beef? Well, it's all USDA Prime and dry-aged 21 days in their own lockers, which are visible in the restaurant (below). (Frankly, any aging longer than 21 days becomes more a conceit than an improvement.) The NY strip was excellent, well-trimmed and beautifully charred, as was a 27-ounce bone-in ribeye of terrific succulence. There was some difference of opinion on the provenance of the lamb chops: the manager said they were from New Zealand, the chef from Colorado. In either case, they weren't the best or most flavorful I've had in NYC.
Nothing to quibble about, however, with the three-pound lobster I ordered: the tail was sweet and tender, the claws completely full of meat, not shrunken from the shell, and the clarified butter and lemon all that was needed to achieve perfection.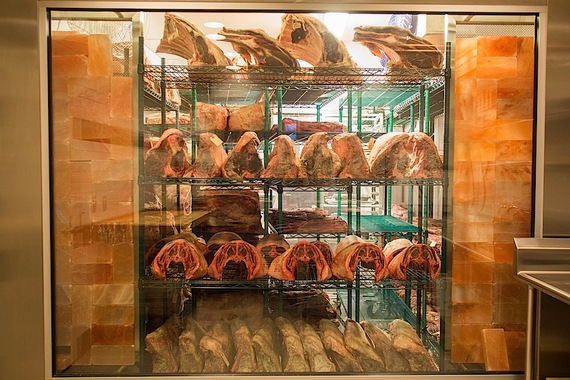 In the manner of some but not all steakhouses, NYYS offers various sauces like Béarnaise, au poivre, and blue cheese as additives, but charging seven bucks for each is not playing nice.

You really won't need dessert but at least one should be tried -- the NYY Steak 151 Volcano, vanilla bean ice cream covered with Heath Bar crunch and expertly flambéed tableside using a shot of 151 Rum. Or maybe the gargantuan wedge of chocolate layer cake with berries, mousse and warm fudge.
There is clearly a conspiracy afoot at NYY Steak to overwhelm you with portions, service and the kind of food few people can resist. Tossing in a whole lot of glitz, bar action, roominess and a truly affable spirit makes for a good backdrop, especially if, at any moment, Alfonso Soriano or Derek Jeter might come through the door.
Hours: Lunch and dinner daily. Dinner starters $11-$19, main courses $32-$62.