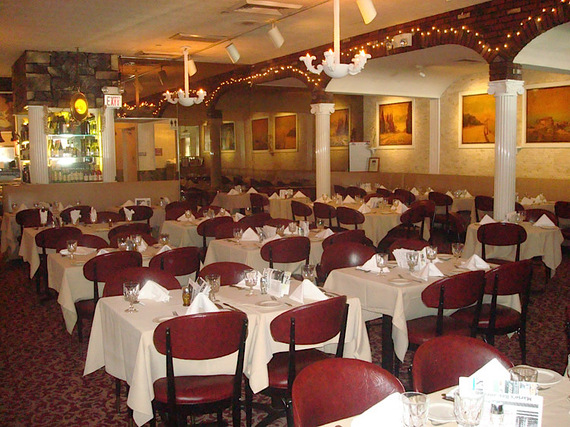 Mario's is one of those restaurants I look for opportunities to write about, usually in round-ups of my favorite Italian restaurants in New York, best pizzerias, and best restaurants in the Belmont section of the Bronx. So it's about time I spend an entire article in praise of a place that has been such a part of Italian-American culinary history since opening in 1919.
The Miglucci family has run Mario's for five generations now, currently with head of family Joseph and his wife Barbara, his daughter, Regina, his son Michael and the Italy-born Massimo Celso with him in the kitchen, all of whom would as soon commit a mortal sin as to compromise the traditions of their forebears who made this the quintessential Neapolitan ristorante in America.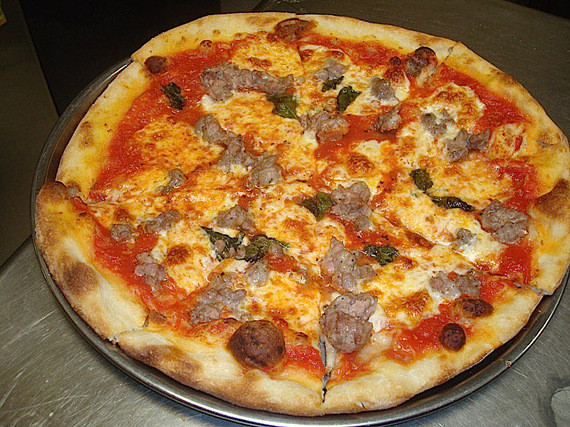 Like so many Italian immigrant restaurants, Mario's began as a pizzeria, with a window on Arthur Avenue. Little by little a dish was added, some pasta, some chicken, veal, and so on, until the restaurant dominated the pizzeria. (Even today, after 6 p.m., pizza is served only if you order other courses.) Still, I would put Mario's pizza up against any in NYC. After all, they've had ninety-six years to perfect it. Its crust is perfection, the corona wonderfully crisp but chewy and charred, the mozzarella bubbles up, the sauce has subtle seasoning, and the scent of just enough basil is dreamy.
But that's only the beginning in judging Mario's panoply of traditional items. The menu has in fact been cut down a little in recent months, but there are always nightly specials based on what's fresh in the markets that line the streets of Belmont. One of the best ways to test the range of starters is with the assortment of hot antipasti ($8.95 per person) that includes asparagus, fried calamari, stuffed mushrooms, eggplant rollatine, clams oreganata, fresh mozzarella and sundried tomatoes; the cold antipasto ($8) is a platter of prosciutto, shrimp, salami, anchovies, vinegar Peppers, provolone, fresh mozzarella, tomato and olives.
The octopus salad ($8) is tender and has a perfect acidic bite from lemon and olive oil, and I love a dish that was once on every Italian menu, now not so much--spiedini alla romana ($9)--skewered bread and mozzarella fried till golden brown and the cheese melts, served with an assertive anchovy sauce. They even have snails with garlic butter ($8).
Frying is one of the techniques Mario's does impeccably, whether it's crispy and tender calamari fritti ($11) or squid ($10). And while so few restaurants serve soup at all any more, Mario's offers half a dozen, including stracciatella alla romana with ribbons of egg yolk ($7); escarole in a rich broth ($7); minestrone chock full of vegetables ($7); and cheese tortellini in brodo ($8). There are also four salads each night.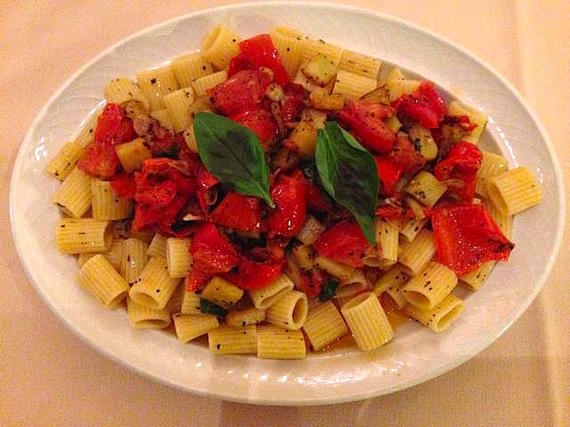 All the classic Southern Italian pastas are here--and you get to choose whatever spaghetti or macaroni you like to go with fresh tomato sauce ($14.75), with lobster baked in the oven ($15.25), and one of my very favorites, the hearty alla sorrentina baked with eggplant and mozzarella ($15.75). You can have a simple garlic and oil rendering ($14.75), red or white clam sauce ($15), lobster ravioli with vodka cream ($23.75), and more. But I always listen carefully to the night's specials, which might be rigatoni with broccoli di rabe and sausage, or, as I had just the other night, a fabulous dish of paccheri with excellent funghi porcini.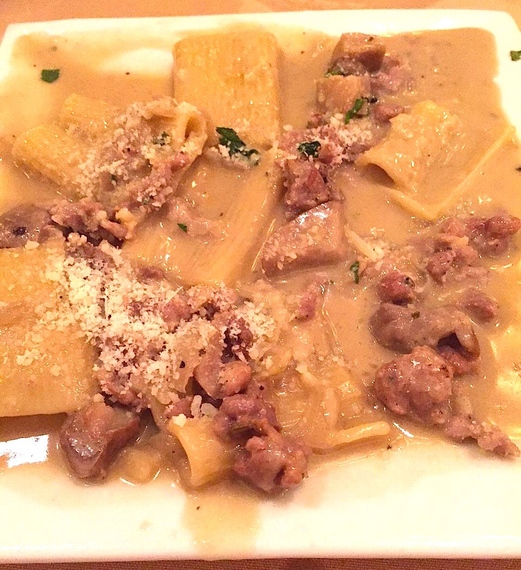 Among six chicken dishes I love the scarpariello, rich with garlic, mushrooms and lemon ($23), which--Grazie Dio!--you may have either on or off the bone (the former is better). Also, the old standbys chicken parmigiana ($20.50) and velvety chicken francese ($21.75) are not to be missed.
Meat dishes run from simply broiled lamb chops you eat right off the bone ($34.50) to grilled veal chops ($34.50)--plural--of wondrous succulence. They always have tripe alla livornese ($23) on the menu, and I just enjoyed an enormous portion of pink-inside calf's liver truly smothered in sweet onions and a brisk balsamic sauce ($22).
The fish comes straight from the market, and you'll also love the shrimp baked with seasoned bread crumbs ($21.25) and the lavish portion of zuppa di pesce ($29.25) of mixed seafood over linguine pasta.
You'll be asked if you want a side dish--entrees offer complimentary escarole or the old-fashioned, cheese-rich potato croquette--but you could order the baked eggplant with mozzarella and tomato sauce ($13.50) for a robust starter course.
Aside from a good cannoli and a nice slice of cheesecake, the desserts here are mere afterthought. But they do make an intense espresso of just the right consistency.
There's also a remarkable $29.95 fixed price dinner of four courses and many options on it.
For years I've been begging the Migluccis to build a wine list commensurate with the quality and size of the food menu at Mario's, but it remains a modest list of modest wines (several in half-bottles, by the way).
The dining room décor is certainly dated, but in all the right ways, which helped Mario's win that Classics award, with Neapolitan murals along the walls and celebrity photos of everyone from NY mayors to NY Yankees, actors, and Muhammad Ali. The lighting is just right and the only sounds in the room are of people having a whale of a time eating and drinking. The only music you hear is when someone has a birthday. Then everyone sings.
Many of the waiters have been at Mario's for decades and know half the people who walk in, generations of them, with strollers, girlfriends, grandparents, and out-of-town guests. You will never be treated better in a restaurant than you will be at Mario's, whether you're a regular or on your first visit through the door. One or two or five of the Migluccis will always be there, too, and consider yourself lucky to be part of such a warm and wonderful example of Italian-American hospitality.
Mario's is open for lunch and dinner Tues.-Sun. Valet Parking.
MARIO'S
2342 Arthur Avenue (near Crescent Avenue)
718-584-1188
http://www.mariosarthurave.com