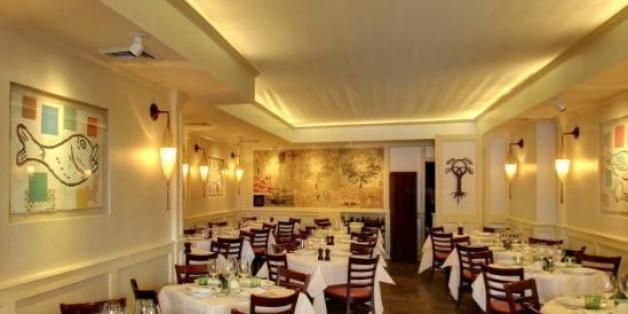 A few weeks ago I heaped high praise about the 22-year-old midtown Italian restaurant San Pietro, whose owner, Gerardo Bruno has long been one of New York's premier hosts. Upon writing that, I realized that it's been at least a decade since I'd dined at his brother Giuseppe's restaurant, Sistina, located on the upper east side for 30 years now. I decided to see how the two places are alike and how they are not.
So on my return to Sistina, I was happy to find that they are quite different restaurants in their menus but share the same degree of generous professionalism that has kept their dining rooms full at lunch and dinner with the kind of faithful clientele younger restaurateurs would kill to have. (The brothers also run Caravaggio, also on the upper east side.)
Upon entering, I was immediately greeted by Giuseppe Bruno with an ebullience that distinguishes the two brothers, a balance of real warmth, congenial humor, and sincere respect that immediately wins people over. (And, meeting Giuseppe's son that evening, I suspect the next generation will be getting in on the act soon.) The rest of the staff and kitchen has gone through its motions so many times for so many years--at least one waiter has been here since the restaurant opened--that flawless delivery is pretty much a given, from the moment you sit down and breadsticks and focaccia are brought over to the deft shaking of a cocktail through the last service of espresso. (Giuseppe imparted his method of getting his staff to stay on for so long: "I tell them to buy a house. Then they have to stay with me to pay their mortgage!")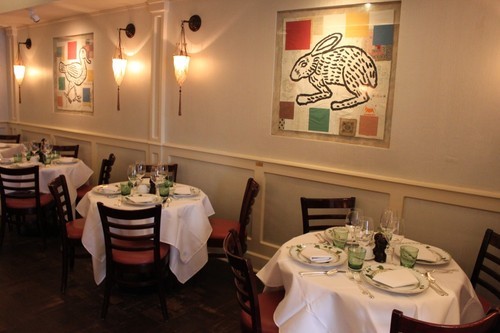 The place looks wonderful, more sprightly than ever, with charming cartoons of fish, golden lighting throughout, well-set tables and very comfortable chairs--the kind of things too often forgotten in new restaurants where buzz replaces bonhomie.
Sistina's printed menu hasn't changed radically in thirty years, but there are so many nightly specials that regulars need not even look at it. My friends and I just told Giuseppe to serve us all the night's specials, which began with excellent Italian charcuterie made for the restaurant according to Giuseppe's instructions, a big platter served with pickled vegetables, a red wine reduction and English mustard.
A salad of Treviso, tartivo, and Castelfranco olives with persimmons, toasted walnuts, dates, olive oil-mustard vinaigrette and shaved Parmesan is a starter but would make an ideal lunch on its own, and I can't say enough about the luscious Parmesan tortino with chanterelle mushrooms. But the most applauded surprise that evening was the holiday pork sausage known as zampone--a specialty of Modena in which the pork is stuffed into the pig's trotter and served with lentils and mustard fruit. With these we drank a fine Greco di Tufo by Petilla from a global wine list built with care over many, many years, with some bottlings dating back to the 1960s and an extraordinary number of Grand Cru French wines.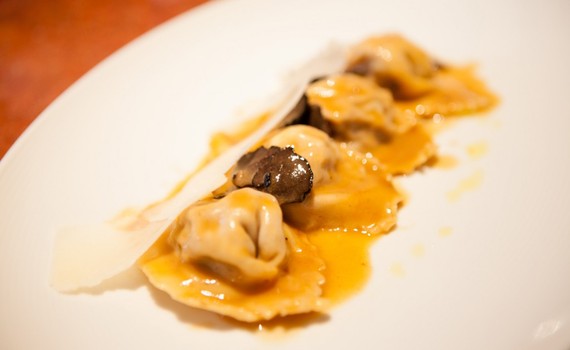 The nightly offerings are always geared to the season, so of course Sistina now has the most aromatic white truffles, which are served over what Giuseppe insists is the best risotto in New York--an opinion I must now share after tasting this marvelous rendition. Of course, a generous shaving of white truffles doesn't hurt.
Maccheroncini were lavished with a rich veal ragù, wild mushrooms and spices, while wide, tender pappardelle came with shreds of long-simmered venison.
The short season for bay scallops is well noted at Sistina. The fat sweet nubbins sautéed quickly and served with a cauliflower puree. There was a Prime rib-eye with root vegetables, red wine and truffled sea salt, the beef as fine as at any New York steakhouse; wild red leg Scottish partridge with porcini, black truffle salsify and partridge jus, that had just the right amount of gaminess, a virtue it shared with venison filet with butternut squash and red wine sauce. Our red wine was a Bricco del Uccellone Braida Barbera.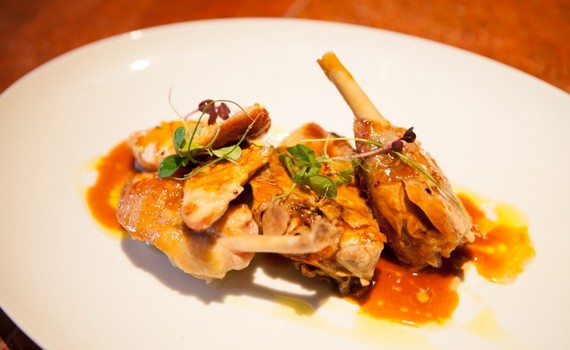 We had dined heartily and with great gusto, but we could not refuse a dessert of chocolate polenta lashed with Grand Marnier over blood orange segments with orange zest and raspberry sorbet; a perfect, flourless, almond-studded torta caprese; a ricotta and pear cake; and gattopardo, a ricotta layer cake speckled with pistachios, whose name means "leopard."
This was as grand a holiday meal as I've ever had, and when I say it mirrors the best in Italy--and the Bruno Brothers are from the Amalfi Coast--it is very rare praise on my part, because however many excellent Italian restaurants there are in New York, very few match the flavors back in Italy.
Marry that to a hospitality that has been honed over thirty years, and you have a template anyone thinking of opening an authentic Italian restaurant in America should take necessary heed of.
SISTINA
1555 Second Avenue (near 80th Street)
212-861-7660
Sistina is open daily for lunch and dinner.
Antipasti $18-$36, pastas $22-$28, min course $32-$52.