The idea of someday opening Australia's most illustrious winery was surely not on the mind of Christopher Rawson Penfold when he took his medical exams at London's Apothecaries' Hall back in 1843 -- the same premises where, this April, Penfolds held an anniversary luncheon commemorating the winery's 170 years in business.
During the meal, attended by wine media, negiociants, sellers and collectors, in the same room where Dr. Penfolds would have received his degree, several of the estates' wines were poured, including the Yattarna 2011, one of the most expensive chardonnays in the world at $130, made from grapes harvested entirely in Tasmania; Barossa RWT [Red Wine Making Trial] Shiraz 2004 ($150), a big, bold red whose grapes are sourced from vines planted a century ago; and its iconic signature Grange 1999 ($400) -- now almost impossible to find -- made from 100 percent shiraz; and Great Grandfather Tawny NV ($350), which is said to reflect the tastes of such fortified wines two centuries ago.
Dr. Penfolds and his wife Mary re-located from London in 1843 to South Australia, where they purchased 500 acres they called the Magill Estate, a small part of which they devoted to growing grapes to make fortified wines popular in their day. After the doctor's death in 1870, Mary remained committed to the winery and it stayed within the family, retaining a majority interest until 1976 after going public in 1962. The company is now called Treasury Wine Estates.
Today the company owns two wineries, the original Magill Estate and Nuriootpa in the Barossa Valley, and it is widely considered one of Australia's greatest wineries, pioneers of New World shiraz, and producing a wide range of white, red and fortified wines. In 2012 Penfolds released a "Block 42" 2004 sold in sealed glass ampoules for $168,000 each--the world's most expensive bottlings at that time.
For the 170th anniversary in London, Penfolds celebrated by linking up with one of London's most glamorous design and furniture companies, Linley on Pimlico Road, to place an imperial bottle (the size of eight regular 750 ml bottles) of Bin 170 Kalimna Shiraz 2010 into a bespoke wooden case )shown below, with David Linley) marked with a compass whose lock opens only if turned to the longitude and latitude of the Magill Estate and which hides a secret draw containing a photographic journey of Kalimna Block 3C as well as a Certificate of Authenticity. To assure the perfect temperature for the wine in any room it might reside, the case also contains a synthetic hygrometer and bimetal thermometer. The boxes were said to have taken 80 hours to craft and another 40 just to polish, plate and engrave.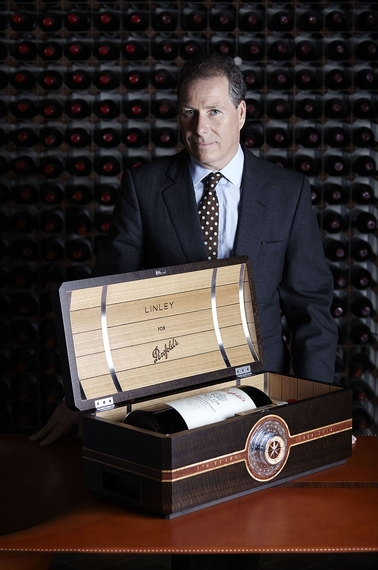 The wine itself is made from a single vineyard from old vines, with all grapes handpicked; unblended with other wines, it spends 16 months in French oak. The last time this wine was made was in 1973.
The wine and case together sell for $60,000, with only seven made, so each buyer's name and bottle number is customized by Linley. Out of 5,544 bottles made of the wine, only 240 will go to the U.S. for $1,800 a bottle.

In addition, Penfolds has installed an intimate namesake wine room within the store where its wines may be tasted -- free of charge, because the store has no license to sell wine.
The next day I had a chance to taste more Penfolds wines at a spectacular new wine shop named Hedonism and at one of London's most historic wine stores, Berry Brothers & Rudd (below), whose clients, since 1698, have included the Royal Family, Lord Byron and the Aga Khan. Sixty-nine cases of the firms' wines were on the Titanic when it sank in 1912.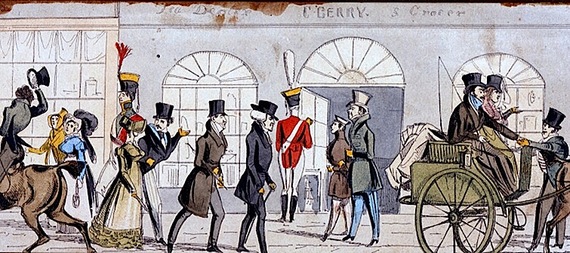 Over a lunch of hen's eggs and asparagus, braised ox cheeks and Cumbrian beef, and chocolate dessert with citrus jelly, we drank a Penfolds Reserve Bin 09A Chardonnay 2009 ($130); Grange 1989 (difficult to find except on eBay!); and Bin 7 Kalimna Cabernet Sauvignon 1967 ($1,285), which, like all the Penfolds reds I tasted showed a remarkable vigor and maturation despite their age. The 1967 still had mellow tannins, the aroma of truffles, and the fine fruit of the shiraz grape.
(Be aware that most of these wines come in very small quantities to the U.S. market but Penfolds Bin 389, aged in American oak and often called "Baby Grange" and Bin 407 Cabernet Sauvignon, both $69, as well as Bin 28 Kalimna Shiraz at $30 have good distribution in the States.)
It was quite a celebratory weekend, especially for an Australian wine whose London-bred and educated founder who left England at the age of 24 to seek a livelihood in a new world ten thousand miles away. But no matter how long it takes, it's always nice to come home to brag.