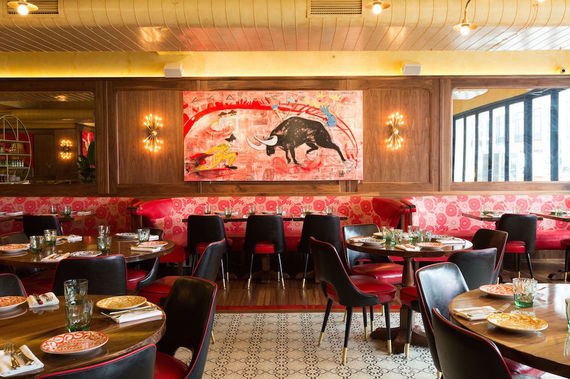 You don't often hear the term "fusion cuisine" anymore, perhaps because the idea that was once so vague has now become the new normal for so many chefs and restaurants around the world. Asian ingredients are everywhere on French and American menus, and vice versa. Curiously enough, NYC has for decades had a micro food culture of Chinese-Latino diners that originated on the Far West Side near the Lincoln Tunnel that were very popular with truckers and late-night workers.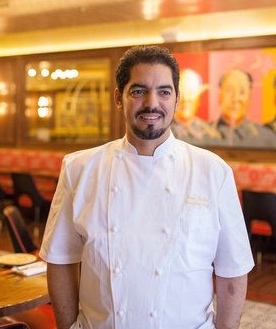 Chef-owner Alex Ureña has taken this tiny niche much farther than any others have with Tasca Chino, combining his own Latin background via the Dominican Republic with wide-ranging cooking stints in France, Spain (including El Bulli), New York and the Bahamas. His reputation grew after eclectic stints at the River Café, Blue Hill, JoJo and a seven-year tenure at Bouley.

The large dining room off Park Avenue South has a dazzling dash to it, from the mosaic-tiled floor, abstract paintings of bulls, Spanish dishware, retro sconces and a huge portrait mural of a benevolent looking Chairman Mao. The room is very loud, especially up front, but if you go on the late side midweek, after 8:30 p.m., it's much less so.
The impeccably dressed Salim Aba keeps the dining room staff humming, but by having waiters and busboys wear the same outfit, it's impossible to tell who does what if you need assistance.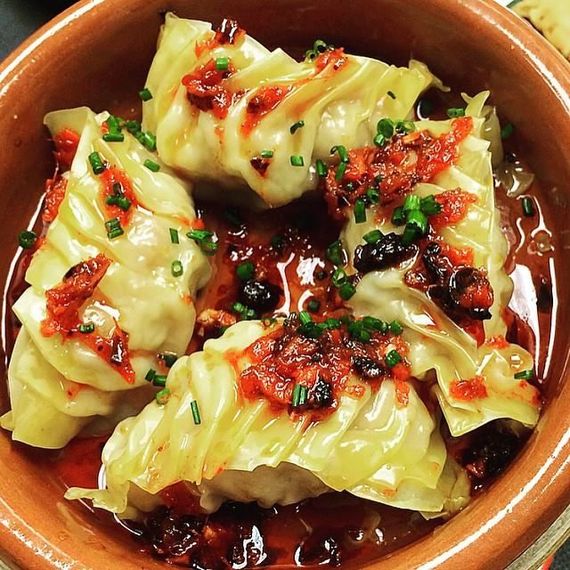 It's the kind of place where you'd expect to find a fun cocktail list, overseen by sommelier Aviram Turgeman, and at the bar you may indulge in the Spanish tradition called porrón, whereby guests pour sparkling txakolina wine or villacubera cider from a communal drinking vessel into their friends' mouths. Dress casual--in something you may need to throw out.
Everything at Tasca Chino is meant to be shared, as if a tapas bar were conflated with a dim sum parlor, and Ureña packs everything with enormous flavor, even when there are no chilies present (though there likely are). The food is all bright with color, the wine and cold beer flows, and one would have to be manic depressive not to have a terrific time eating with your friends here.
The menu is long with tapas, dumplings (above), large plates, vegetables, paellas and charcuterie, so I just asked Ureña to send out whatever he'd like. We cried "no mas!" after two hours of amazing food.
There was a special that night of crab ravioli with salsa verde and clam sauce ($14) and pastry croquetas filled with salted bacalao mash and a grain mustard aioli ($11). Next came fried garbanzo bean cake with the wholly simpatico heat of Korean kimchee with ponzu and wasabi mayo ($7). Milder in flavors was the cool black bass ceviche with tomatillo, creamy avocado, tomato, onion and squirt of lime juice ($12), while tuna tartare was spiked with Sichuan pepper aïoli ($14) and crudo (raw) fish was simply dressed with soy sauce and shredded ginger ($12). When it comes to the chicken spring rolls with Napa cabbage, bok choy and grated carrots ($8), no number of plates could ever be enough for a table, so double your order.
Then it was on to the dumplings cooked in a terracotta casserole, which Ureña somehow keeps from turning to mush. The shrimp, smoked paprika and garlic dumplings ($10) could be found on most Chinese dim sum menus, but chicken and spicy chorizo ($9) and wild mushroom and truffle ($10) were delectable novelties.
We were so enchanted with all these small plates that the large plates almost seemed unnecessary, and, in fact, those we tried were not as exciting as the first items that so tantalized our palates. Pan-roasted Atlantic salmon with cauliflower puree, scallions and grapefruit foam ($27) was fine, if not thrilling, but whole roasted dorade gained subtle and aromatic interest from smoked kale, oyster mushrooms and salsa verde ($32). Slow-roasted half of a duck with pickled vegetables, daikon radish, steamed mantou buns and a tamarind barbecue sauce ($36) tended towards the sweet side of Chinese cookery. Again, all these are easy to share.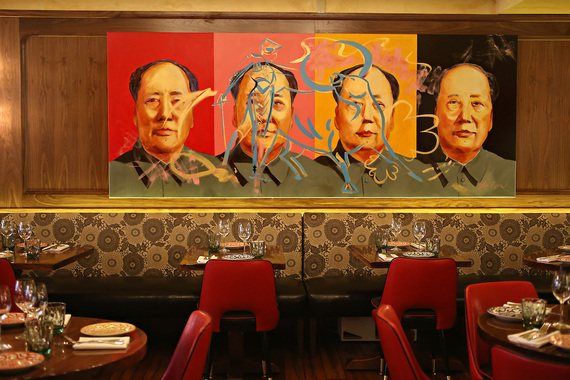 I have never been a huge fan of paellas, but Ureña's paella de coco with coconut milk, chicken, lamb, soybeans, English peas and yellow curry ($30) could easily be mistaken for a great curry in a first-rate Thai restaurant, while the curiously named paella matador with lobster, pork, chicken, clams, peas, mussels and chorizo ($36) was far more flavorful than many similar ones I've had in Valencia.
For dessert have the crispy hot churros fritters with hot chocolate or the "stylized" tres leches with several layers of sweet cake and sweeter creams (all $10).
There is so much more I'm dying to try at Tasca Chino, where the idea of fusion seems so sensible and so complementary. If I didn't eat here once a week (after 9 p.m., when the noise dies down) I'd probably do take-out twice a week. Ureña, whose creativity I've long admired and applauded when he was at Suba, Ureña and Rayuela, is giving us all his best efforts here, and his rigorous training at the best places here and abroad pays off in the balance and nuance of food that could easily be hot, spicy and tasty, but not this imaginative or good.

TASCA CHINO
245 Park Avenue South (near 20th Street)
212-335-2220
http://www.tascachino.com/story/