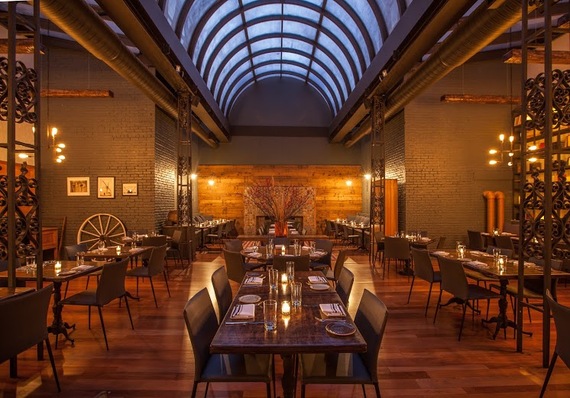 Scott Bryan is among that small cadre of serious young chefs regard as an inspiration, someone who came up at a time when you earned your scars and scorchings in tough kitchens where the pecking order was based on showing what you knew, not showing off.
Bryan, a graduate of demanding restaurants like Bouley, Le Bernardin, Lespinasse and Gotham Bar and Grill, worked his own way up doing Asian fusion cuisine before becoming chef of the wine-centric restaurant Veritas, then at Mediterranean-inflected Apiary. Earlier this year he manned the stoves in a tiny kitchen at Bacchanal on the Bowery but left after four months. Now, along with Luis and Victor Gonzalez, Bryan co-owns The Milling Room near the Museum of Natural History, and he's cooking at the top of his form, using everything he knows to produce intensely savory food that tastes very American while incorporating global influences.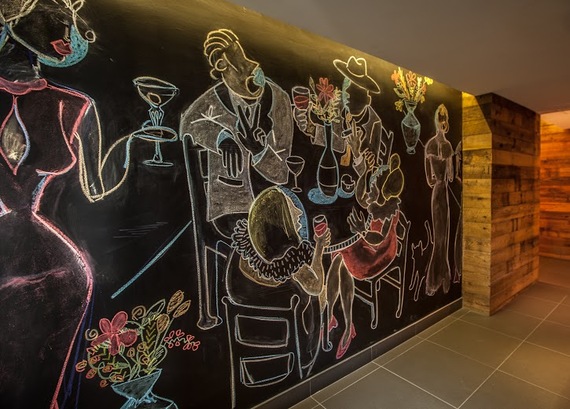 The restaurant is a huge space (formerly the short-lived Corvo Bianco), with a chalkboard mural and a marvelous tavern area carved out of brick and beams, overseen by creative bartender Jess Kanter-Kowal. Beyond is the vast, domed dining room whose skylight during the day offers a true look at the homey rustic use of wood, wrought iron, and red brick, old wagon wheels, and overhead lighting throughout. I'm told they are working on brightening the place at night--black is not a great choice for a ceiling and ductwork--but it's got great bones, and the votive candles are a nice touch.
The menu is just the right size for a place of this size-- although the wine list could use expansion--with eight starters, three or four pastas, and six entrees (none over $30), with specials each night. Subtly but critical to Bryan's cooking is the acidic undertone in every dish, so that everything has a brightness, a tang, a edge some might call umami; I call it canny cooking.
Our party of four began with a terrific Tuscan white bean soup ($10)--too often bland, here, with cabbage, tomato and Parmigiano, a rich, satisfying autumn starter. Hamachi tartare ($16) with avocado, cucumber, chives and yuzu shows Bryan hasn't lost his Asian touch, and grilled octopus ($16) had a good sear on it, accompanied by charred eggplant, arugula, and delectable paprika oil, echoing his Mediterranean bias.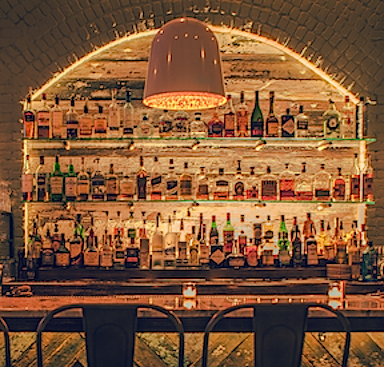 His pastas just skirt being too much of a good thing: generous in portion (as a main dish), they exhibit the difficult-to-achieve textures you find so effortlessly done in Italy. Pappardelle with rabbit meat, porcini mushrooms, aromatic vegetables and the delightful addition of orange ($23) should be a signature dish, but there was everything to like about the perfectly cooked wild mushroom risotto with peas, reggiano cheese and black truffle ($20).
Atlantic cod, not always the most flavorful fish, took on rich , aromatic flavors of a bouillabaisse broth with white bean puree and assertive aïoli ($26), while very good skate came with couscous, capers, tomato and verjus ($23)--an ideal example of what I meant by adding acids to a dish.
In my line of work, I try not to use many superlatives, but for the moment at least I can say that Bryan's roast chicken was the best I've had in a long time--and I count many very good ones along the way. I don't know how he gets the skin so crisp, but it almost shattered to the bite. Adding celery root, black trumpet mushrooms, tarragon and splash of Madeira made it all the more wonderful.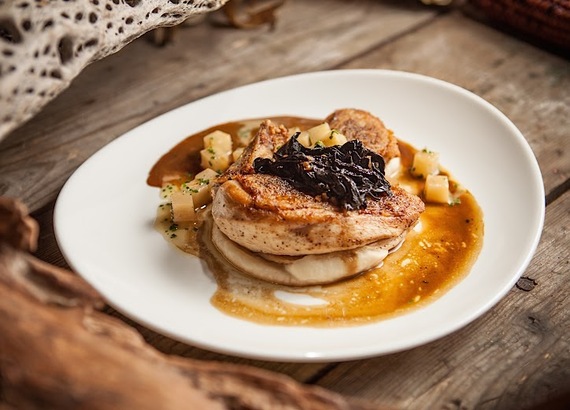 I like two of the desserts tried very much--a flourless chocolate cake and a terrific blackberry financier. Vanilla panna cotta seems like a throwaway decision, and there are better tarte Tatins in New York.
The Milling Room, with a little tweaking, should be a very popular draw in its Upper West Side neighborhood, and with Bryan in as a partner, it should soon be a destination for those who know he is one of the city's chefs who will always deliver big flavors at reasonable prices.
The Milling Room is located at 446 Columbus Avenue in NYC;
212-595-0380; http://www.themillingroom.com/wine-list/