I'll grant that feasting on fish caught that morning in Lake Garda, Italy, and served at the delightful Trattoria Pompiere in Verona can have a powerful effect on one's objectivity. But I was also able to overcome such distractions to focus on the fact that the wines of the region, Veneto, get better and better all the time.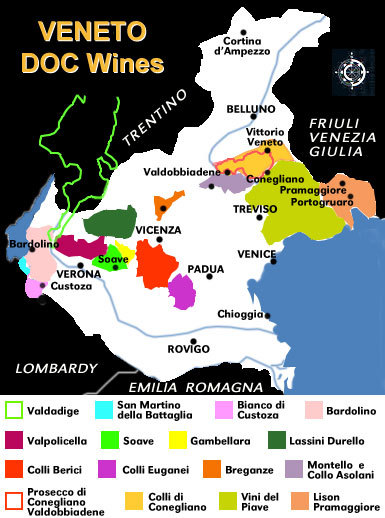 Veneto is Italy's largest wine producer. The wines with D.O.C. and D.O.C.G. appellations alone come to more than 300 million bottles annually. The principal Veneto exporters are Bolla, Bertani, Allegrini, Anselmi, Maculan, Tommasi, Zonin, and Masi.
The best known wines, many made in tremendous bulk, are soave, bardolino and valpolicella, this last in particular showing more consistent quality than ever before. The most interesting of the modern valpolicellas have the word "ripasso" (re-passed) on their label, which means the wines spend time in contact with the dried grapes, a technique long used to make a much bigger, red wine named Amarone della Valpolicella, whose grapes dry on straw mats in order to concentrate their sugars and flavors. Ripasso valpolicellas take on some of Amarones' fleshy character but are not as massive.
This summer, during the New Orleans Wine & Food Experience, I was on a panel called "Fresh and Dried," on the subject of Veneto wines, led by Tony Apostolakos, brand manager of Masi Agricola, whose wines I've long admired. Masi has a 200-year history of innovation in the region, having refined the traditional technique called appassimento, by which grapes are dried to concentrate their flavors and give them durability. Masi dries corvina, rondinella and molinara grapes on bamboo racks (below) to give maximum airflow around the bunches. They even semi-dry pinot grigio grapes, mixing their juice with 25 percent verduzzo to add a honey-like flavor.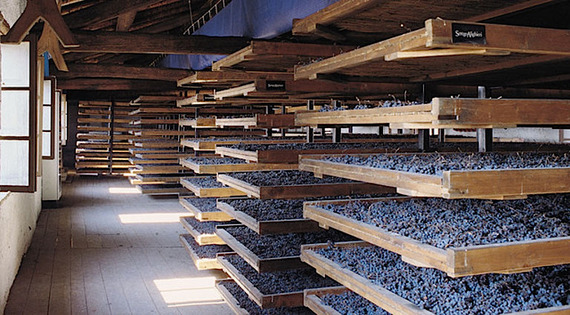 Apostolakos was quick to point out, however, that, contrary to some assertions, the grapes are not dried to "raisin shrinkage." Rather, he says, "They resemble more a party balloon that has lost its air and deflated" (below).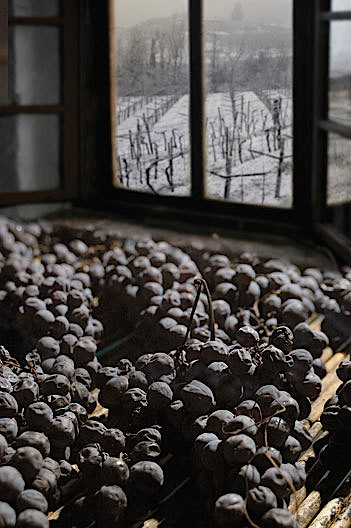 Masi is not alone these days in making Amarone della Valpolicella in a more drinkable style that does not take decades to develop. In the past, Amarone was expected to be a massive, high-alcohol, Port-like red wine, with a leathery taste and, more often than not, a bit of oxidation. A few producers, like Bertani, still go with that style, which still has its fans, but Masi and others have maintained the wine's richness while removing the oxidation and high alcohol, allowing the wine to be drunk earlier and with a wider range of dishes.
And, when Masi determines that the vintage is not up to its standards--which apparently happens every ten years, in 1962, 1972, 1982, 1992 and 2002--it doesn't make Amarone.
The great vintages, said Apostolakos, are 1990, 1997, 2006, 2007 and 2011. I would still wait a couple of years for the 2011 to mature, but modern Amarones can age for a decade or more and still be sound and robust.
Masi also has been proudly promoting a wine named Campofiorin Rosso del Veronese, which, since its debut in 1964, was its first ripasso, for which fresh corvina, rondinella and molinara grape juices are blended, with about 25 percent of the same grapes dried for about six weeks. This causes a re-fermentation called a malolactic. The result is a bigger, richer wine than regular valpolicella. Though it is not a legal classification, Masi calls Campofiorin a "Supervenetian." And, at under $15, it is an amazingly good buy.

The bigger, brawnier brother of Campofiorin is the company's Riserva di Costasera Amarone della Valpolicella Classico 2009 ($60), which is classified as a prestigious D.O.C.G. In this blend the corvina actually develops a bit of botrytis, a fungus that shrivels the grapes and concentrates the sugars, adding body.
Masi's Bonacosta Valpolicella Classico D.O.C. ($12), on the other hand, is made exclusively from fresh grapes, going through malolactic on its own.
It's a range of wines from the same grapes that shows how different--and differently priced--they can be, yet still remain their essential character and terroir.