Like everyone, I like a good kitchen gadget that works, though I've never been suckered in by any of those sold by informercials on TV, when, "if you call now, you get two extra thigamajigs and a whole set of steak knives for just $29.95 in three easy payments, plus shipping!"
I'll never be convinced of the importance of owning a can opener shaped like a toucan ($25) or a wheat grass juicer ($142), and the microwave oven someone gave me years ago has never come out of its box.
So when I come across three items that really impress me for their utility and as-promised dependability, I want to tell all my friends who spend any serious time in the kitchen.
1. About 15 years ago, the great French master chef Alain Ducasse proudly showed off his ridiculously expensive new induction range installed in his New York restaurant. He put a pot of water on the circle, turned it on and within 30 seconds the water was boiling furiously. He then told me to touch the cooking surface with the palm of my hand. Hesitating but dutiful, I did so and found it cool as glass. Now, this was a really amazing piece of machinery, but wholly out of the question -- at thousands of dollars -- for a home kitchen.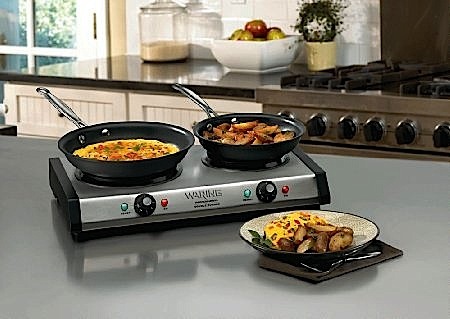 Then, this summer, I was sent a demo model of the Waring Pro Double® Induction Cooktop ($249.95), which looks more or less like a simple hot plate but is actually every bit as impressive as what I saw in Ducasse's kitchen. Weighing only seven pounds, it's easy enough to put on your kitchen counter, and its various settings allow you to instantly modify the cooking temperature, has a 150-minute timer and shuts off automatically 30 seconds after a pot is removed. And it uses 70 percent less energy than conventional cooktops.
At first I thought the cooktop a reasonable alternative or addition to my gas range, but during a brutally hot July, when I didn't want to turn on a flame burner to add to the kitchen's heat, I used the induction cooktop relentlessly, with the only heat coming from the food being cooked.
One caveat: It only works with stainless steel pots and pans, so you can't use your cast iron or simple aluminum cookware. But I have really learned to love this novelty, which strikes me as one of the better inventions of the 21st century for the home kitchen.
2. As a passionate pizza lover who demands very specific virtues in how the crust cooks and the toppings meld, I was hardly impressed when a Newwave Pizza Oven ($99) arrived at my door, looking like a countertop kettle barbecue grill. For fun, I thought I'd give it a try, strongly suspecting I would get an anemic-looking, soft, puffy crust.
I bought pizza dough from an Italian bakery, topped it with various ingredients, and, after heating up the Pizza Oven as instructed for five minutes, slid it onto the stone. Five minutes later out came as perfect a pizza as I've ever made at home -- the crust was crispy, slightly charred underneath and had those glorious charred bubbles of dough around the circumference (which Italians call the "cornicone"). It was easily as good as some of my favorite pizzerias make.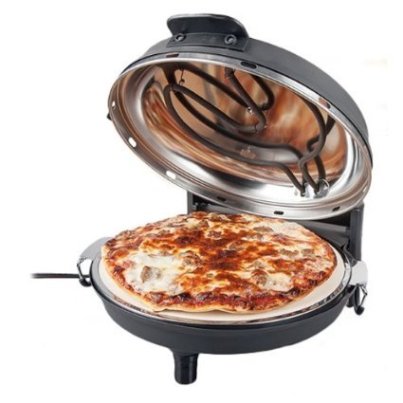 Had I made this pizza in my regular gas or electric oven, I would have had to heat up a pizza stone at the highest heat attainable (about 450 degrees) for an hour before putting the pizza on it, then cooking it, shifting it around in the process, for about 15 minutes. The Pizza Maker reached a much higher, controlled temperature in five minutes, evenly throughout, so I didn't need to shift the pie around.
I was so impressed I was making pizzas every night and even for breakfast, with a spread of Nutella hazelnut and chocolate. Now, that's a nutritious breakfast!
3. I've never used ceramic knives in the kitchen because those I have tested chipped and broke easily and didn't keep the sharp edge promised. Professional chefs spurn them with utter disdain. Then I tried out a new, state-of-the-art set of ceramic knives, created by London designer Edge of Belgravia, which are incredibly sharp -- made from zirconium oxide forged under 300 tons of pressure at a temperature of 1,400° F and said to be much sharper for much longer than steel blades.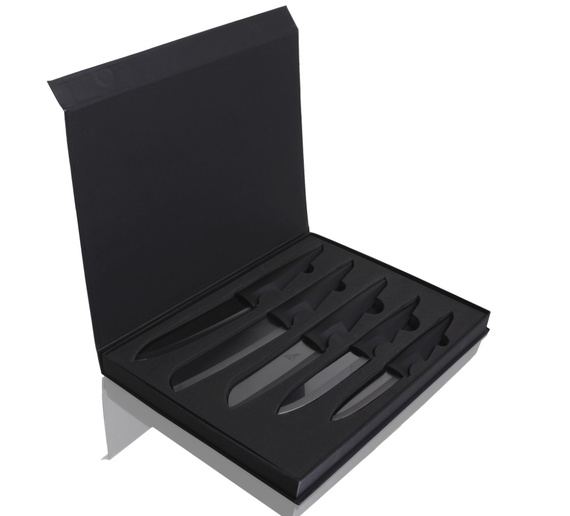 They are terrific looking--the black ones look like Ninja knives, though the lime green one are merely pretty--and though light in the hand, I found them so sharp that, without being serrated, they cut with surgical precision through tomatoes and the tough rinds of limes in one movement. You can buy the knives individually -- slicer ($107.90), chef's knife ($92.90), santoku ($76.90), utility ($76.90) and paring ($44.90) -- or as a set ($399.50).