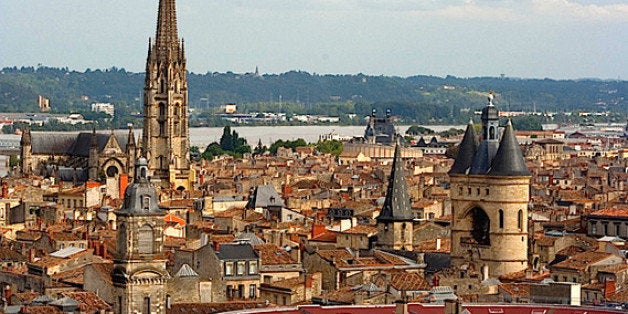 Do not look for mountains or valleys in Bordeaux. Do not look for rich red earth or vast forests. And don't look for spa resorts with Olympic-size swimming pools and cabanas. That may be all well and good for Napa Valley, or the hills of Tuscany, or the stunning mountains along the Rhine, but Bordeaux has its own virtues: castles and chateaux of great beauty, impeccably maintained vineyards on gravelly soil, and some superb restaurants.
The fact that you can easily arrange to visit the great wine estates of Bordeaux while staying in some sumptuous nearby hotels makes this area of southwest France one of the most soul- and appetite-satisfying vineyard regions in the world. Indeed, most chateaux are open to the public, as long as you write ahead. (To obtain names and addresses, contact the Bordeaux Wine Bureau in NYC; 212-477-9800.)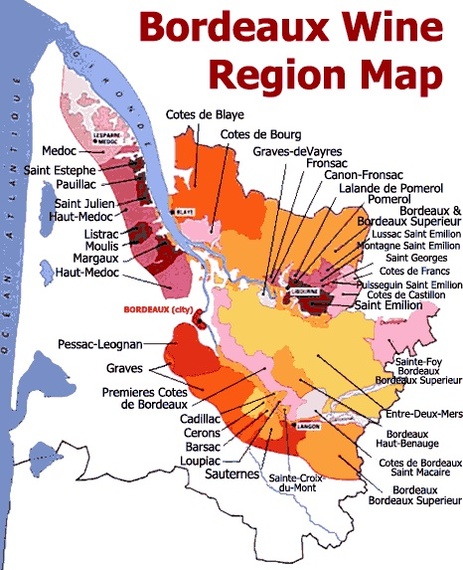 It is a huge area of more than 280,000 acres of vineyards, with 22,000 vineyard proprietors and 7,000 chᅢᄁteaux, or domaines, producing 800 million bottles of wine annually--compared with less than 36 million produced in the far smaller region of Burgundy. Way back in 1855 the wine merchants of Bordeaux created a classification of the region's very finest estates of the Mᅢᄅdoc, Sauternes, and Barsac regions, based on the consistently high prices their wines sold for over the decades. These were broken down into quality categories called "crus" (growths), which in Bordeaux referred to an estate. Thus, there were Premier Crus (First Growths), Deuxiᅢᄄmes Crus (Second Growths), and on down to Cinquiᅢᄄmes Crus (Fifth Growths). The wines of Graves and St. ᅢノmilion were also classified; those of Pomerol and other regions were not. One St. ᅢノmilion wine, Chᅢᄁteau Haut-Brion, was listed under the Premier Cru appellation. In 1973, one wine of the Mᅢᄅdoc, Chᅢᄁteau Mouton-Rothschild, was awarded First Growth status, but no other estate has succeeded in elevating its status since 1855.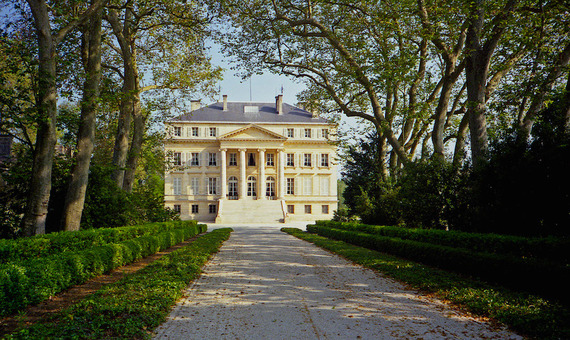 Many of the classified crus are set on exquisite properties, usually home to their proprietors, with glorious manicured lawns and pebbly walkways leading to clear-cut vineyards ringed with roses. (If a pestilence is about to hit the vineyards, roses will catch it first and give the vineyard workers advance notice). Chᅢᄁteau Margaux (above), for instance, is a butter-yellow 1810 Neo-Palladian edifice designed by architect Louis Combes for the Marquis de la Colonilla. It has been called "The Versailles of the Mᅢᄅdoc" and since 1946 has been listed as an "historic monument" of France.
The side effect is that visitors to the region are welcomed with open arms, by both the restaurants and the estates, which wouldn't mind at all if you go home with several cases of their wines. At Chᅢᄁteau Giscours (a Third Growth), which dates back to the 14th century, you may not only visit, you may also dine in their splendid restaurant with the estate's enologist, who will explain the wines you are drinking. There are also beautiful banquet rooms available for meetings and receptions.
The region, cut through by the Gironde River, which irrigates all the vineyards, also has some lovely places to stay while visiting the wineries. The city of Bordeaux has become a much livelier place than it used to be, now with 15 museums, including the Bordeaux Wine Museum, and beautiful squares and mansions that date back to the time of Victor Hugo, who was a member of the National Assembly here.
The city has fine many restaurants--including three with Michelin stars. Le Chapon Fin (below), with its fanciful fin-de-siᅢᄄcle dᅢᄅcor, opened in 1823 and still keeps a classic Bordelais menu, with plenty of foie gras, roast squab, and a renowned roast lamb with sage butter. In warm weather take a table on the terrace of the more modern Pavillon des Boulevard, known for its delicious lobster in chestnut cream. And the small, intimate Jean Ramet, on the river's bank, is always populated with estate owners and merchants who come for the namesake chef's refined regional cooking, like foie gras with candied dates and orange. For something more casual, the rustic bistro Tupiᅢᄆa cooks many of its dishes over an open fire fueled by grape vines.
In the village of Pauillac there is the spectacular 17th century Chᅢᄁteau Cordeillan Bages (below), once a Carthusian monastery, with 25 rooms and 4 suites, and a Michelin two-star restaurant that serves cuisine of great finesse, from eggplant marinated in olive oil with langoustines with lemon-thyme, and rack of lamb with a fricassᅢᄅe of vegetables. In St. ᅢノmilion the place to stay is the Hostellerie de Plaisance, restored to pristine 18th century grandeur.
With 7,000 chᅢᄁteaux to see, visiting Bordeaux may take a while. But the pleasures of visiting once can only serve to bring you back again, wondering what wonderful wine you may have missed and what charming chateaux you haven't seen.