ALDO SOHM WINE BAR
151 West 51st Street
212-554-1143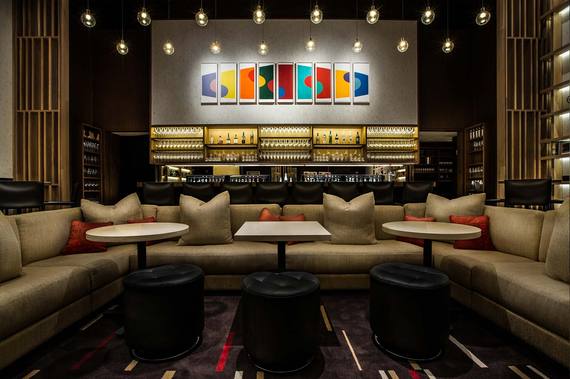 "I wanted this to be a real European wine bar," says Aldo Sohm, best known -- until now -- as sommelier at NYC's illustrious French seafood restaurant Le Bernardin. "I didn't want to just serve a few wines by the glass and some sausage and cheese. I wanted very good food and an elegant but friendly atmosphere."
From the looks of the crowd at his new namesake wine bar he's achieved what he and his partner, Chef-owner of Le Bernardin, Eric Ripert, set out to do at the four-month-old establishment, right across the way from Le Bernardin in what was once the downstairs bar of the posh Italian restaurant Palio. I was certainly not the first to ask Mr. Sohm what happened to the room's spectacular and very beautiful Sandro Chia murals of the Palio race in Siena, Italy; everybody who remembers them does. The murals' disappearance is due to the building owner's removal of them for restoration work, but it appears they will never return to what is now Aldo Sohm Wine Bar.
Thus, while the place lacks a masterpiece of modern Italian art, its décor, with its counters an living room-like couches, sports enough cartoon colors and graphic artwork to be engagingly modern, with enough swank novel to imply that this is not a place to knock back a couple of brewskies or to watch a game while wearing a Knicks jersey. So far, the crowd has gotten the message, with a mix of an equal number of women and men who seem to have come from well-paying Midtown jobs.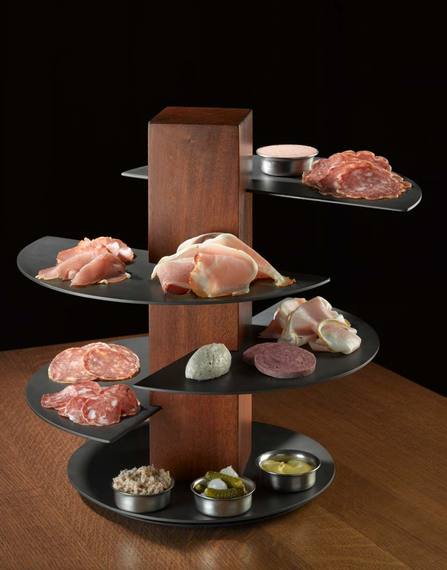 The menu is all small plate offerings, along with 40 wines by the glass (sensibly priced at $8-$90 -- this last for Château d'Yquem Sauternes 2003) and 200 by the bottle. Early in the evening Mr. Sohm pours wines before changing into a suit and darting across the way to become the sommelier at Le Bernardin. And what he pours the wines into are as amazing as the wines themselves -- stemware so thin and light, I at first thought they were plastic. On the contrary, they are very expensive glasses made specially for the wine bar and are said to be exceptionally strong rather than woefully fragile.
The menu isn't long but, although the charcuterie is excellent and varied, the rest of the offerings would be rare to find in a wine bar outside or Paris: silky, seared foie gras on a stick set on Spanish tomato-soaked bread; potted duck rillette; roasted carrots spiced with harissa and pooled in a minted chicken broth; cauliflower cooked in chicken fat, with a crisp chicken skin crumbled on top; truffled pasta with grated Himalayan yak cheese; and shortribs with onions and wine reduction on richly buttered mashed potatoes; and an irresistible warm goat's cheese potato parfait with arugula.
There is also a tasting section for up to eight people.
Aldo Sohm Wine Bar really does add a new dimension to the genre in NYC and will probably be copied by others before long. It is not just all about the wine -- it is about good food, comfort, and civilized conversation.
Aldo Sohm Wine Bar is open Mon.-Fri. for lunch and dinner; Sat. for dinner. Charcuterie from $6.50-$12; small plates $4-$12;
THE SHOP AT ANDAZ FIFTH AVENUE
485 5th Avenue (at 41st Street)
212-601-1234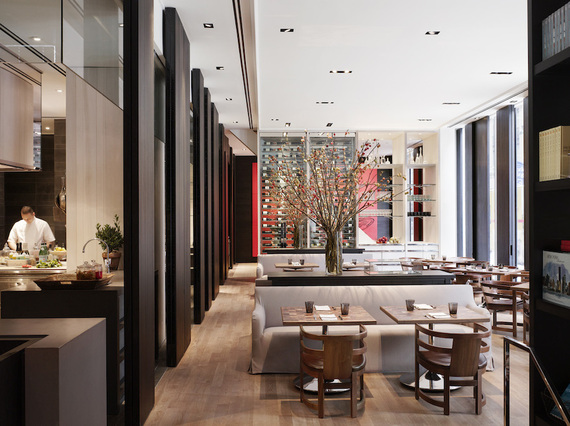 Although more of a traditional restaurant than Aldo Sohm Wine Bar, The Shop, located just across from the NY Public Library, is about the same size and has something of the same ambiance, via a strong use of wood panels, overhead lighting, sofas and strong colors. And it does seem like a place to come by before theater or for a light meal on the run or if you're staying in the hotel upstairs.
But I would encourage you to linger and have a full dinner at The Shop, because executive chef Michael Santoro, previously of The Mildred in Philadelphia and Blue Duck Tavern in DC and trained at fine kitchens like The Fat Duck outside of London, Mugaritz in Spain, and Gilt in NYC, brings a very rigorous technique to modern American fare with a highly seasonal flair. And the food is backed up by an attractive, young staff that greets and treats you very well. (There's also a retail food shop on the premises.)
There are small plate offerings here, too ($9-$20), including organic heirloom tomatoes, burrata, vinegar and opal basil blossoms. Good, grilled country bread comes with Purple Haze goat's cheese, stone fruit, crushed hazelnuts and dash of balsamic.
Large plates range from "peaches and cream" sweet corn risotto, Pernod, tarragon and mascarpone ($23) and a terrific crispy pig's ear salad. Spaghetti cacio e pepe -- pure Roman comfort food -- is so simple that is extremely easy to screw up, but Mr. Santoro's is textbook perfect, not soupy, not dry, impeccably al dente with just enough cheese and black pepper to give it zing.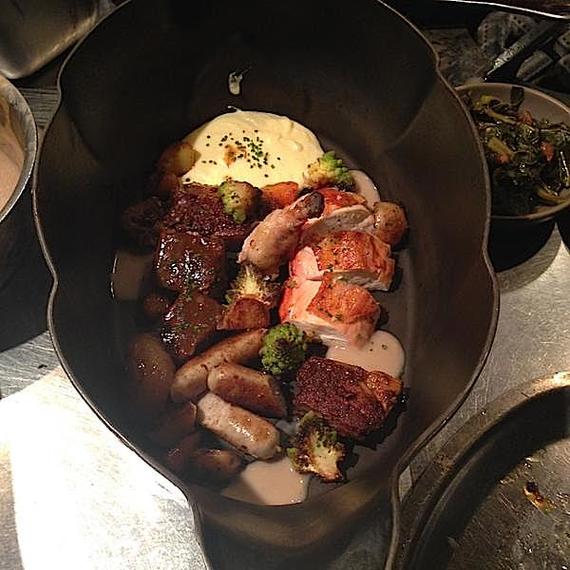 There's also a delicious, crispy chicken schnitzel with greens and a tangy dash of lemon ($25), and a very generous casserole of short ribs (left) with sweet polenta and baby onions that snuggled up to roast chicken and sausages. The winter menu now also includes dishes (I have not tried) like chestnut soup with walnut crumble and cider cream; pork ragoût with tagliatelle and Parmesan, and a venison burger with braised shortrib, cheddar cheese and onion on a poppyseed brioche.
There are better known restaurants in NYC -- though few in Midtown -- doing this kind of food as well as Mr. Santoro, but it really shows when the chef is doing the kind of menu on which just about everything is so tempting. Small, focused, intensely flavorful, his cuisine aims at pleasure, not show-off dishes. And with most main courses costing $22-$28 (with three in the mid-$3 range), The Shop is worth more than a casual visit.