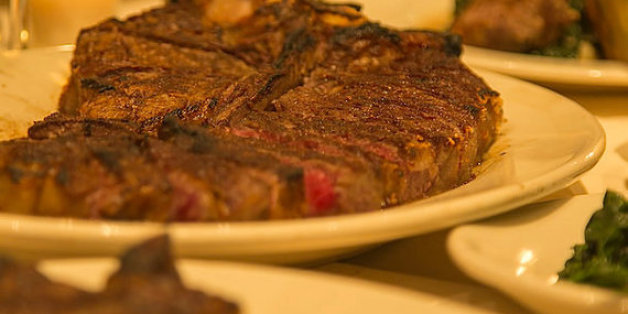 More than once I've noted that steakhouse menus around the U.S. don't differ by as much as the cut of fried potatoes. All, obviously, serve hefty steaks and chops and the quality of the meat everywhere has gotten better, although the more links a steakhouse chain adds diminishes that quality significantly.
Which is why I favor singular, individual steakhouses whose personality is evident in the way they treat people and whose quality is more easily controlled when there's only one larder to stock and one kitchen to cook it. Crowds of regulars don't hurt either.
For those reasons I am willing to pronounce that, overall -- quality of food, hospitality, wine and cocktail service, and ambiance -- Porter House, four flights up in the vast Time-Warner Center in New York (which also houses Per Se, A Voce, Masa, Bouchon, and Landmarc) is celebrating its tenth year in business with a dining room packed for lunch and dinner seven nights a week. There are reasons for that.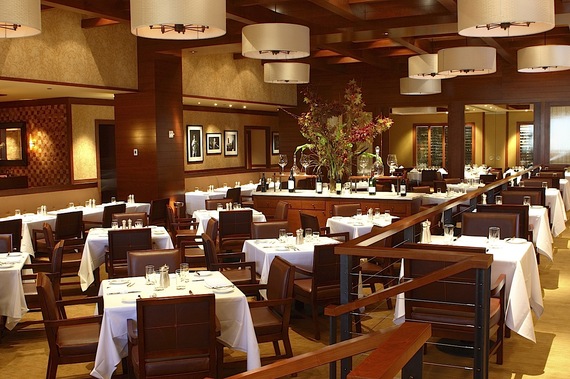 Most obvious is its location, with a grand panorama on Central Park, Columbus Circle and the long lighted stretch of Central Park South all the way to Fifth Avenue. Few restaurants in the world can match that view, and the interior of Porter House is as broad, deep and handsome, with tables well separated, thick tablecloths, and a perfect lighting provided by the sun-, twi- and night-lights of New York.
Chef-managing partner Michael Lomonaco, manager Tim Brown and a fast-moving staff keep Porter House hopping without the slightest lag in service, and wine director Brad Nugent is always on hand to make the choice of wine according to your taste, your dinner choices, and your budget, all from an award-winning wine list.
Porter House's menu doesn't differ much from those of the city's highly competitive steakhouses -- the cuts of meat are carefully selected, the seafood plateau lavish, appetizers like marrow bones impressive for their size and succulence, and the side dishes from onion rings to creamed spinach well honed. Mistakes are rare at Porter House after a decade in business, and I have received very few reports of poor food or service over the years.
Some of my favorite dishes consistently include the clams Casino, the pan-seared sea scallops with capers and brown butter, and a truly jumbo lump crabcake, just lightly bound and served with a tangy horseradish cream. I have always wondered why they don't serve the gargantuan lobsters that are pretty standard fare in steakhouses. The American "Siberian" caviar, at $96 for 28 grams is not only expensive but, given the blandness of that species, not worth ordering.
Aside from the signature porterhouse steak (for two or more), the juicy veal chop and gargantuan Colorado lamb t-bone chops are as fine as any anywhere. Someday maybe I'll try the burger.
Desserts are no afterthoughts here, going beyond the usual cheesecake and including a childlike fantasy of a chocolate sundae.
Even if Porter House didn't serve steaks at all, its beauty and fabulous location make it worth a visit, at least at the new Center Bar just outside the Porter House doors. Add in those great steaks, and it would be hard to find better.
Porter House New York is open daily for lunch and dinner, with dinner appetizers ranging from $14-$22, and entrees $29-$59.
The new Angus Club Steakhouse on the East Side of Manhattan just opened in January so it cannot be expected to have the panache of Porter House, nor does it have the view, with half of it underground. But owners Margent Maslinka (also wine director), Chef Edward Avduli, Aldin Gacevic and Zef Makaj, all veterans of well-established Wolfgang's Steakhouse on Park Avenue, are trying to prove they may be one of the friendliest, most accommodating steakhouses around. Their welcome is warm, their private dining rooms many and individually designed for various size parties and atmospheres, and the service staff aims to please.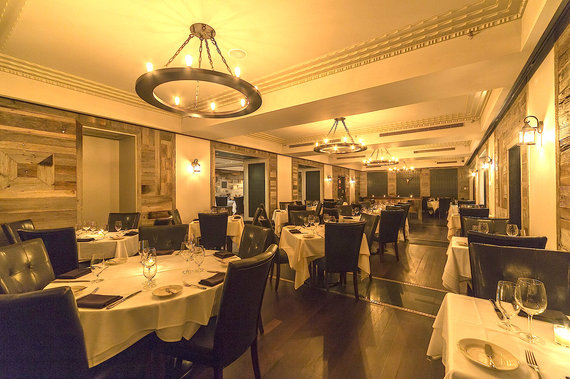 A lot of thought and money has gone into this warren of rooms, the most pleasant the upstairs bar, which overlooks the street. There are fine touches everywhere -- soft brown leather chairs, antique mirrors, cork-wrapped columns, a grand staircase, snakeskin walls, and golden lighting. The main 76-seat dining room (above) plus private spaces, however, is down that staircase, and, frankly, I didn't find the reclaimed barn wood walls particularly cheery. It's fairly dark down there, and, since business has not yet caught on very strongly for the amount of space Angus Club occupies, it can be pretty lonely down there.
You won't find any surprises on the menu, but the beef is dry-aged on site for up to 35 days and the lobsters weigh in at three pounds. Otherwise, potions are generous for the appetizers and the prices are a click below Angus Club's competitors', with a bone-in, 22-ounce sirloin at $46 and a porterhouse for two at $98. The lobster goes for $95.
Start off here with the yellow fin tuna tartare or the thick slab of Canadian bacon, then a great slab of impeccably cooked meat, especially the porterhouse, sliced for two or more, and a side of steak fries and creamed spinach. You'll go home full, you'll go home happy.
If Angus Club succeeds in a very busy steakhouse neighborhood -- Palm, Spark's, Smith & Wollensky, the new Davio's, among others are within a t-bone's toss -- it will be on the good will that the owners are trying so hard and so honestly to build. That counts.

Angus Club Steakhouse is at 135 East 55th Street; 212-588-1585; www.angusclubsteakhouse.com; Open for lunch Mon.-Fri., dinner Mon.-Sat. ; Dinner entrees $33- $49.