Right about now, Rome is overflowing with tourists glued to guidebooks and iPhones, rather than actually looking at the city's grandeur, statues, churches and paintings.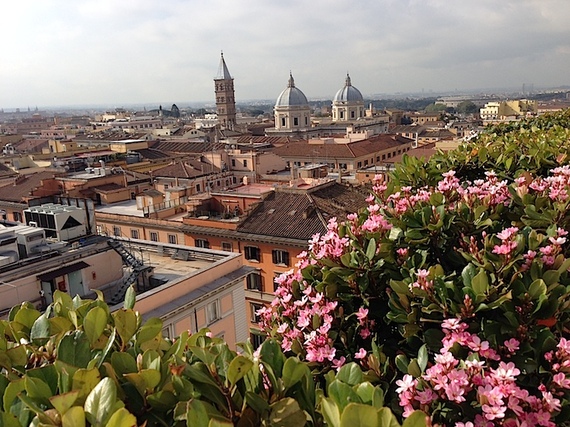 The streets in and around St. Peter's will be thronged with tour groups following leaders holding signs and flowers and puppets, and they'll all go to have a postcard very conveniently stamped at the Vatican Post Office. The Spanish Steps will be littered with both people and trash, while gawkers move endlessly down the Via Condotti past the designer fashion stores. The restaurants will start seating people at 5 p.m., if such people are crazy enough to eat that early, and the Roman nightclubs will be pouring limoncello till four in the morning.
It's just not the time to go right now, mid-summer, and in August most Romans close up shop and leave town. But, if you can wait till after Labor Day or, as I did this year, go in early spring, you may not have Rome all to yourself, but it will seem more like a civilized city than an amusement park.
I actually had only a couple of days in Rome this time, for I was on may way to Campania, Basilicata and Apulia, but landing at Rome's now quite modern airport and taking the easy-to-ride train straight into the center of the city, arriving at the vast Railway Terminal, was a way of simply renewing my affection for the vast, sprawling city, whose streets seem to obey no logic and whose monuments and churches and piazzas are testaments to all those who occupied or ruled over the city for the past two millennia.
My wife and I checked into the Mediterraneo Hotel on the broad Via Cavour, which is very conveniently just one block from the Terminal. Built in 1936 by architect Mario Loreti and set high on the Esquiline Hill, the ten-story, 251-room (each individually decorated) Mediterraneno is considered one of the finest of Rome's art deco hotels, motifs of which are found throughout all the public rooms, staircase, and drawing room.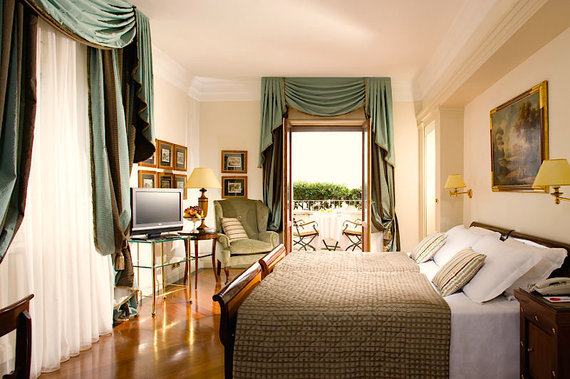 The first of two rooms my wife and I stayed in was in that classic but dated-looking art deco syle, the furniture old and the fabrics somewhat threadbare. I much preferred the beautiful, more modern rooms (above) with a contemporary Roman elegance in the furnishings, as well as a glorious view of Rome from our balcony. Free WiFi, installed just this spring, is available throughout.
The hotel and the smaller Massimo d'Azeglio Hotel right across the street are both owned by the Bettoja family, who have maintained a critical balance between Roman tradition and modernization. The Mediterraneo has a rooftop restaurant with a continental menu, and a panorama view of the city best appreciated at twilight. I recommend the rigatoni alla carbonara (with egg and guanciale bacon) and the bucatini cacio e pepe (cheese and black pepper), both quintessential Roman dishes.
Downstairs they serve a very lavish buffet breakfast in a room called the Sala Taverna, decorated with Vetri ceramics.

The century-old restaurant at the Massimo d'Azeglio has the refined look of museum-quality artwork and furniture, with its polished wood floors and wicker backed chairs, wood wainscoting and glowing wall sconces, and beautifully draped embossed pink linens. On the wall hangs a 19th century painting of Count Emilio Cavour, one of the key figures in Italy's Risorgimento.
The menu is tilted more to Piedmont cuisine, with specialties including meat ravioli with scallops sauce; orecchiette pasta with broccoli and ricotta cheese; tonnarelli with seafood; crusted pork served with apple sauce, and--for a true Piedmontese feast--a gran bollito misto, which is a rich amalgam of four or five meats boiled in their own broth and served in two courses.
The wine list is solid, with thousands of bottles, some uniquely rare, dating back to the 1900s, and you may see for yourself by organizing a private meal in the cellar, surrounded by ancient stone archways, old wine urns, candles, and rustic chairs and tables set with red-and-white checkered tablecloths (below).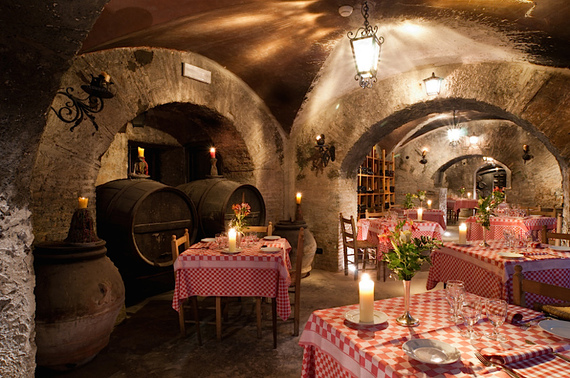 Ravenous upon arriving in Rome, we headed for Trastevere -- "across the Tiber" -- in search of the kind of trattoria this old neighborhood, with its winding streets and quiet passageways, has plenty of. Two of those we sought out were closed--you can never tell when this will be the case in Rome -- but happened upon the open door of Hostaria da Corrado, now in its forty-fourth year here, from which the aroma of good cooking issued forth.
The cooks are two charming women who have clearly perfected the few dishes they offer each day, the tables are topped with paper, the wine comes by the half or full liter, and the clientele are clearly locals, including a good number of workmen who certainly take more than an hour for lunch.
The cooking at da Corrado was everything we wanted, especially so because hunger demands satisfaction, not fuss. There was no menu, so we just went with the manager's recommendations--fresh fettuccine pomodoro with a simple tomato sauce that showed up in other seasoned versions on ziti all'amatriciana (below), with onions, pancetta and pepperoncino, and all'arrabiata, pungent with chile peppers. Ravioli were simply dressed with butter, sage and percorino cheese. We also enjoyed involtini rolls of breaded pork, and excellent side dishes of steamed chicory and broccoli.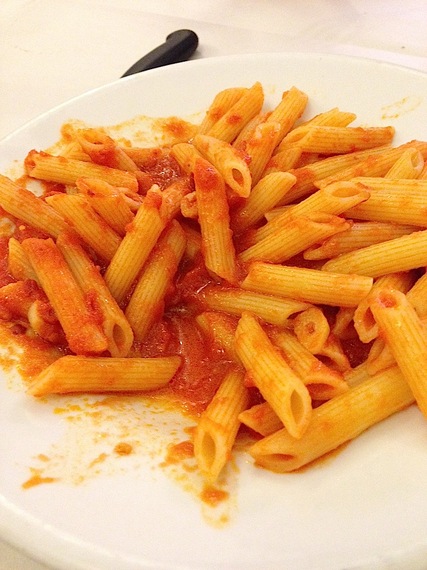 On the way out we gave effusive thanks to the chefs, who seemed genuinely delighted we had stopped by to eat their hearty Roman dishes. Lunch, for four of us, with wine, was about $70. (Remember, it is not necessary to tip at restaurants in Italy; a service charge is included in the bill.)
The time we had to sight-see on our brief stay sent us off to the nearby church San Pietro in Vincoli ("St. Peter in Chains"), said to possess the very chains with which Peter was imprisoned in Jerusalem. But the real and magnificent reason to visit this quiet basilica--well known but not much trafficked by tourists in the morning--is the extraordinary statue of Moses by Michelangelo (below), commissioned by Pope Julius II in 1505 for his tomb, but not completed until 1545, long after the pope died.
Holding onto the tablets of the Ten Commandments, a powerful, angry Moses with a voluptuously flowing beard looks sternly to his left, and from his head spring what seem like two horns, part of a legend that Moses brought the tablets down from the mountain with his head glowing with divine light.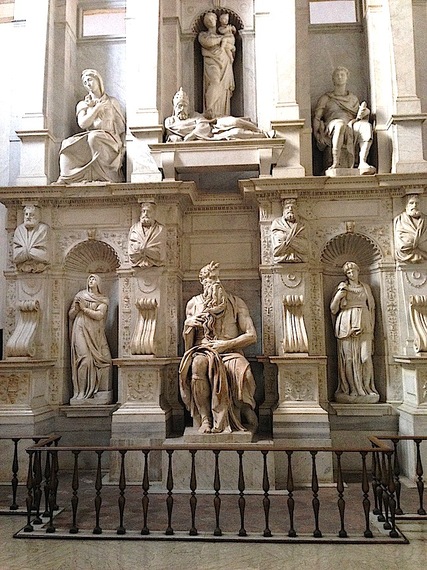 The Moses is, with so much else Michelangelo did in his long life, a masterpiece of realism and spirituality, a gentle giant of a man with the visage of God himself.