Walk up or down any avenue on the Upper West Side and you will be astonished at the number of small restaurants of every ethnic stripe right next to each other. Indeed, it's tough to find a dry cleaners or nail salon wedged in between them all, and, if I lived on the Upper West Side, I'd go crazy trying to choose what kind of food I wanted to eat.
Two outstanding newcomers to the neighborhood prove yet again that many in the food media, who never seem to venture above the Bowery or beyond Greenpoint, have demeaned the UWS's restaurant offerings by sheer omission. Bustan (left), a Mediterranean restaurant with an Israeli chef, and Awadh, which features the cooking of that northeastern region of India, both diverge from other restaurants in significant ways. Both also show that, unlike so many of their competitors up and down the block, there is a sure degree of professional pride in the management of the places, instead of the lackadaisical and robotic rote you find far too often.
Bustan, which means garden, is clearly a labor of love for proprietor Tuvia Feldman, executive chef/partner Efi Nahon and general manager/partner Guy Goldstein, who are committed to showing the extraordinary depth and breadth of the food cultures that hug the shores of the Mediterranean. So, you'll taste the intertwined flavors of North Africa, Italy, Greece and the Middle East from a long menu, from mezes to flatbreads, and many dishes are cooked in a dome shaped, wood-fired taboon oven. Goldstein has assembled a small estate wine list that is exceptional for small restaurants of this stripe.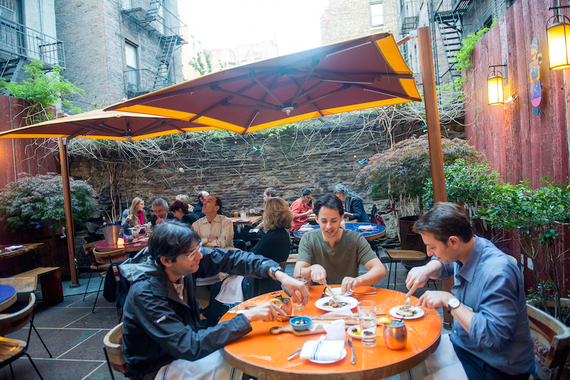 The 74-seat room and outdoor patio blend sea colors with earth tones, with a charcoal-colored faux stone wall backlit with portholes. At the moment, the garden out back is in full swing and highly desirable.
Our table of four ate extensively from the menu, starting with an array of mezes ($6-$19), or mazettim, that included luscious hummus with lamb kebob and shredded beef cheeks. Charred octopus ($18) with warm white bean masabaha, crushed tomatoes, green harissa and botargo roe was a lot of good food on one small plate, while Moroccan lentil soup ($9.95) was
riddled with delicious lamb merguez sausage and root vegetables, with a lacing of cool yogurt.
Soft egg buttery, flaky burek pastry ($18) with creamed sunchokes, mushrooms and truffle oil is, I suspect, unique to New York, and the saganaki ($$11.95) was well out of the ordinary, with efalograviera sheep's milk cheese on fennel seeds with a roasted tomato compote.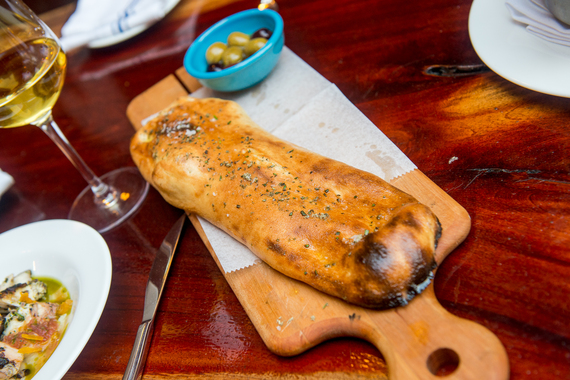 There was so much more I loved: tender flatbreads with cured tuna, zaatar, red onion, feta, spinach and fresh tomato ($15); spicy lamb terra-cotta (below), with grilled vegetables, tahini and pistachio baked in flaky top crust; and the Greek pastrami with parmesan and red peppers ($12) was sensationally good. All these I would rush back for without hesitation, though I would not for the only real dud in the menu: tasteless roasted eggplant in coconut milk with a curry-like seasoning called vodouvan. I might add that if Bustan served nothing more than its complimentary puffy bread (above), I would wait outside to collect the day's leftover loaves.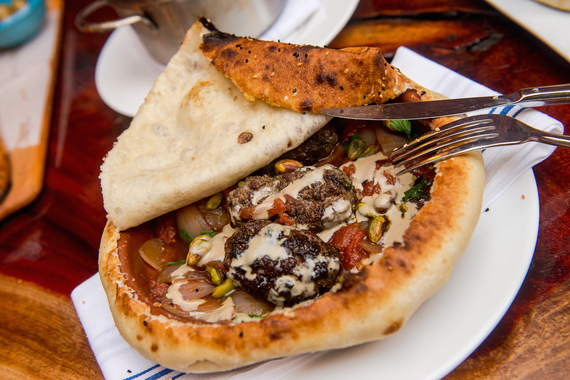 Desserts are well worth ordering, from shredded halvah ($8.95) with milk gelato, rice brittle and caramelized nuts to semolina and coconut cake ($8.95) with strawberry compote and yogurt-chestnut gelato.
Bustan is located at 487 Amsterdam Avenue (between 83rd and 84th Streets); 212-595-5050. Open for dinner nightly; Fri. & Sat. for brunch.
There are several Indian communities around New York, but the Upper West Side is not one of them. What a wondrous surprise, then, to find that the best Indian restaurant in the city is up there, Awadh; indeed, along with the superb Rasika in Washington, I'd rank Awadh among the finest anywhere.

I say that with one caveat: Almost everything I ordered was a specialty of the region of Awadh in Uttar Pradesh, whose rich cuisine and slow cooking methods were heavily influenced by well-spiced Mughal cooking. So, if you insist on ordering the Pan-Indian items on the menu, I'm sure you'll be pleased but you would rob yourself of extraordinary dishes not found all over town.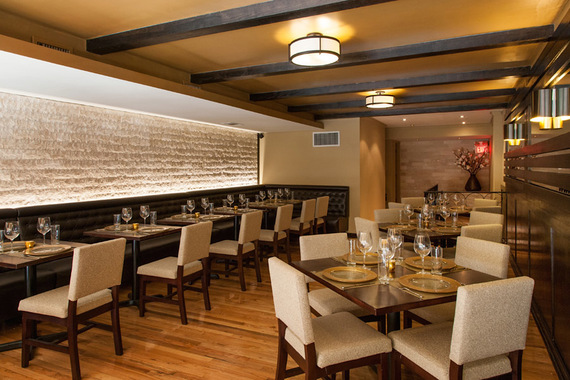 Photo by Maike Paul
I should not have been surprised that Awadh was go good, for its owner and chef is Gaurav Anand, whose Moti Mahal Delux and Bhatti Indian Grill, both on the East Side, have justified reputations for their refined cooking.
Awadh is a very smart-looking restaurant, unusual among the storefront eateries on the UWS. It's set on two floors, the first with a double-height glass façade, an 8-foot chrome and cascading bubble glass chandelier, dark wood paneling, gold pendant lights, exposed wood beams and gold foil wallpaper setting the tone for a cozy yet refined atmosphere. The second floor (right) is a bit more reserved and happily less noisy, with tufted banquettes and textured stone walls.
Sommelier John Slover shows that Indian food need not be distanced from the subtleties of good wine, and there are spiced and herbal cocktails offered, along with an impressive array of teas.
Before even getting to the menu, I must comment on one of the most delicious breads I've ever had in my life. It's called ulta tawa parantha (left) and is thin, very flaky and cooked with ghee butter in a wok, resulting in a pattern of flattened bubbles that add texture. I even broke Indian tradition to eat it before the man courses because I could not resist.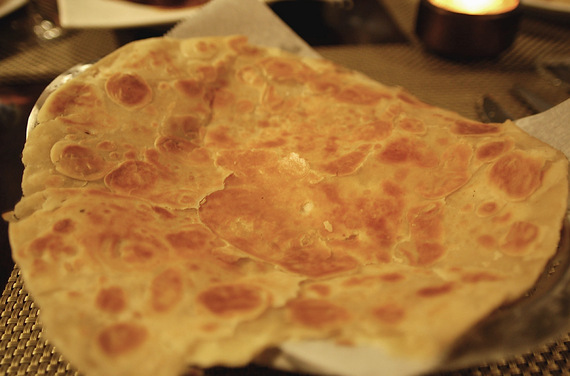 Photo by Michael Tulipan
We began noshing on crispy okra called karari bhindi ($8), then, very hungry by then, a marinated and grilled chicken dish called murgh tikka with sweet-and-sour pomegranate ($10) and succulent galouti kebabs ($11) of spiced mint lamb patties. Mustard-coated and marinated lamb chops called chaap ka barrah ($14) had decent flavor but the coating made the lamb steamy, which was not a problem with grilled sizzling jumbo prawns in a carom seed marinade, called ajwaini jheenga ($12).
Our main courses included wonderfully aromatic nali ki nihari I (below), a hefty lamb shank ($18) simmered overnight to absorb tremendous flavor. The famous butter chicken called makhanwala was created at Moti Mahal ($16) and now everyone does it, but none better than Mr. Anand, who brought it cross town to Awahd. Steamed basmati rice came with a savory lamb stew ($16).

Indian cooks too often dry out their fish with cooking or, just as bad, overspice it. At Awadh, mahi musallam ($21) is a whole fish coated with spices like turmeric that pack their punch but give way to a juicy,flavorful whole fish that is an exemplar of what careful attention to detail can accomplish.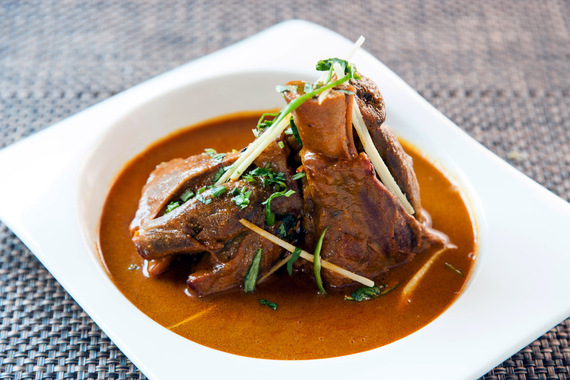 Photo by Maike Paul
Too few Indian kitchens pay much attention to desserts, often buying them elsewhere and bringing them in to sit in the refrigerator. Awadh's are made fresh and have both subtly and fragrance, from the phirni rice pudding with cardamom ($7) to the kulfi creamy "Popsicle"($8) and some very intense flavorful sorbets of peach, raspberry and coconut ($8).

I've every reason to believe that the rest of Awadh's menu lives up to its Uttar Pradesh specialties, but if you go, promise me you will focus on the latter. And tell me how the rest is. I'm dying to go back and find out.
Photo by Maike Paul
Awadh is located at 2588 Broadway (between97th and 98th Streets); 646-861-3604. Dinner daily; Lunch Monday-Friday;Brunch Saturday & Sunday 12-3 p.m.