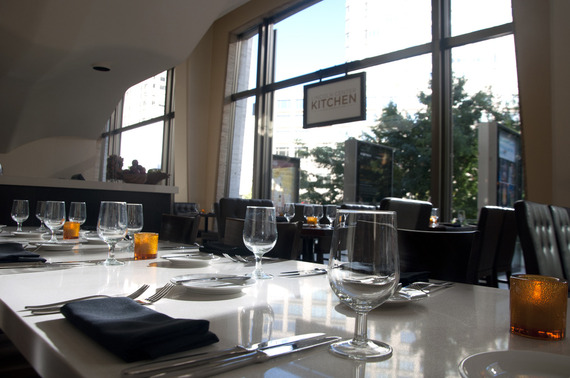 Naᅢᆵfs still ask, "But what really is American food?" The easy answer is, anything Americans eat, from Maine lobster to chile con carne. But nothing is that easy. Assuming that, like everything else, American gastronomy gobbles up influences from all its immigrant cultures, there is by now a consensus of what an American menu looks like.
For a prime example, head to Lincoln Center: there you may dine at the 75-seat American Table Cafᅢᄅ and Bar by Marcus Samuelsson (himself an immigrant from Sweden via Ethiopia); indie food and wine inside the Munroe Film Center; the Grand Tier Restaurant inside the Metropolitan Opera House; Lincoln Ristorante, a stylish Italian restaurant; and Avery Fisher's Lincoln Center Kitchen, now overseen by Chef Ed Brown (below), who also runs Ed Brown's Chowder House across the street.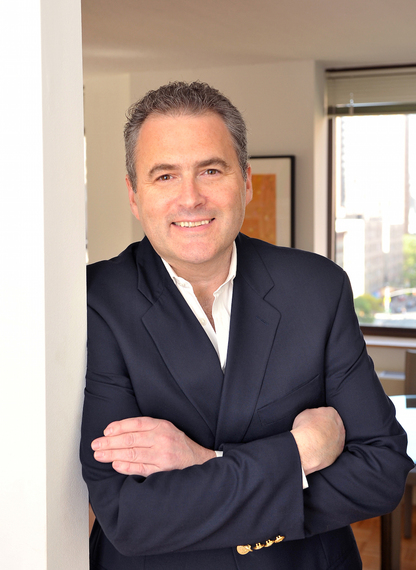 Avery Fisher Hall is due for a total rehab over the next four years, but Lincoln Center Kitchen (LCK), which has been on the premises for decades, will stay open throughout much of the construction phase. So, no need to rush over just yet. For the time being, LCK is comprised of two open dining rooms and lounge--you look out on the Plaza--with a large communal high-top table. Three tree paintings by NYC artist Merle Temkin hang in the center room.
Go now and you'll immediately recognize the American aspects of the menu as well as global influences--exec chef Daniel Anconetani is from Argentina--like the best, meatiest, lump crab cakes in the country, with grainy mustard and palm cabbage slaw ($38); appetizers include deviled eggs with American caviar and crispy bacon ($14); poached shrimp are treated to a shower of spicy cashews and a saffron aioli ($16). Of course, there is the inevitable kale salad, laced with spicy yogurt, pine nuts and Parmesan ($15). Meh.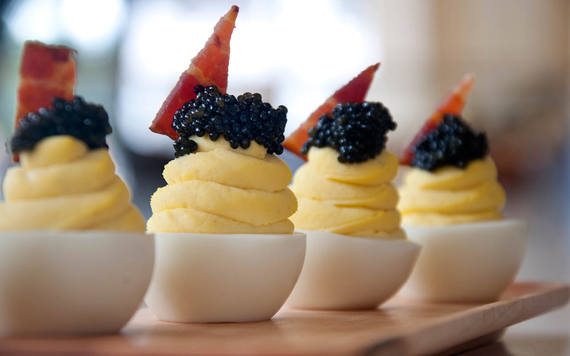 But Brown always gives his strong, personal stamp to everything, so he makes a big buttery crisp and steamy popover but he lavishes it with wild mushrooms and fresh herbs. What could possibly be more American than chicken pot pie ($26)? LCK's version is as straightforward as they come, chock full of big pieces of chicken, white onions, mushrooms, carrots and peas, but what distinguishes it is the creamy sauce, as rich a you'd find in a blanquette de veau in the best Paris bistros.
There's a dish called "spaghetti-spaghetti" that incorporates whole wheat pasta with carrot, zucchini, yellow squash strips and good pecorino ($23) that really works in terms of texture, nuttiness, and springtime.
Brown always has exciting specials--the night I dined there a black bass crudo with olive oil, orange, mint, radish, flowering cucumber and sea salt--everything in perfect, subtle balance. Black bass also figured as a main course, roasted with purple cauliflower, Sicilian tuna, garlic, a hit of chili, a spike of lemon zest, and nicely acidic lemon verbena. Braised shortrib was a lusty, dark, winey dish with unimaginably buttery pureed potatoes, and sweet Thumbelina carrots.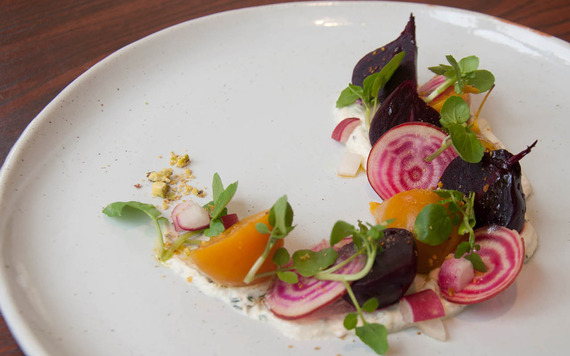 There was also a whole roast squab, cooked just the point of pinkness that revealed the most flavor, served with red cabbage, kale, Fuji apple and the rich liver of the squab.
You may have an American cheese plate with bread and figs ($16) instead of dessert or a fine molten chocolate cake ($14) with pistachio ice cream.
So, if a friend is visiting from abroad--especially one with an interest in music and Lincoln Center--you can treat him to a very delicious lesson in American cooking at LCK, along with a good dose of American hospitality and some spectacular NYC architecture. And Broadway runs right by it.
Lincoln Center Kitchen from Chef Ed Brown
10 Lincoln Square Plaza
212-874-7000
www.lincolncenterkitchen.com.
Lunch is Sat. & Sun.; dinner Tues.-Sat.. There is a seasonal Chef's Menu offered for $47 per person.
Food photos by Matthew Pisano