It's hardly a dirty little secret among vintners, but it's not something they brag about. The fact is, some of the biggest, most illustrious names in winedom sell off sizeable percentages of their award-winning wines to other wine companies for bottling under the latter's own name.
"I get very frustrated when I see a well-known wine get 94 points from a respected expert and then my wine--which is exactly the same wine!--gets an 88," says Cameron Hughes, whose namesake company is an American négoçiant that makes, imports, and distributes ultra-premium wine under five wine labels; The Lot Series, Hughes Wellman, Cameron Hughes California, Greenlip, and Zin Your Face.
Hughes, CEO (below), is not alone among those who buy either surplus wine or grapes from vintners in California and Europe, and the practice among some very famous wineries has long been to source their grapes from other estates.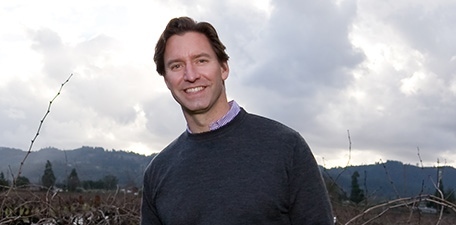 "Originally we did only spot market purchases," says Hughes, 42. "In 2007 a well-known Russian River winery had 650 tons of excess chardonnay. We contracted them to make the wine for us, and it came to 100,000 gallons. The 2012 and 2013 vintages were huge, so that creates a problem for wineries that pride themselves on small production and exclusivity. So a lot of wines that may sell for $175 with a famous label, we might sell the same wine under our own Lot Series for $25 to $30. [One of our Lot 451 Coomsville cabernet $27 a bottle got a 93 Editors Choice. Same vienyard from same vineyard $75-$125. ]

This game of bait-and-switch is hardly new: wine laws in Europe often delimit the amount of wine may be bottled under a French denomination contrôlee or Italian denominazione d'origine controllata, so that if a First Growth Bordeaux or Grand Cru Burgundy estate has a banner year of production, some of the finished wine beyond a legally defined amount must be sold off, either under a second label or to a négoççiant, who labels it himself or negotiates the sale and export of the excess wine. (The legal limit of land under cultivation allowed under French law for the names "Romanée-Saint-Alive," "Richebourg," "Romanée-Conti," "La Tache," and "Romanée" is only 35 hectolitres per hectare.)
It should be obvious why the wineries do not want their excess to carry their own label, for if there is too much of a good thing, the prices will drop. And such wineries do not like the social status of having their wines sold cheap at Costco, with which Cameron Hughes does enormous business. "I started out as a négoçiant with my own label," he says, "selling Sinergi Brand Kitchen Sink wines out of my car. One day I called the head of Costco out of the blue and told him, `I guarantee you'll buy the first bottle I send to you,' and I rushed it down to their headquarters in Livermore, [California]. He called me back and said he'd take everything I've got. That was January 2004; that fall Costco was carrying my Lot One wines throughout Northern California.
I've tasted an array of Cameron Hughes wines, including excellent cabernets, pinot noirs, and, to my surprise, a superb 2007 Brunello di Montalcino he sells for a remarkable $39. (Under the original label, the wine won 93 and 94 points from the three top wine media.) I asked him how he could do that, and--we were eating pizza with the Brunello in a New York restaurant--he replied, "We are looking for a needle in the haystack and kiss a lot of frogs along the way. When we found this Brunello, we bought everything the producer had--700 remaining cases. We only buy offshore`shiners'--finished wines already in bottle--so in many cases, if you pull the cork, it will tell you the name of the winery that made it. But the label says Cameron Hughes Lot 372 Brunello di Montalcino 2007."
Hughes and other négoçiants, here and abroad, therefore turn the old cliché that "You get what you pay for" on its head. Which is why anyone who has bought a moderately priced wine without high expctations can be very surprised by the quality. Indeed, the response is often, "Wow! This tastes like a Stags Leap or Oakville appellation cab that costs five times the price!" And the reason is that it is the same wine, but at five times less the price.
Such frequent encounters do, of course, put the number ratings of wines into a different perspective, not because the experts are being fooled but because they are so often being swayed by the reputation of the labels they know.