The serpentine route along Italy's gorgeous Amalfi Coast can be daunting to those doing it in a rented car for the first time, but the road that winds and winds and winds its way up to the mountaintop town of Ravello, a thousand feet above the sea, makes the Amalfi Drive seem like a
straightaway.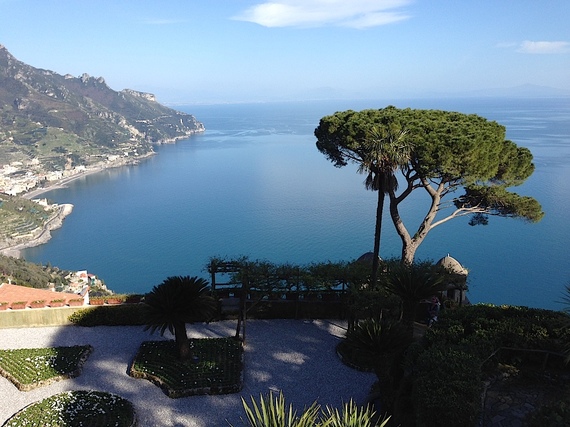 You creep along, negotiating scores of dizzying curves in hopes that the fellow in the other direction sees you coming. You must watch for the occasional herd of goats that have decided to monopolize both sides of the road, leaping on and off sheer mountain ledges. Then there are the huge tour buses, the flocks of schoolchildren, and, perhaps more than anything, the temptation to take your eyes off the road just to be awed by the scenery below, stretching away into the Bay of Naples and the Tyrrhenian Sea (above).
Curiously enough, the number of accidents along this endurance course is said to be very small, simply because people really *do* pay attention to every curve and hairpin turn. So, once you arrive at Ravello,you can take a deep breath and take in all the grandeur this small town holds, from the 13th century Duomo and Church of San Giovanni del Toro to the Villa Rufolo (below) that inspired Wagner to write his opera *Parsifal*. Virginia Woolf, E.M. Forster, Maynard Keynes, D.H. Lawrence and Andre Gide all stayed here, and Gore Vidal lived secludedly in the town for decades.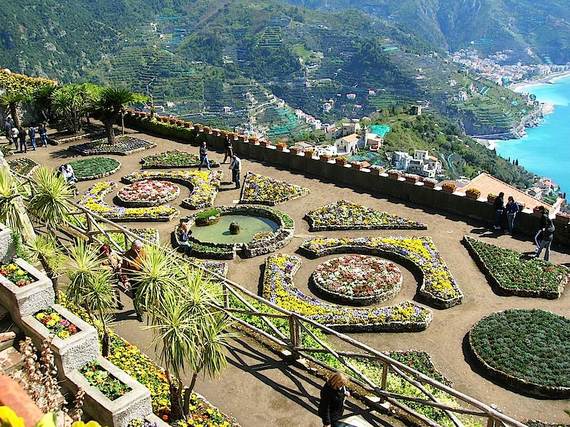 As with so many mountain towns, Ravello was stuck so high up to ward off barbarian invaders who blanched at the climb to the top. At one time Ravello had 25,000 inhabitants--few of whom ever left it to go downhill--but they were unable to withstand an assault by the Republic of Pisa, which destroyed the town and sent its citizenry scurrying down to relocate in Sorrento, Salerno and Naples.
Today less than 3,000 people live in Ravello, so tourism is pretty much the only thing that sustains it. We stayed at the enchanting and very quiet Palazzo Avino (below) reached down a narrow street near the town's piazza. Built in the 12th century for an aristocrat and abandoned in the 19th, it was opened as the Palazzo Sasso in 1997, but last year reclaimed the name of the original founder as Palazzo Avino, now with 32 rooms and 11 suites, a heated pool, a beautiful terrazza Belvedere overlooking the sea, and, for those unwilling to attempt the roads, helicopter service.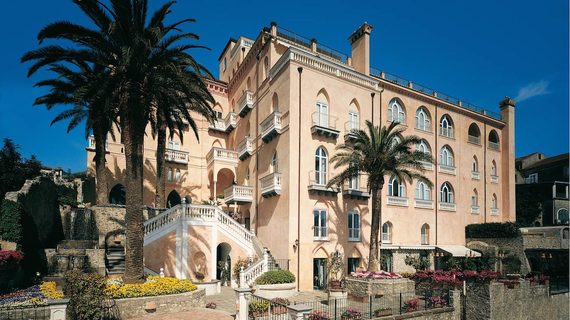 As you'd expect, all the rooms have been re-done, now with hand-made Vietri tiles, antiques, Frette Linen and Bulgari amenities. With two staff to every guest, there is little you could ask for that is not provided immediately.

A new chef, Michele Deleo, born in the province, has come aboard at Rossellini restaurant here (open only for dinner), and he is doing highly elegant cuisine focused on the ingredients of Amalfi and Campania, so that you might begin with squab with foie gras and peaches marinated in Port wine, a little honey and spark of chili.
Crisp-skinned suckling pig includes the chop, belly and roll with forcemeat, served with Neapolitan
endive, glazed apple, and a myrtle-flavored dish of carrots and ginger. Succulent local lamb is treated to a marination in Mediterranean spices and served with sweet garlic and minted olive oil.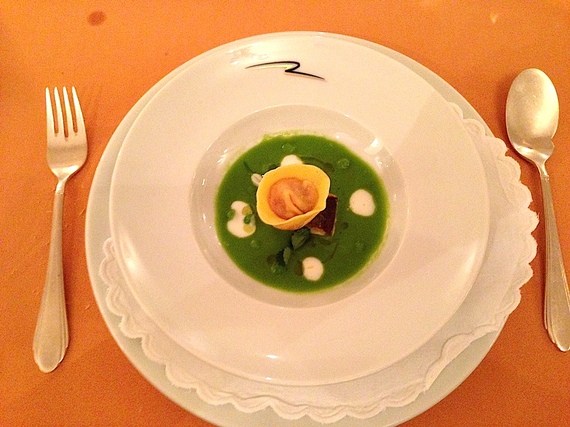 Deleo's pastas are superb, though plating them with so much attention to detail brought some tepid results. But the flavors were exciting: small ravioli stuffed with leek and bacon with crispy lobster and peas, an egg yolk fondant and shellfish sauce; a big plump* cappellaccio* (above) packed with wild rabbit confit and melted pecorino in an anchovy potato foam. His risotto was exquisite, mixed with burrata cheese, a carpaccio of shrimp and rosemary.
Roam the hills of Ravello, through the small, quaint piazza, and stroll to the Villa Rufolo, which hosts a series of chamber music concerts, and is terraced over the hillside, its cloister, ancient chambers and gardens filled with modern sculpture, some of it amazingly erotic.
Some of the finer ceramics I've found along the Amalfi coast--where you'll find a lot of cheap pottery and plates that chip as soon as you get them home--was at on Via Roma, whose clients are said to include Jessica Biel, Oprah Winfrey, even Bruce Springsteen. The quality is very high, the selection vast. And, of course, they ship anywhere.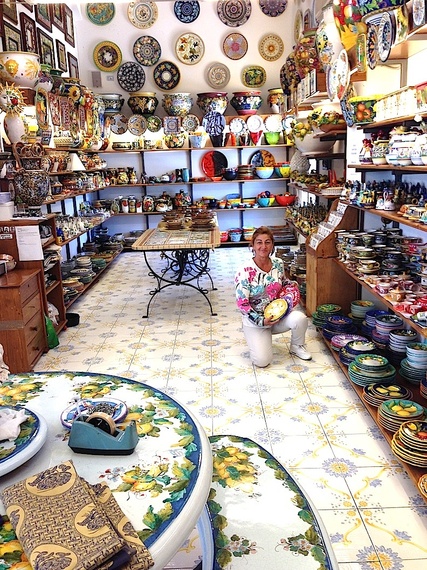 Ravello is not rich in restaurants outside of the grander hotels, and those free-standing places are modest in dᅢᄅcor but proudly Campanian. My favorite is the ten-year-old Vecchio Cantina on the Via della Marra, whose ebullient owner bounds around the dining rooms making suggestions on what's best that day. Trust him: we did, and were rewarded with an array of mixed, grilled seafood, a pizza *alla napolitana* made with buffalo mozzarella that is at its best in this region, and a wonderful lasagne Vecchio Cantina made with smoked scamorza cheese. We drank a good wine made right in the hills of Ravello from falanghina and biancolella grapes, and were very happy lingering till late afternoon.
A no-frills trattoria often mentioned in the guidebooks is Cumpa' Cosimo on Via Roma, and while I've had good regional food there, nothing stood out as exemplary and it lacks the warm hospitality of Vecchio Cantina.
Back at the Palazzo Avino, having cocktails on the terrazza, looking out over a wide blue sea traversed for millennia by those who would love to have possessed Ravello, I thought that there are two reasons I should never leave: one, because Ravello is so achingly romantic and so
removed from the world's bustle, but two, because I had little desire to drive back down that mountain.
Ravello is easy to find, difficult to get to, and very sad to leave.