The expenditure of some $16 million on a restaurant does not guarantee excellence, but it's a good start. In the case of Stella 34 Trattoria, you will see, feel and taste every penny of it from the moment the doors of the restaurant's own elevator lets you off on the sixth floor of Macy's.
Unlike the superb culinary offerings at London's Harrods and Paris' Galleries Lafayette, New York's department stores have little beyond café-style restaurants for shoppers' convenience. (Armani on Fifth Avenue is an exception but they change chefs too often to be consistent.)
Stella 34 Trattoria is run with gusto by the Patina Group (they also do the restaurants at Rockefeller Center and the MetLife Building), and while some gourmands have scoffed that "Well, this is Macy's, not Bergdorf Goodman," I respond that Bergdorf should be so lucky to have such a stellar restaurant. So should Bloomingdale's, Lord & Taylor, and Saks Fifth Avenue.
Stella 34 Trattoria is a stunner, an arched dining room with a take-out section called Cibi Ronda up front and a gelateria serving what is considered the best ice cream in Florence, Vivoli. There are also three wood-burning ovens that produce creditable pizzas. The walls are hung with caricatures by Robert Risko. There is fine marble everywhere, and you look out at the Empire State Building, whose spire changes color every night.
Chef Jonathan Benno of Lincoln Ristorante is consulting chef here; Jarett Appell, trained by Italian master Gualtiero Marchesi, is executive chef. They have crafted a menu of both traditional and updated Italian regional cuisine that begins with luscious farrotto grain teeming with fresh fava beans, peas, asparagus, and pecorino.
You can put together a winning selection of antipasti for a lunch or early dinner from items like wood-roasted mushrooms; excellent caponata with smoked ricotta salata; baby octopus with escarole, potatoes and a romesco sauce; and polpettine veal meatballs made with sheep's milk ricotta.
The pizzas are made in three wood-fired ovens named after Italian volcanoes, in classic varieties -- margherita; a diavola with spicy salami; quattro stazioni with tomato, ham, eggplant, artichokes, mushrooms and fontina, and others each night.

Every pasta I've tasted was superb, not least the tube paccheri with braised beef ragù and the plump strozzopreti with cuttlefish. An Abruzzese spaghetti alla chitarra with simple tomato sauce is a triumph of good taste. From those same ovens comes a Berkshire pork chop with a lovely dandelion salad, cherry compote for tang, a smoky bacon-sherry vinaigrette and lush Gorgonzola dolce.
Other main courses are not so complex, like the wonderful pancetta-wrapped halibut with mint and a golden raisin agrodolce. The scampi here are indeed true scampi, not just big shrimp, and they are sweet and delicious, with a green garlic puree and cooked wine.

By all means order dessert, perhaps a selection of any of the baker's dozen of those fabulous Vivoli gelati, or the "bongo" cream puffs with macerated cherries, whipped cream and chocolate sauce.
Swooning is in order at Stella 34, and you will be in the hands of a highly cordial staff that, under general manager Matt Gardiner, doles out equal parts friendliness and professional courtesy to everyone.
Macy's should be very proud of what they've produced at Stella 34 Trattoria. It becomes very much a dynamic addition to the Herald Square area, with its pedestrian mall, decorated windows, and a sense of NYC's unique blend of nostalgia and modernism. For dinner around the holidays, few restaurants would come close.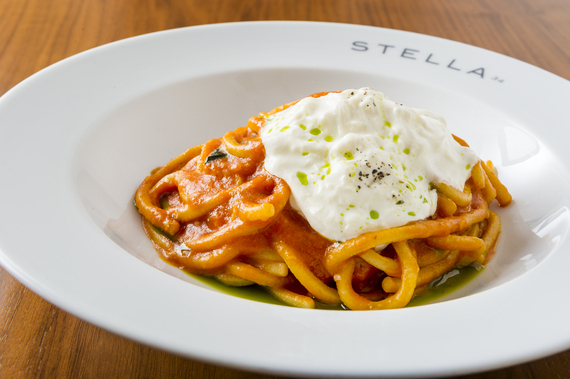 Photo credit: Evan Sung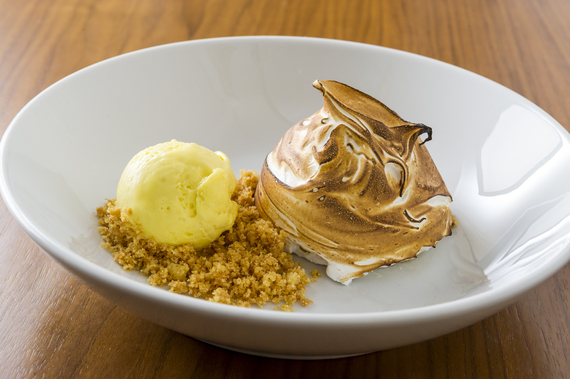 Photo credit: Evan Sung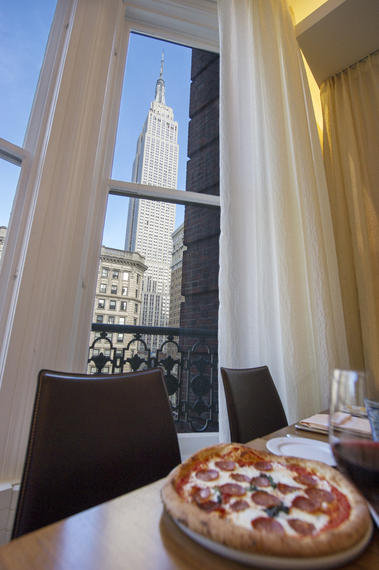 Photo credit: Evan Sung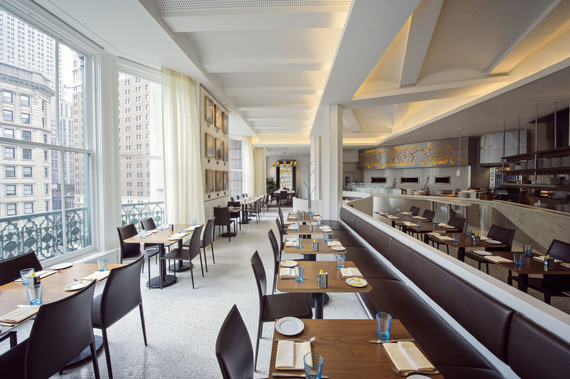 Photo credit: Daniel Krieger
Stella 34 is open for lunch Mon.-Sat.; for dinner nightly; offers a $25 lunch and $38 dinner, with dinner à la carte at $6-$10 for antipasti, $17-$22 for full pastas, and $17-$32 for main courses.
Stella 34 Trattoria
Broadway and 35th Street
212-967-9251
stella34