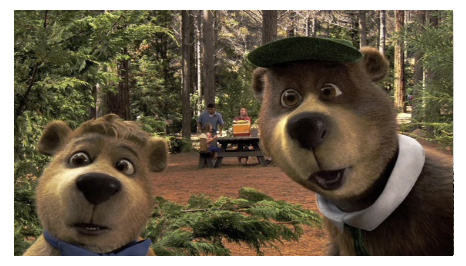 "What is it, Yogi?"
"Hey hey hey - it's an oil company on its way to drill off the Alaskan coast."
"And they call me Boo-Boo."
WASHINGTON - The Obama administration has taken steps to protect the wild Alaskan oil spill in its native habitat, while not extending the same protection to oil spills on the East Coast or the eastern Gulf of Mexico.
"If the BP disaster taught us anything," said Secretary of the Interior Ken Salazar, "it's that fish, water and the balance of nature should be subject to political compromise."
He said the administration was banning offshore drilling on the East Coast because "we cannot afford a large natural disaster where there are a lot of Democrats."
Salazar said that the absence of Democrats in Alaska made the state better able to adapt to hundreds of millions of gallons of spilled crude. He said that oil spills were one of many natural Alaskan predators, including bears, wolverines and Sarah Palin.
Although drilling is banned in the eastern Gulf of Mexico, production will continue in the western Gulf. "This administration takes a bipartisan approach to everything," said Salazar, "including large bodies of saltwater."
He added that the moratorium on offshore drilling was scheduled to remain in effect until the oil companies learn how to get around it.
"The U.S. and Big Oil have a symbiotic relationship," said Salazar. "I hate to get all marine biology on you, but that's what it is."
The Bureau of Ocean Energy Management, Regulation and Enforcement, the formerly corrupt Minerals Management Service, said they were no longer accepting gifts from oil companies, viewing porn at work or doing illegal drugs, but "you never know."
A BP spokesman said that although as a species, the wild oil spill's numbers may thin out, it would still thrive, not just in Alaska but around the world. "You wouldn't believe how many there are in other countries," he said. "Or maybe you would."
More coverage of oil and other topics by John Marshall can be found at Tyrannosaurus Rocks