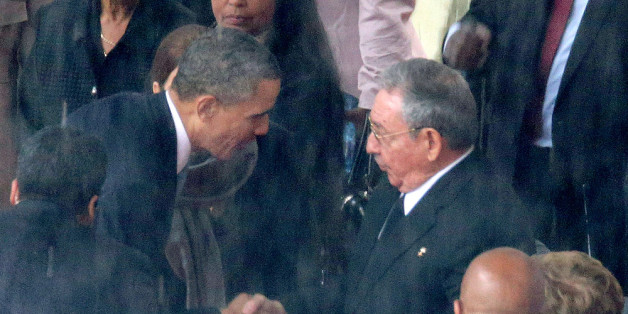 How then can we expect to be the prime mover in the complex affairs of the world, if we lack the courage here at home to redefine U.S.-Cuban relations?

Change is in the hands of the president -- and Cuban Americans. In his eulogy Obama said, "Nelson Mandela reminds us that it always seems impossible until it is done."

--Vicki Huddleston, former chief of the U.S. Interests Section in Havana (1999-2002), former deputy assistant secretary for Africa at State and at Defense, Miami Herald op-ed
Some Republicans and Cuban-American lawmakers are criticizing President Obama for shaking President Raúl Castro's hand at the memorial service for Nelson Mandela. Their reaction to a gesture of common courtesy should come as no surprise given Washington's senseless commitment to a failed 50-year policy toward Cuba.

--The Editorial Board of the New York Times
The handshake between President Obama and Raul Castro at Nelson Mandela's memorial service would have made the South African leader smile. It was the latest sign of a gradual thawing in relations between Washington and Havana after a frozen half-century.

It hasn't been easy. Obama favored diplomatic recognition and lifting the embargo as far back as when he was a state legislator in Illinois, and he has steadily eased restrictions on travel since taking office.

But many on the American right, especially octogenarian Cuban immigrants from the Bay of Pigs generation, have stubbornly resisted normalizing relations with Cuba. Now, though, it seems as if the process is developing a momentum of its own.

--Tom Hayden, a founder of the new left and former member of the California State Senate, Los Angeles Times op-ed

The wife of a Jewish American contractor jailed in Cuba since 2009 said Thursday that she had no problem with U.S. President Barack Obama shaking hands with Cuban leader Raul Castro in South Africa Tuesday ...

Gross was called to the State Department on Monday for a periodic update and was again assured of the government's efforts in freeing Alan.

"I got what I call 'empty rhetoric,'" she said.

"We're asking for the US government to sit down and have negotiations. The most important message is that President Obama needs to get personally involved in the situation. He's the one person who can get Alan out."

She added that she often thinks about the thousands of Palestinian prisoners released in the Gilad Shalit deal in 2011 ...

"I think of [Shalit] all the time, I wish my government would have that much interest in Alan to get him out."

--Amanda Borschel-Dan, Jewish World Editor, The Times of Israel
There has never been a more propitious moment in the spirit of Nelson Mandela for President Obama to make an historic change in U.S.-Cuba relations. As I wrote in a previous post, Judy and Alan Gross have given the White House the moral authorization, if not obligation, to negotiate with Cuba to achieve Alan's release. Two-thirds of the Senate have given it the political space by signing a letter initiated by Senator Leahy.

Cuba has just reaffirmed in friendly language its readiness and the parameters for agreement (exact text here). The content is not new but in the current context is tantalizingly suggestive of the choice facing President Obama.

Cuban President Raul Castro has called for "civilized relations" with the United States, saying the two countries should respect their differences.
President Castro said the U.S should drop its demand for regime change on the communist-run island.

That would allow both sides to continue work on improving relations, he said ...

"If we really want to make progress in bilateral relations, we have to learn to respect each other's differences and get used to living peacefully with them. Otherwise, no. We are ready for another 55 years like the last ... We do not ask the United States to change its political and social system, nor do we agree to negotiate over ours"

--President Raul Castro at the closing session of the National Assembly as reported by the BBC
A major obstacle has been Senator Robert Menendez, until recently on issues other than Cuba, a progressive non-interventionist Democrat. He reportedly has threatened to use his position as Chair of the Foreign Relations committee to block consideration of all State Department appointments if the President dares to reform Cuba policy. If that is true, Menendez has either dramatically diminished his leverage with the President or upped the blackmail ante by supporting the Netanyahu line on Iran:
On December 19, New Jersey Senator Robert Menendez introduced new sanctions on Iran in open defiance of the Obama Administration's demand that Congress hold off on new sanctions on Iran while the Administration works to negotiate a comprehensive final agreement restricting Iran's nuclear program to transparently peaceful purposes. The Administration has argued that new sanctions now would tank diplomatic negotiations with Iran and leave military force as the only option for restricting Iran's nuclear program. Thus, the Menendez bill is a recipe for war.

--Robert Naiman, Policy Director, Just Foreign Policy
Most colleagues tell me nothing is about to happen, but I believe we must
convince the White House
now is a good time to act. Even the curmudgeons in Miami will find it hard during the holiday season to begrudge an agreement that returns prisoners of an anachronistic war to their families during the holidays. I just read a story in the
Miami Herald
that suggests a gesture by Havana that might make a prisoner swap of Alan Gross for the four Cubans the U.S. holds more palatable to Florida hard liners. It described:
...[A] ceremony in Miami on Tuesday where the Cuban Democratic Directorate awarded the "Pedro Luis Boitel Freedom" prize for 2013 to four anti-Castro activists, including one jailed for 37 years ...

Armando Sosa Fortuny, who was jailed for fighting against the Castro dictatorship from 1960 to 1978. He went into exile in Miami, but returned in 1994 with four other armed exiles and was captured after a shootout in which one Cuban was killed. Sosa Fortuny was sentenced to 30 years.
A few minutes of online research turned up at least two other infiltrators involved in the same deadly fire fight in Villa Clara Province who are regarded by some in Miami as political prisoners and heroes, Humberto Eladio Real Suarez and Miguel Díaz Bouza.

I am not describing release of three men who made an armed incursion into Cuba resulting in the death of a local defender as morally equivalent to release of Alan Gross or of the Cuban Five. Cubans no doubt feel the three are at least as odious as some in Miami regard the Five whom they blame for the shoot down of Brothers to the Rescue.

However, regardless of their crimes, both sets of prisoners and Gross are symptoms of an illness, protagonists and victims of an era in history that has lasted far longer than makes sense for either country's national interest. Only the President can heal the disease by addressing its cause, U.S. insistence that it has a neo-Platt Amendment unilateral right to force change in Cuba's governance. However, Cuba would make the task of turning the page politically easier by offering a four-for-four prisoner exchange.