Let's talk about online dating and visual marketing. There are three forms of browsable women. (Substitute "men" if you like.)
2. Mass media and cheesecake photos.
Each of these types of browsable partners has something to offer. Let's see if there is a relationship between them, or if we can understand something about ourselves through a bit of exploration.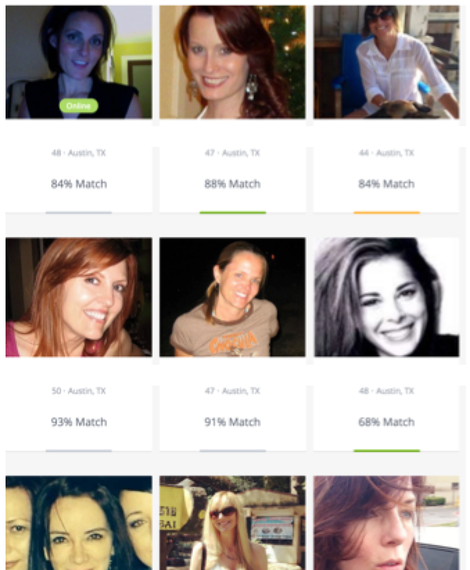 Only one of these pools of images has the potential for a real human connection. (With someone other than yourself, I mean.) One of these pools of images and videos has the potential for immediate sexual gratification, if at a lower level than the real human connection version. One of these pools offers but doesn't reveal the potential for both of the previous pools.
I turned on my online dating profile again yesterday and I was a bit underwhelmed by the opportunities for real human interaction. But the non-human (self) interaction gets a bit boring when you've recently sampled something delicious and alive. I glanced at some nudie sites but there was ZERO arousal. And then I started finding myself looking at TheChive. (Home of the almost nude, cheesecake shots and teases.) And while this didn't exactly fire me up, there was something more enticing about the tease.
Again, nothing physical about photos, but the covered breast often offers more than the plentiful and heaving breast.
Either way, it's odd, browsing for a pretty face online. It seems like there are several levels of this hell. 1. The topmost hell, cheesecake offers enticement without reward. 2. The second hell, gives plenty of sex at the expense of enthusiasm or potential. 3. The final hell is trying to browse actual women on a dating site and seeing how many are WTF?
Shopping for a house online is a similar experience. You browse by area then you look for the curb appeal. Without a nice preview photo you're not even going to take the 10 seconds to look at the portfolio of pictures. That's how it works.
And online dating, in my experience, is similar. And these days I've become even more selective in who I would consider. Yesterday I spent most of my time hitting the HIDE button on profiles that could not possibly have been accurately returned by my search results. I was left with 20 smiling faces. (This is from thousands, according to the site.) And from there I contacted 4 of them. I got a casual response from one of them.
So here we are, here I am, browsing women online and hoping to find a spark. A real live spark, not a fantasy one. And I'm travelling back and forth through the three levels of hell.
See The Whole Parent blog for more of this story. And I welcome your comments and suggestions here on HuffPo. And your participation via Facebook and Twitter.