Earlier this year Rev. Oliver "OJ" Johnson led students from the Flint Hill School in Oakton, Virginia through an alley in Historic Foggy Bottom. Standing in front of 23 Snows Court, one of his early childhood homes, Johnson was choked up with emotion before sharing, "Last night I was looking up the sale records for the home. In 2010 it sold for more than $400,000. When my family liver here it wasn't worth fifty cents."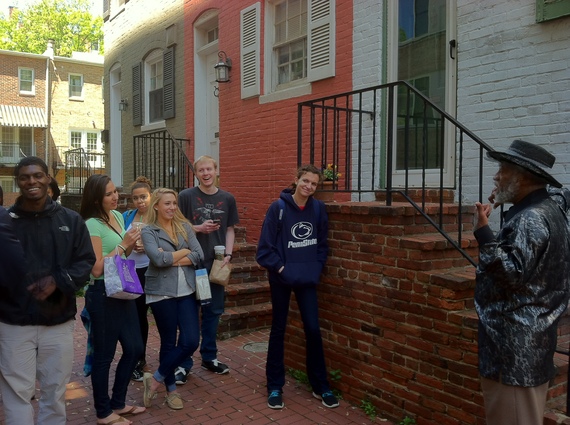 Rev. Oliver "OJ" Johnson visits his childhood home in Snows Court in Historic Foggy Bottom.
In a bygone era of the city, throughout neighborhoods such as Capitol Hill, Southwest and Foggy Bottom, "whites lived in the streets and blacks in the alleys." During the early 19th century books, plays and government reports were issued about Washington's alley life. Gordon Parks chronicled the conditions and people of the alleys while working as government photographer. The attention that the squalid conditions in many alley dwellings throughout the city received created multiple agencies tasked with cleaning up the alleys.
In recent years the Office of Planning has worked to document the existing alley dwellings throughout the city and in recent hearings on the city's zoning re-write these properties have come into greater focus.
This Friday, November 15, students from the Flint Hill School will will lead off two days worth of panels and presentations as part of the 40th Annual DC Historical Studies Conference by demonstrating how they used crowdsourcing and digital technology (MapStory, Historypin, Wikipedia and Twitter) with local archives as a substitute for traditional textbook study and assessment. Using these resources the students at the Flint Hill School will present a "revitalized historical narrative" rather than "definitive information" on this key topic of urban and social history. Looking at how alley life (1865-1935) serves as a microcosm of social issues faced by the nation following Reconstruction and into the Great Depression. Architectural Historian/National Register Coordinator Kim Williams will present findings from the city's Historic Alley Buildings Survey of more than 750 alley buildings that have survived development, social reform and other changes. She will ask the audience for information on additional alley buildings. Rev. Johnson will share his experiences and memories as a former ally dweller.
The presentation on alley life will be held Friday, November 15, 9:30 am - 11 am at the Historical Society of Washington, D.C., at the Carnegie Library, 801 K Street, NW.
To register and learn more about the conference visit http://annualconferencedchistoricalstudies.wordpress.com/.