In order to prevent chaos from ensuing at tonight's meeting to reintroduce the seven development companies that are competing to become the Master Planning and Development Team for the redevelopment of Barry Farm Dwellings, only confirmed residents will be able to attend. Press is welcome to "cover the event" but is not "permitted to attend the business meeting," according to Rick White, Director of Public Affairs & Communications for the DC Housing Authority (DCHA).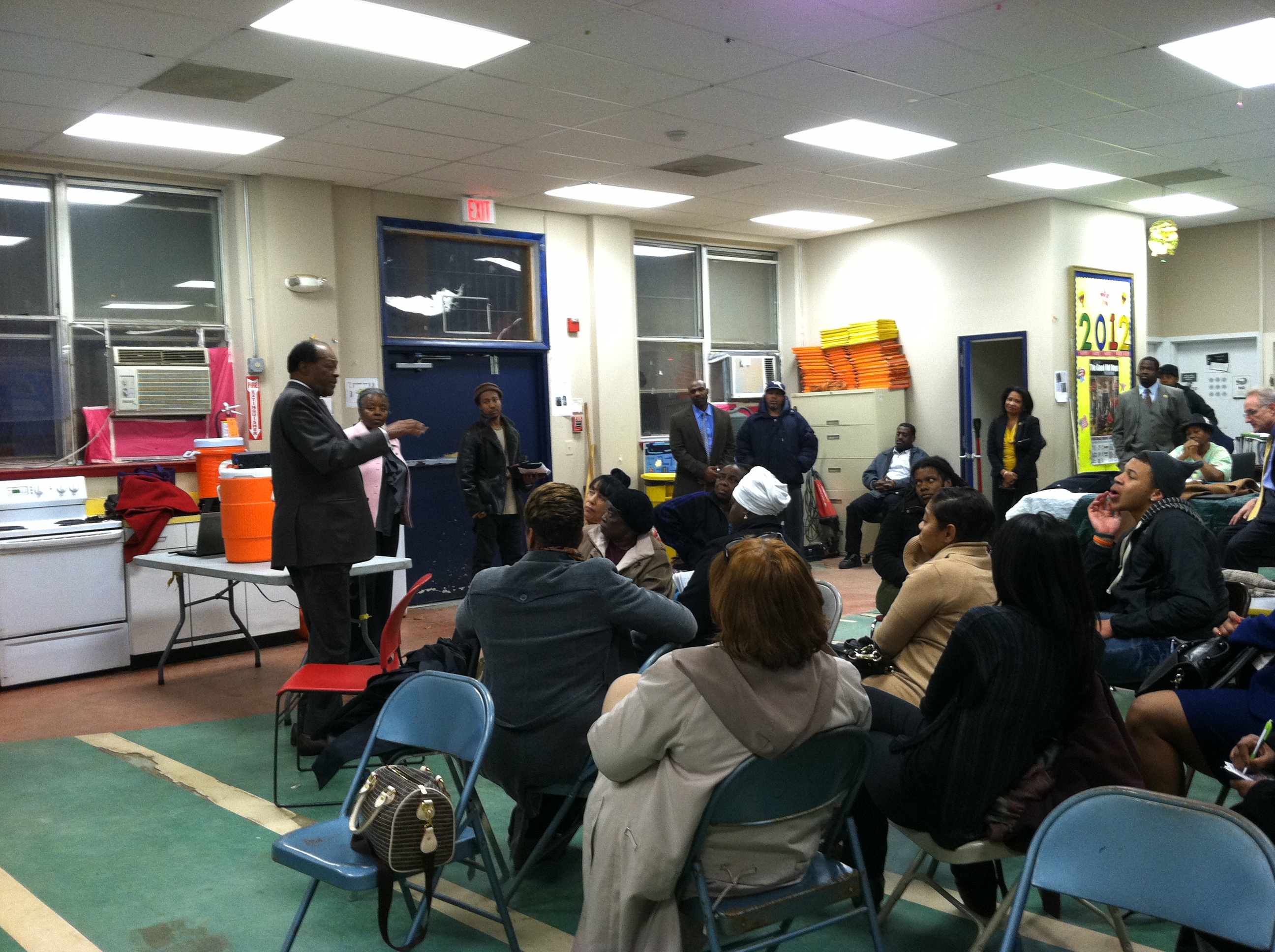 Ward 8 Councilmember Marion Barry speaks with Barry Farm residents last December. Photo by the author.
"For whatever motivations exist, we have to be patient and let things play out," wrote a lead member of one of the 7 development teams in an email. "We look forward to have the chance to show a mindful approach to keeping this community intact. The truth will surface."
The reasons for excluding outsiders from attending are understandable on face value, but this is not a private venture. This a public process with public monies -- the only funding so far committed to the redevelopment process.
"We've attempted to publicly hold this important meeting previously, but a small group of protesters, most of whom do not live at Barry Farm, disrupted the meeting and prevented our customers from gaining access to information they asked us to provide. The same group has freely indicated that they intend to continue their disruptive tactics of creating chaos and confusion," White wrote in an email. "Any group's right to express their opinions does not supersede our customers' right to hear from us."
Selecting a Master Planning and Development Team
From the current roster of seven development teams -- Barry Farm Community Redevelopment Team, Barry Farm Empowered, McCormack Baron Salazar, Inc., Michaels Development Company, LP, New Barry Farm Fellowship, POAH/A&R Development Team and Ward 8 Development Partners -- no "short list" will be released, as had previously been planned.
Selection of the Master Planning and Development Team will be finalized once a recommendation is made by a six-member panel with equal representation from DCHA, the Office of the Deputy Mayor for Planning and Economic Development, and residents of Barry Farm. The decision will then be brought before the DCHA Board of Commissioners for final decision. According to White, "The expectation is that a recommendation will be brought before the board of commissioners later this summer."