Last Tuesday, a collection of residents led by activist group Empower DC shut down a public meeting intended to share and discuss the latest redevelopment plans for the Barry Farm Dwellings in Southeast. While tenants of Barry Farm deserve a say in what happens to their homes, this behavior and the duplicity of city officials has caused the process to become chaotic.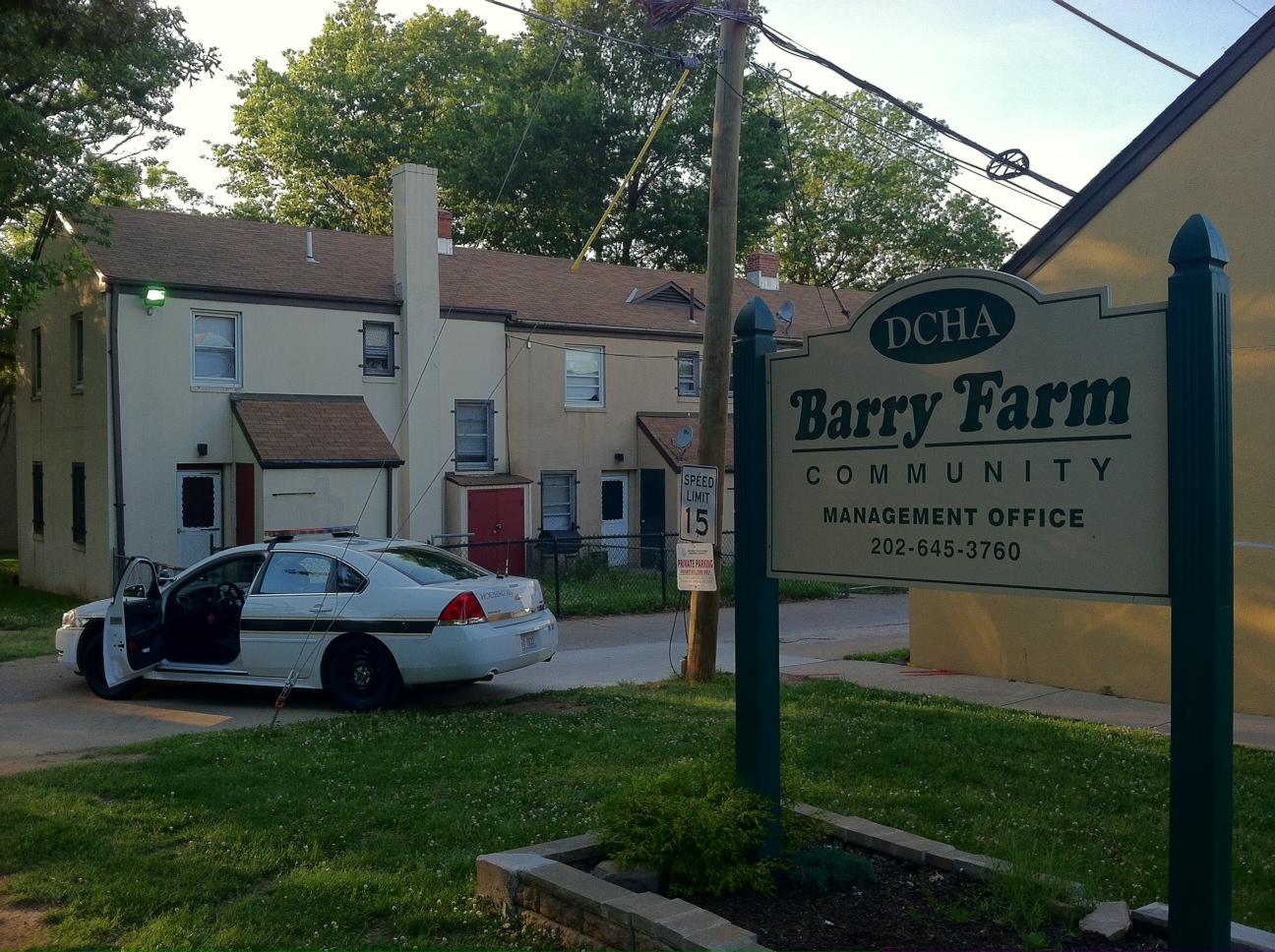 Barry Farm in SE Washington. Photos by John Muller.
The DC Housing Authority (DCHA), which owns the rundown 432-unit complex located a short walk from the Anacostia Metro station, held a public meeting at Excel Academy Public Charter School to introduce the 7 developers who responded to the city's Request for Qualifications. The city is restarting a $550 million, 4-phase redevelopment of Barry Farm as a mixed-income, mixed-use community.
The paranoia of Barry Farm residents has been steadily growing since the city first began discussing redevelopment nearly a decade ago. To prevent anxiety from spreading among Barry Farm tenants, DCHA has to change the methodology of engaging residents in the redevelopment process, and the activist group Empower DC has to abandon their abrasive methods which shut down the public meeting, precluding any information from a group of potential developers being shared or dialogue occurring.
Mistrust of DCHA is rooted in Barry Farm Resident Council leadership
If the greater "CHASE" (Congress Height-Anacostia-Saint Elizabeths) area is transformed into the envisioned "Homeland Security Regional Innovation Cluster", with a geographic concentration of related firms and industries that do business with each other similar to California's Silicon Valley, North Carolina's Research Triangle Park, and Portland's concentration of athletic and outdoor apparel companies, Barry Farm's redevelopment can be catalytic. For the area's ambitious long-term development plans to take form, the city has to get the most basic logistics down; notifying current residents of when important public meetings are.
"I apologize. I apologize," said Dionne Reeder, Community Engagement Director for the Far Southeast Family Strengthening Collaborative, in response to a question as to why residents were given such short notice of the meeting. "One of the things that we try to do, we try to make sure you get it. So if my staff gotta work on Saturdays so that you can get information that's what they do. My staff delivered the information to you all Saturday, Monday and, and, and that's the information they gave you, right?"
"That's one business day!" a voice called out.
"Ms. Peterson, did we request the meeting in this community?," Reeder responded. "Did you as the President of the [Barry Farm] Resident Council request this meeting?"
Appointed President of the Barry Farm Resident Council (BFRC) by the previous President Linda Miller, Nella Peterson, sitting towards the back of the room simply nodded and murmured a response. "I need you to say that loudly," Reeder cajoled.
"She doesn't speak for us!" another voice called out. In response, Reeder said, "You may not like the leadership, but that's our leadership, we're following the leadership."
When residents protested the current living conditions Reader was flippant.
"I want to talk to the developers and tell them that we don't want development right now," said neighborhood activist Michelle Hamilton. "We want them to get improvement on what they need to get improvement on, first."
Reeder responded, "That's not the developer's issue. Today is not about the current conditions on the property. That's a meeting we have to have [with] Ms. Peterson and DCHA."
As I've followed the Barry Farm redevelopment process over the past year, a common theme has emerged. When residents express concerns that DCHA has not been communicative, blame is passed to the unelected Peterson, who last November expressed her frustration with the demands of the position.
"The Barry Farm resident leadership has been part of the planning from the beginning," Rick White, DCHA's Office of Public Affairs & Communication, wrote in an email. "This was a meeting, in fact, held in response to the resident leadership."
However, the legitimacy of the current leadership is in question. According to multiple sources familiar with the inner-workings of the organization, the BFRC has been dysfunctional over the past year. The position of Vice President is currently vacant as a result of the appointment being "rescinded," according to a Barry Farm resident who has openly questioned the process but requested anonymity for fear of reprisal.
"Reps from [Deputy Mayor for Planning and Economic Development] stated that the only way they are able to move forward with anything is with the cooperation of Ms. Peterson as the representative for all Barry Farm residents," the tenant said. "So if there is a possibility to challenge decisions she has made as President than development can be halted and held up in court until there is a definitive decision on the validity of her appointment."
(Although not elected by residents, outside counsel confirmed that Peterson's position as President of the BFRC is legal, no matter how dubious, and consistent with the governing bylaws.)
A "short list" of developers who responded to last fall's call for a master planning and development was planned to be released earlier this year. However, all 7 applicants were advanced. This happened because the evaluation process by a 6-member panel with equal representation from DCHA, the Office of the Deputy Mayor for Planning and Economic Development and the Barry Farm Resident Council fell apart when a resident "refused to vote," according to a source intimately familiar with the ongoing process.
A house in Barry Farm at 2717 Wade Road SE recently caught on fire.

Empower DC is only making matters worse
Although, Empower DC has been active in Barry Farm since last December, it doesn't appear the organization has developed any plans to truly empower residents of Barry Farm in the redevelopment process. Instead, the organization's methods hurl gasoline on a fire of resident fears that has been slowly burning over the years of false starts and promises of redevelopment.
"Excuse me, can we all please take a moment to pray?" Betty Sankor, a resident who has lived in Barry Farm for more than a half-century, asked into a microphone. At this point Empower DC's damage had been done, shutting down the meeting. Sankor had already risen earlier in the meeting in an effort to calm the protesters, saying she wanted to hear from the potential developers, but had been shouted down. Her calls for both peace and prayer went unanswered.
After the meeting, members of Empower DC regrouped outside. "Our goal was to shut the meeting down and we accomplished that," an organizer said. "Now, let's go to the house to get something to eat."
Kalfani Ture, a doctoral student at American University who has been immersed in Barry Farm since 2007, says he doesn't approve of the poor living conditions at Barry Farm, but feels Empower DC's behavior is only making the situation worse.
"[They] didn't allow residents of different opinions, understandings and actions to hear and/or participate in the redevelopment discussion," he said. "They effectively denied the democratic spirit so typical of Barry Farm residents. My fear is that their inclination for a good fight will cause them to appear just as polarizing as the DCHA."
The process has to improve moving forward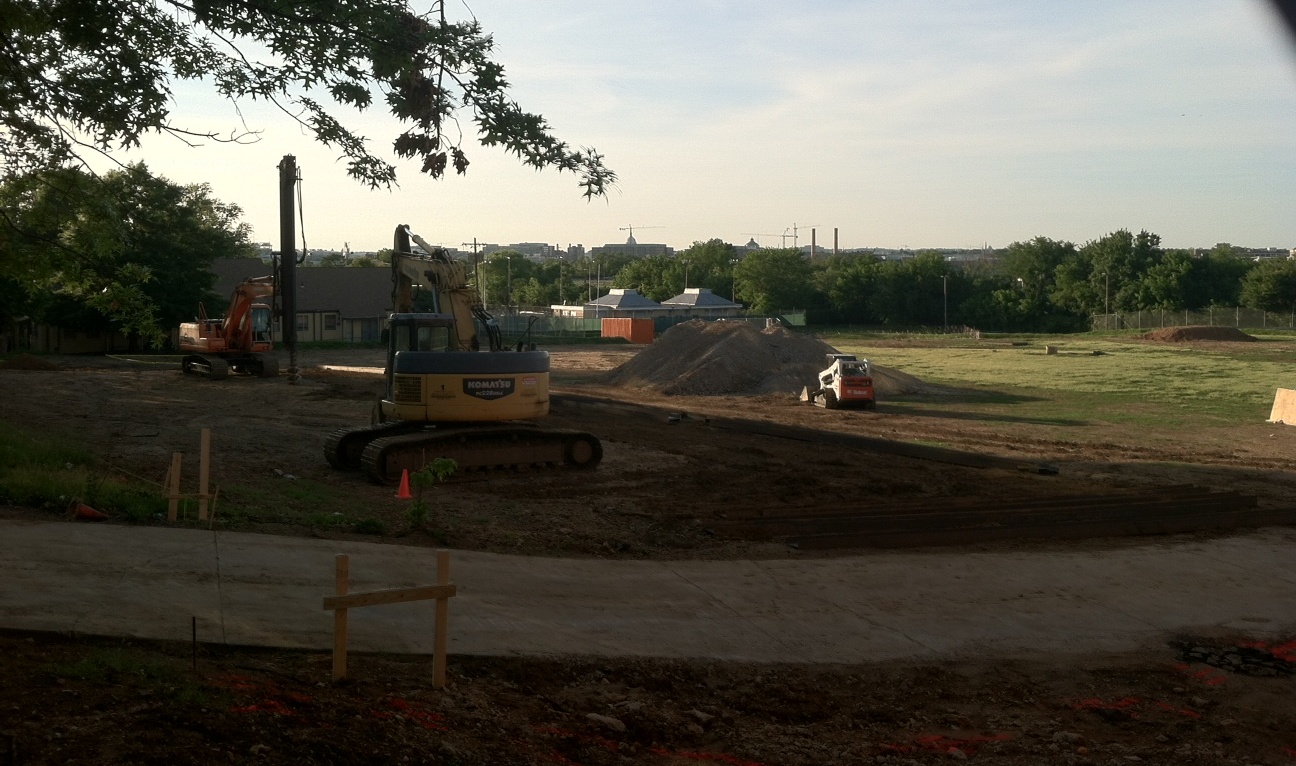 Construction on a projected $26 million recreation center in Barry Farm recently began.
To begin the first phase of redevelopment, DCHA will need substantial grants from the Department of Housing and Urban Development in addition to private investment. This won't happen overnight, but many residents who don't understand the process fear it will, leading to their immediate displacement.
This anxiety has been growing since then-Mayor Adrian Fenty and Ward 8 Councilmember Marion Barry held a series of meetings at Matthews Memorial Baptist Church in the spring of 2008 to discuss the neighborhood's NBarry Farm Park Chester Wade Road Community Revitalization Plan, which began in November 2005 and was approved by the City Council in 2006. With the subsequent recession and softening of the housing market, city officials shelved the plans until last fall.
To avoid continued problems with the redevelopment process DCHA and all supporting city agencies and contractors must enhance their outreach to truly understand the neighborhood dynamics. For example, last week's meeting was held at the same time as a Goodman League game, drawing hundreds of residents away from the public meeting. Meanwhile, Empower DC hijacking public gatherings with the sole purpose of shutting them down accomplishes nothing.
Barry Farm, a community founded and settled by freed slaves with street names that keep alive the memory of Union generals and Radical Republicans who advanced the rights of black Americans during the Civil War and Reconstruction, deserves better than the public process they've gotten. While Barry Farm and the broader CHASE community stand to benefit from new investment, they also should have a real role in the redevelopment process not an illusory one which could lead Barry Farm to become the next Arthur Caper Carrollsburg.
Neighborhood groups, activist organizations and the city have let Barry Farm down, but there is still time to get it right. Illegitimacy, misinformation, and disorder can no longer be the status quo.