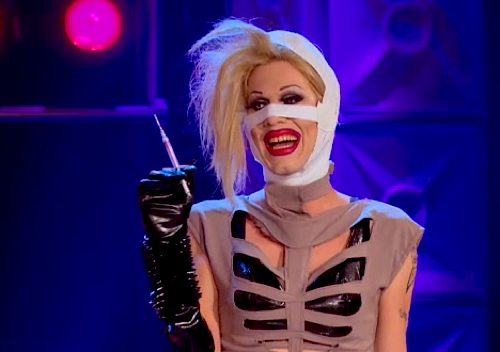 This RuPaul's Drag Race recap will only hurt at little bit...
This week's RuPaul's Drag Race brought the annual "Snatch Game" challenge, a loopy homage to the classic 1970s game show Match Game wherein the Drag Race contestants must impersonate famous celebs. If that little synopsis made no sense, no bother: basically, it's just a fun, comedic free-for-all hosted by RuPaul, with the competing queens battling to see who can snag the most laughs as they channel celebs such as Aretha Franklin, Jessica Simpson, Snooki, and others.
Chad Michaels is a seasoned Cher impersonator, and he lived up to his formidable rep. But fellow queen Sharon Needles surprised everyone when she decided to play a certain celeb much closer to home: Drag Race judge Michelle Visage.
As always, in this week's Drag Ya Later recap Jon Mallow and I are dishing up our Top 5 Moments of the week, which just happen to involved dirty chicken puns, a query about RuPaul's sexual appetite, juggling, giraffe-inspired couture, and, well, general silliness.
SPOILER ALERT: Yep, we're gonna tell you who won and who got sent home this week. Consider yourself warned, Chickens! If you haven't seen the episode yet, catch it first at LogoTV.com.
WATCH: