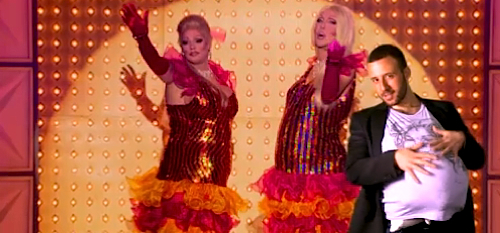 ...And may the best pregnant woman win?
And you thought unwanted pregnancies only happened on Teen Moms or 16 and Pregnant when it came to reality TV? Hah! As this week's installment of draggedy merriment known as RuPaul's Drag Race proved, baby bumps also can serve as hazards on the highway to being crowned as America's next drag superstar.
As has happened during the two most recent seasons of Drag Race, this week the queens had to provide drag makeovers to some average guys yanked off the street. Last year it was cute, young, straight jock guys; this season we got heterosexual DILFs (that is, "Dads I'd Like to Frock"). But in addition to dressing up the affable gents in drag, they also had to get them pregnant. Or at least style them with big ol' baby bumps... Still with me?
Just check out this week's Drag Ya Later with Jon & John video recap to get a taste of what went down. And what went wrong. And what went fabulously. And to discover which queen was granted a chance to come back to the show for a second chance at this season's crown.
Along they way, brace yourself for a killer lip-synch, some good Latrice cackling, and some bad drag flashbacks. And we hope you remember your breathing exercises.
SPOILER ALERT: Yes, we reveal who came back, who got kicked off, and who won. And all the other funny bits. So if you haven't yet seen this week's Drag Race episode, go catch up first at LogoTV.com.
And while you're at it... don't forget to tuck. Kenya Michaels can show you how, below: