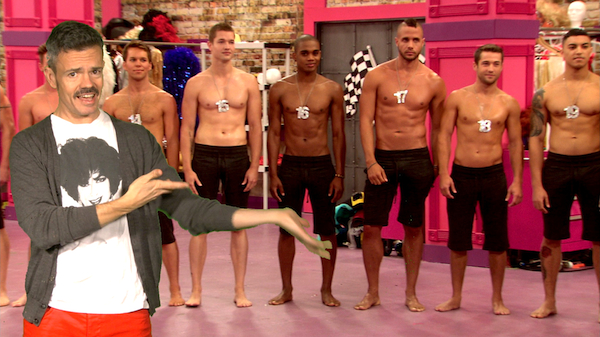 "Bring back my... boys?" This week's Drag Race episode felt some thunder down under.
Welcome to this week's recap of RuPaul's Drag Race Season 5, Episode 8, "Scent of a Drag Queen." And let's hope you're ready for some spastic gayness and fragrant queens! (I got a little carried away this week. I think there was just something in the air.)
Brace yourself for a big whiff of manic perfume ads, guest judge Aubrey O'Day's big eyes and harsh critiques (though, dang, she makes for fun TV), and about 22 studly guys in their undies.
Watch to find out which queen came out smelling sweet, who dropped a stinkbomb, and who ended up climbing up the side of the stage during another dramatic "Lip Sync for Your Life." And who knew Joan Van Ark spoke drag?
And (maybe best of all) this week's Extra Lap Recap features a cameo from Drag Race's own studly Pit Crew member Jason! Woo-hoo!
SPOILER ALERT: If you've not yet watched this past week's episode, follow your nose over to LogoTV.com and peep it before you get all recapped here.
WATCH:
And for still more Drag Race dish, head to the WoW Report and get busy!