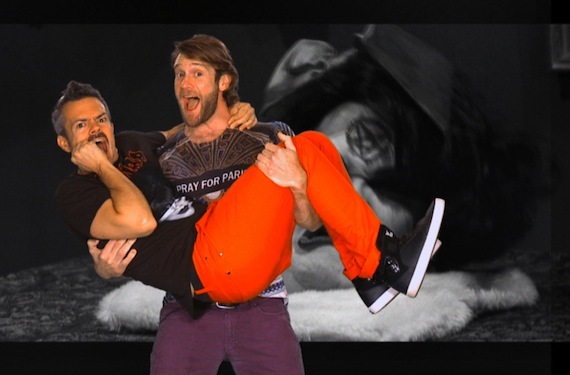 Eeeeeeek! Colby Keller and I are getting our scream on!
Hey, scaredy-cats! Colby Keller joins me this week as Extra Lap Recap gives you all the gory details about the latest horror-ific episode of RuPaul's Drag Race!
This week the queens were finally all competing together, and it was a massacre, Mary. Officially! Yes, not since Paris Hilton got slayed in House of Wax has it been so much fun watching gals get their scream on! And the icing on this demented devil's food cheesecake: guest judges Lena Headey (aka Game of Thrones' HBIC Cersei), and her fierceness Linda Blair, thriller movie legend! #AllPeaSoupAllShade (I stole that from Sharon Needles).
Enjoy the recap! Get into my Elvira T-shirt! Get into my extra-special guest Colby Keller and his WoWie-Award-winning blog (NSFW)! Goodness knows he's worth screaming about! Rowwwrrrr! And sadly, say goodbye to the fierce eliminated queen who didn't survive this week's bloodbath.
SPOILER ALERT: If you've not seen the episode yet, get over to LogoTV.com and spook it. Now!
WATCH: