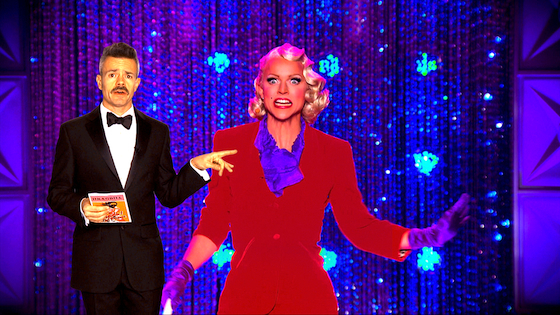 She's getting her Courtney Act together and taking it on the road!
Attention, Broadway babies! This week on RuPaul's Drag Race, our queens got their Patti LuPone on as they staged Shade: The Rusical! Let's recap. ("Add 'em up, Bobby! Add 'em up!")
Our fair ladyboys went for it. Singing! Dancing! They could have pranced all night! Some were dreamgirls... and some weren't. But all in all, I was living for this musical remix of Phantom meets Rent meets Cats meets 42nd Street meets... Dreamgirls! And yes, for this week's Extra Lap Recap I felt the need to dress up. It's opening night, after all!
Also, look for glam appearances in the episode from the legendary Sheryl Lee Ralph, contemporary trans icon and musical genius Our Lady J, and the ever-cute and talented Lucian Piane (Ru's music producer), and watch to see if our queenly music veterans (Aussie Idol alum Courtney Act and American Idol vet Adore Delano!) defy gravity... or are they losing their minds?
I don't think I'm using this tape properly....
SPOILER ALERT: I'm gonna tell you who shuffles off to Buffalo in this recap too, so if you haven't watched the full episode, get to LogoTV.com now. See you at Joe Allen's after! And all that jazz....
Also, watch and find out which queen gets a loving parental message in Untucked, which queen doesn't understand fart jokes, and which queen just needs to suck on a big fat cork! Don't you just love theater people?!
WATCH: