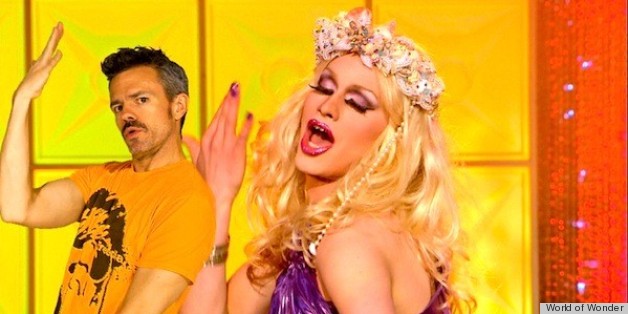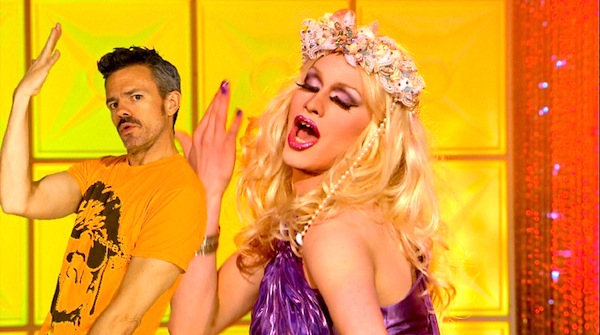 Doing "The Monsoon" with Miss Jinkx herself, as seen in this week's epic lip-sync. Hmm... someone's missing a seashell headpiece.
Court is back in session this week with a fresh new Extra Lap Recap of this week's RuPaul's Drag Race major-ness. Not since Rosalind Shays fell down the elevator shaft on L.A. Law has there been such to-die-for drama in and out of a courtroom!
Did you see this week's episode? Yes, as a major part of this week's challenge, the queens had to plead their cases for why they should win the title of "America's Next Drag Superstar" in a courtroom acting challenge, with each playing three roles. Along the way, Roxxxy let Jinkx have it! And Jinkx let the courtroom have it! Then Alaska let the world have it! And Gloria Allred proved that she's funny as hell! Who knew?! Also, we got some new tips for #hairography and #chiffonography (thanks, Candis Cayne!), and director Mathu Andersen proved that he's the funniest man with a prospector beard since Gabby Hayes. (Look it up.)
Enjoy the recap! And regarding all the Internet dither about Roxxxy's diva antics this week, I have to give that queen props for keeping things spicy. Jinkx is a fierce, strong queen; she can take it. And who wants a nicey-nice competition anyway?
Get ready for next week's big flashbacky episode full of stuff you haven't seen yet (outtakes and cuteness), and then really get ready for the big freakin' reunion finale the week after next. Somebody is gonna get crowned, people! Comment below and tell me who you love.
And if you've not yet seen this week's episode, head to LogoTV.com and get briefed. Then go walk in nature, children!
WATCH:
For more delicious Drag Race dish and updates, check in at the WoW Report, the tasty blog produced by the sassy folks at World of Wonder (who also produce the show, which means they have the deets).