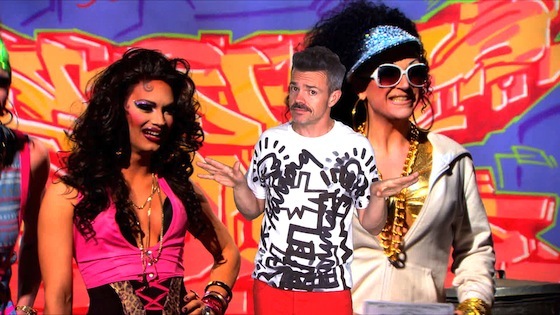 Oh yes they better did! This week our RuPaul's Drag Race queens laid down some '90s-girl-rap realness! Who was spicy like Salt-n-Pepa? And who could have truly used some TLC? Watch a new Extra Lap Recap and get served.
That's right: With legendary lady rappers Eve and Trina in the house, our queens were asked to put their thing down, flip it and reverse it! And they did -- with varying results! Were you feeling Team Panty Hos? Or were all about the Ru Tang Clan? And cutting to the chase, kittens, this week's elimination is a divisive one. Watch and sound off! But SPOILER ALERT: I spill all the T on who won and who got booted, so if you've not yet watched, visit LogoTV.com first and have at it.
Finally, yes, that is Roxanne Shanté on the pink T-shirt I wear for a minute in this week's recap. Her bust-out hit "Roxanne's Revenge" was my junior-high jam!
Everybody say "love"! And then everybody say "#GUNNTY"! X.O.!
WATCH:
Proceeds from iTunes sales of "Oh No She Better Don't" by RuPaul, DJ ShyBoy and the queens go to the L.A. Gay & Lesbian Center to help homeless LGBT youth.